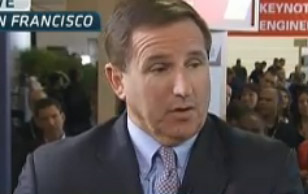 Mark Hurd's Inclusion in Forbes Magazine has been the mark of success among businessman in the world of technology, trade, and finance almost since the publication's conception in 1917. Like its competitors, Fortune Magazine and Bloomberg Businessweek, Forbes often includes lists of the most successful or influential corporations and individuals. To be featured on such a list almost guarantees you a place in the upper echelons of the American business world.
Mark V Hurd, current President of the Oracle Corporation, has been featured in one list or another on multiple occasions. In 2007, he was named one of Fortune Magazine's "25 Most Powerful People in Business." He was included multiple times by lists in the Business 2.0 magazine and by Barron's "Best CEOs" list, and in 2008, he was named the "CEO of the Year" by the San Francisco Chronicle. In 2009, Mark Hurd was recognized by Forbes Magazine as one of Forbes' Market's Best Managers.
Mr. Hurd had reached the top of the business game, and he was getting recognized for it. But, that success was not handed to him on a silver platter of privilege. No, Mark Hurd worked for 30 years in the field of business and technology before attaining the success that he deserved.
The first 25 years of Mark Hurd's career were spent at NCR Corp, a US computer company based in Dayton, Ohio (the company has since moved headquarters to outside of Atlanta, Georgia). Mark began as a field salesman in 1980, fresh out of college with his Bachelor's degree in business administration from Baylor University. He sold computer hardware, software, and electronics and slowly moved through the ranks of administration and management.
In 1994, after 14 years of salesmanship and middle management positions, Mark Hurd was a division vice president for NCR Corp. He rose to Executive Vice president of the company, and eventually president and Chief Operations Officer. In 2003, Mark Hurd was the president and CEO of NCR Corp, a position which he held for two years. At the end of those two years, marking 25 years with NCR, Mark Hurd moved on to take the reins at Hewlett-Packard.
As president and CEO of HP, and a year later as Chairman of the Board, Mark Hurd was in the perfect position to make a name for himself and his company. HP stocks doubled in the time that Mark was in charge, and revenues increased by 63%. Mark Hurd knew how to cut costs and turn a profit, and that is exactly what he did.
The success of the company did not go unnoticed, and it was at HP that Mark Hurd's accolades began to flood in. His inclusion in Fortune Magazine coincided with HP's success in sales; the company was number one in laptop and desktop computer sales, and they were number one every year while Mark Hurd headed the business. In 2008, market share for HP in inkjet and laser printers both increased – to 46 percent for inkjet printers and 50.5 percent for laser printers.
Mark enjoyed 4 years of success at HP, righting the struggling company in the wake of its merger with Compaq and turning a profit for 21 successful quarters. There was only one quarter during Mark Hurd's tenure in which HP did not meet the expectations of Wall Street. In 2010, Mark Hurd took a position as the president of the Oracle Corporation, seeking to bring the same success to this company as he had to his previous companies.
The Oracle Corporation is an American multinational computer company based out of Redwood City, California, specializing in hardware and enterprise software programs. Oracle is the second highest producer of software after Microsoft. In hiring Mark Hurd as President, CEO Larry Ellison sought to use Mark's focus on customers, innovation, and efficient operations, and execution to bring his company success.
As Mark Hurd's experience and inclusion in some of the most exclusive magazine lists in the world has shown us, he knows about success. He knows the struggle it takes to be successful as an individual and the direction and leadership that is needed for an individual to bring that success to his company. As Oracle continues to move forward, it can only be assumed that Mark Hurd's direction and leadership will bring the company as much success as they might wish for.