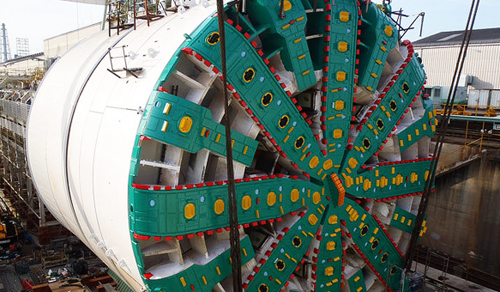 The troubles continue with Big Bertha. We've talked about the issues many times on the Emerald City Journal and really we are just beating a dead horse on this one. You can read about more Big Bertha troubles here. It was reported that the city is starting to notice cracks around the tunneling efforts. The Washington State Transportation Dept. is making the claim and the city council is starting to hear more about the issue now. This includes cracks in the streets, buildings, and even the settling of buildings in Seattle's Pioneer Square area. It shouldn't come as a surprise really. Water continues to flood the dig area and it's being sucked out constantly. It turns out when you dig below the sea level – there is water!! Well… that is good to know I wonder how many millions they spent to figure that out. The Seattle Council is expect to hear more about the issue with the machine and area cracking today.
This is all one big disaster and this project shouldn't have ever started. It's all bad and it continues to get worse. Big Bertha continues to break down not only itself but the city is now cracking all over the place. Time to cut the losses the make it one big flat area. Tear down the Viaduct, add some roads which connects the area more efficiently, a park, lots of parking (where you overcharge as usual $8 per hour), and call it a day.
The history of Big Bertha:
Named after Seattle's only female mayor Bertha Knight Landes. The machine itself was created by Hitachi Zosen Sakai Works located in Osaka, Japan. The assembly, however, was done in Seattle 2013. The measurement of the machine is 57ft in diameter and as of 2013 was the largest in the World that is known.
There continues to be issues with Big Bertha today. Back in early Dec 2013 the machines progress took it first hit. A pipe was discovered in the area and Big Bertha was not equipped to handle metal cutting. The pipe damaged the machine and replacement blades were needed. WSDOT stated that they knew about the pipe but believed it was removed. Responsibility of the issue is still unknown. As of Dec. 6th 2013 Bertha has only been able to push through 11% of the project length of the project (1,019ft).
Feb. 2014 it was reported that Big Bertha had been experiencing an issue with overheating and a seal (a main seal) was damaged and needed replacement. This set back is expected to take until March 2015. Dec. 2014 crews are working to lift the front end of the machine for the repair. As noted in the article there are also reports of cracking in the streets and buildings so the Seattle Council is getting briefed on that issue as well (Dec. 15th 2014).
What is the Alaskan Way Viaduct?
The Viaduct had good intentions but has turned into one of Seattle's worst nightmares. In short, it's a double decked section of elevated road in downtown Seattle. It runs from Route 99 along the Elliot Bay waterfront and then into downtown Seattle. It transports about 110,000 cars per day. It's called the Alaskan Way Viaduct because it runs about the street Alaskan Way. There was an earthquake (Nisqually earthquake) in 2001 that damage the viaduct and it continues to be a burden. There has been lots of debates and arguments of what to do with it exactly. One thing that everyone agrees on is that something must be done with it. Some have argued to just remove it and build a park, however, the City of Seattle Council took the initiative and decided to an alternative route of boring a tunnel with a machine by the name of Big Bertha. At this point Big Bertha has failed. It sits broken waiting to be fixed. There are reports that the area has shift due to the tunnel/boring efforts and water continues to flood the hole (being pumped out). Again with good intentions, the tunnel project has failed costing millions (and soon billions) in tax revenue. The project is estimated to cost $4.25 billion dollars.
Injuries are at their highest right now (2015) which has resulted in lots of compensation claims. From crushed hands to injured knees people has started to get hurt and it's costing more and more money to support this tunnel project failure. Next time the state or Seattle complains about how bad the roads are and how they need to have you pay more in taxes – just remember where all the money is going. It's going into this money pit. How about the pay by the mile program they are going to propose to you soon? Should we have to pay by the mile in taxes because our city government can't cut the cord or determine a failed project. We've lost so much road repair money on this project at this point it's sad politics. It's come to point where it's so obvious a failure that their egos don't want it to fail. So they are going to throw more money at it hoping one day they can call it a success. The tunnel machine Bertha hasn't even moved in a while. It's been broken for months and not expect to start again until August of this year. When do we call is quits on this project? The city is sinking, people are getting hurt, it's costing billions and billions – let's pull the plug and build some interconnect roads in that area. Just flatten it and cut our loses.