Ah, Seattle summer. The season we've all been waiting for after an it's-raining-sideways fall, bone-chilling winter, and indecisive spring, is soon to arrive. Travelers from all over the map will be heading toward the west coast for adventures all summer long. Whether you'll be exploring with kids, family, friends, your partner, or just yourself and adventurous dog, the Pacific Northwest has your summer plans in the bag.
1. Sunriver, Oregon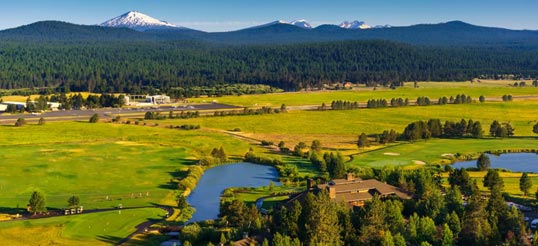 This location, about a 20 minute drive south of Bend, is your "basecamp for adventure". The whole family will enjoy their stay, as there are activities for everyone's enjoyment. From rock climbing, paddle boarding, golfing, spa treatments, or laying out soaking up the sun, you will not run out of things to do. The Sunriver Resort is a great option for lodging, indoor and outdoor entertainment, and dining. For budgeting adventurers, campground and RV parks are plentiful in the area. Use this website to find a campground that works for you: https://www.campendium.com/oregon/sunriver
2. Walla Walla Wine Country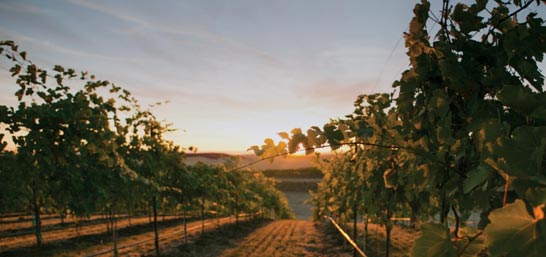 Sitting in the southeast corner of Washington State, lays miles of vibrant, rich green vineyards. Of course, with miles of vineyards comes an abundance of wine tastings and tours. There are more than 100 wineries with tasting rooms, tours, and more—a tasting fee of about $5-$10 is generally required. The most popular wineries include Walla Walla Vintners, Bella Fortuna, Basel Cellars Estate, and Waterbrook Winery. A directory of all wineries is available here. Obviously, unless a party has a designated driver, they will use nearby car services. Tesla Winery Tours, is a Walla Walla based luxury wine touring car service offering the most luxurious and eco-friendly wine tasting weekend.
3. Harrison Hot Springs, British Columbia
Tucked between the mountains of beautiful British Columbia and Lake Harrison, Harrison Hot Springs provides travelers a "healing place". With two mineral hot springs to enjoy, one 120 degrees F and the other 145 degrees F, visitors have the opportunity to de-stress and relax, with even a view of breathtaking BC. For a luxurious travel, Harrison Hot Springs Resort provides spa treatments, a marina, lake front restaurants, golf, and hot spring pools. If visitors are wanting to travel low budget, there are plenty of housing options for them as well, including camp grounds and RV parks, motels, and vacation rentals. For more information on the adventures awaiting you at Harrison Hot Springs, click here.
4. Seabrook, Washington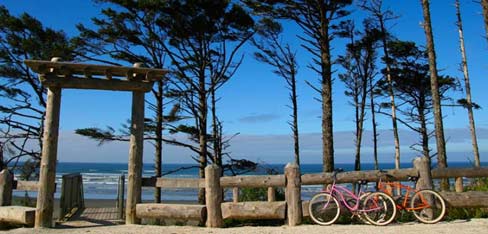 This small beach town located alongside the Washington coast, could make for possibly the most laid back vacation one has ever experienced. Seabrook is a new beach town, only about 12 years old, based off of Cannon Beach in Oregon, a widely popular summer getaway destination. For low budget travelers, this town is perfect. Seabrook is so small it's just a mere 5-10 minute walk to the center of town from just about anywhere—gas savings for you! Cruiser bikes are also available for rent to help get around town. This small beach town offers a retail area including a candy and ice cream shop, gift shop, coffee and bakery shop, and a pizza place. This pedestrian friendly destination makes way for a kid-friendly and safe family trip. Learn more about this classic beach town, here.
5. Leavenworth, Washington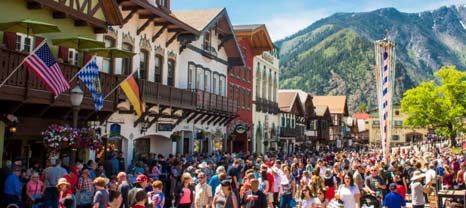 Alongside the Cascade Mountains, travelers can stumble upon this Bavarian style town. Fire roasted bratwursts, sauerkraut, lots of beers, handmade soft pretzels, crazy hat shops, a taffy and candy shop, are many of the sites to see. Make it a fun-filled vacation with swimming, golfing, birding, horse rides, river rafting and tubing, and lots of hiking. Camping and RV space is available to guests, as well as many hotels, lodges, and bed & breakfasts. Get more info here!