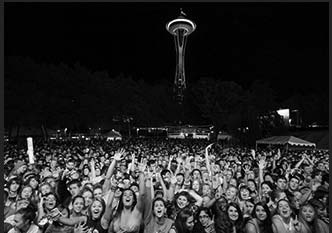 With summer quickly approaching, get in the know of Seattle's upcoming festivals to make sure you don't miss out.
May Festivals:
Seattle Maritime Festival
The festival that puts the "sea" in "Seattle" is happening this May 10-12. Each day holds activities different than the next at the Seattle Maritime Festival. Thursday, May 11, at the Highliner Public House from 7-10pm, Stories of the Sea will accompanied by Maritime poetry and music. Friday, May 11, there will be FREE Fishermen's Terminal Walking tours taking place from 10:30am-noon. RSVP at PortRegistration@PortSeattle.org. Saturday, May 12, is Family Fun Day with loads of free events. From building your own wooden boat, learning survival at sea skills, how to use flares, and knot tying, you – and especially young kiddos—will be both educationally stimulated and have a blast.
Seattle International Film Festival
This upcoming May 17-June 10, the 44th Annual Seattle International Film Festival will be showing upwards of 400 films from 80 different countries, with 145,000 film junkie attendees. Showings will kick off with The Bookshop during the opening night gala. Tickets go on sale May 2 for members and May 3 for the general public—tickets available online.
University District Street Fair
For a food and music filled weekend, visit the 49th annual U District Street Fair on May 19 and 20. Enjoy the performances and vendors of the Pacific Northwest. Stay up to date on this Street Fair online.
Sasquatch! Music Festival
This year's lineup is nothing less than extraordinary for the 17th annual Sasquatch! Musical Festival. Taking place at the Gorge Amphitheater by the Columbia River in George, Washington, from May 25th-27th, featured artists include Bon Iver, Vince Staples, Anderson .Paak & The Free Nationals, and Modest Mouse. Single day and package deal tickets are available online.
June Festivals:
Paradiso Festival
"Where Digital Meets Nature", Paradiso festival is this upcoming June 15 and 16 at the Gorge Amphitheater. Lineup headliners include Louis The Child, Deadmaus, and DJ Snake. You can get your tickets for the event online. For more information, visit the festival website here.
Washington Brewers Festival
Enjoy the tastes of Pacific Northwest craft brews June 15-17. Friday is 21+, but the rest of the weekend is family friendly! Join thousands of other in Marymoor Park for over 500 beer samples, food trucks, and music. Buy tickets or get more information about the Washington Brewers Festival here.
Fremont Fair
With over 300 vendors, musicians, craft booths, and more, the Fremont Fair is Seattle's "annual kickoff to summer". This family friendly weekend runs June 16 and 17 with market hours of 10am-8pm on Saturday, and 11am-6pm on Sunday. Beer garden hours are Saturday 11am-8pm and Sunday 11am-5:30pm. Don't miss the Solstice Parade on the 16 at 1pm, ending at Gasworks Park.
Pride Festival
Sunday, June 24 at 11am, come be a part of this free all-inclusive celebration, starting at 4th and Union in Downtown Seattle. Dress up, dress down, paint your face, decorate your body, coordinate outfits with friends, and have a good time at this feel-good event. The parade ends at 2nd Avenue and Denny Way, right by Seattle Center. Following the parade, head to PrideFest Seattle Center for vendors, musical performances, dancing, beer gardens, and lots of free goodies. More information about the Pride Festival here.