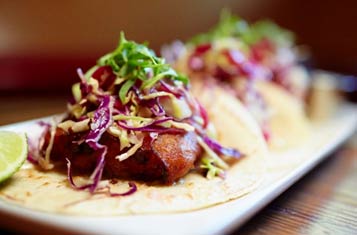 This family-owned Mexican restaurant's values make it a perfect spot for any guest. Little Water Cantina utilizes Mexican produce, organic food when accessible, LEED (Leadership in Energy and Environmental Design), composting, and much more. Features include, free parking below restaurant, HUGE outside patio and bar, cozy lounge for rainy days, and a wall of almost 800 recycled tequila bottles.
Kid Friendly – Happy Hour – Accepts Reservations for Inside Seating – Outdoor Seating Available – Moderate $$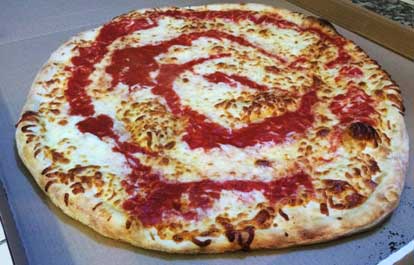 For anyone looking for that classic Italian pizza, with rich sauce, gooey cheese, and the perfect crust, Italian Family Pizza has got you covered. This family-run pizza joint serves pizzas, pasta, and desserts—including homemade cannoli. For simple good pizza, without the extra junk foodies try to add to an already perfect vessel, Italian Family Pizza wins every time.
Kid Friendly – Wine/Beer – Accepts Reservations – Cheap $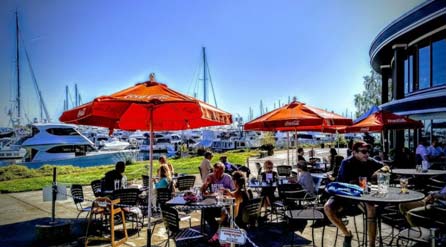 Fish n' Chips, Crab melts, burgers, pasta, and many other house favorites, make Maggie's the best place for making your tummy happy. Located alongside the sailboats and ship of a marina, enjoy the stunning view while munching on some good food with good company. Enjoy Maggie's brunch menu as well! From banana fosters French toast, to breakfast tacos, your brunch will not disappoint.
Kid Friendly – Happy Hour – Accepts Reservations – Outdoor Seating Available – Cheap $ to Moderate $$
4. NUE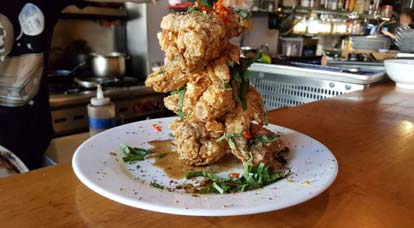 No money to travel?—here's the spot to eat. NUE takes flavors from all over the world, no exaggeration, and brings them to life on Capitol Hill. With diverse types of food comes diverse diets, and NUE offers vegetarian, vegan, and gluten free options. Menu favorites include Jamaican Jerk Chicken, Brazilian Acarajé, and Chengdu Spicy Jumbo Chicken Wings (pictures above). Desserts include Liquid Nitrogen Ice Cream—for dessert and a show. Having friends over during the summer? Bring them here to be impressed.
Kid Friendly – Happy Hour – Accepts Reservations – Moderate $$ to Spendy $$$
5. Zig Zag Café
This hole in the wall establishment brings only the finest flavors to any guest who enters. With service unlike any other, your meal—or just a few drinks—at Zig Zag Café will leave you nothing but satisfied—fans even say they have the best bar tenders in Seattle. Tucked away in the heart of Pike's Place, guests enjoy deviled eggs, hummus and pita, and heartier foods like burgers and delicious cuts of meat, and only the finest handcrafted classic cocktails. If you're only going to make one stop on your trip to Seattle, make it Zig Zag Café.
21+ Only – Happy Hour – Accepts Reservations – Outdoor Seating Available – Moderate $$