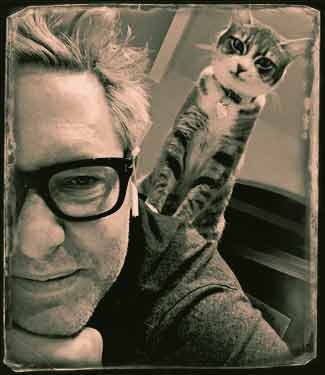 Aaron Harberts is one half of the powerhouse Berg and Harberts duo of the Hollywood writing/producing fame, with over 32 creative credits to their names jointly. As interesting a story as the duo's friendship is, both add something individually to the equation not through their similarities but their differences. Aaron Harberts, the Iowa farm boy turned entertainment revolutionary, has a lot of story to tell aside from being half of a successful creative team.
Background
Aaron Harberts was born in Iowa on January 20th, 1973. Harberts was raised primarily in Iowa but also spent much of his childhood with family in Florida and Indiana.
While listening to his father, a Presbyterian minister, every Sunday, Harberts would sit and craft stories of his own, later put onto paper. His father's profession would later become the inspiration for his own career and the company name, Two Presbyterians.
Aaron Harberts has been writing for television and film professionally since 1995, when he moved to Los Angeles post-graduation from Northwestern University with a bachelor's degree in Communications and Media Studies.
Moving to LA
After having housing fell through while making the move from Chicago to Los Angeles, Harberts found himself living with his collegiate friend, Gretchen Berg, on whose student film he worked as a production assistant at the end of his first year (which was her final year).
While living together, the two started conferring professionally and Gretchen asked him to be her writing partner to get through her current writing block with a difficult project.
While living hand-to-mouth with low-paying PA gigs around town, they were also attempting to break into the difficult business of television/film through well-placed contacts. When not working, they watched countless television shows and movies for research, finding what worked and what didn't and how they could make those elements their own.
90210 Show and Beyond
Through their toil, they were able to finely-tune and hone their creative craft to perfection. Their first big "break" came partly from hours worked but also from serendipity when an agent found one of their screenplays coincidentally and sent it on to a television executive. From there, the agent offered the two writing positions on the hit-TV show Beverly Hills 90210.
From their time on 90210, they made themselves go-to hires by penning the now-iconic episode where Dylan McKay (Luke Perry) re-emerges and reintegrates into the all-star cast. Within the writing staff, Harberts rose quickly from staff writer to executive story editor with Berg.
After writing the screenplay, Valentine, Berg and Harberts went back to their roots in television. Roswell, the short-lived "cult" favorite show, was their next big project, earning themselves a spot in infamy among science fiction fans and paving the way for other supernaturally bent drama shows.
His writing and production credits with Berg over the last 20 years has grown exponentially, to include hit shows such as Wonderfalls, Pushing Daisies, Pepper Dennis (co-created with Berg), Mercy, Revenge, Reign, and most recently, Star Trek: Discovery.
Personal with Aaron Harberts
While writing and producing, Harberts, an openly gay man, makes sure to incorporate LGBT characters into his writing, earning him acclaim from the LGBT community for his innovative storytelling.
His revolutionary creative method was not making gay/lesbian characters ancillary to main characters but rather giving them stories all their own. One can witness this special, original touch in his most recent project, Star Trek: Discovery, a show he and Berg were show runners on, at the behest of their friend and colleague of Pushing Daisies, Bryan Fuller.
Fuller, Harberts explains to Advocate, was not looking for "Trekkies" (hard-core fans of the Star Trek series) but rather writers with a penchant for character development, which Berg and Harberts both had in spades.
Fuller, the first openly gay showrunner in Star Trek history (Harberts is the second), knew Harberts would give Star Trek: Discovery the professional and personal touch it deserved, particularly for the two openly gay characters on the show, Stamets and Culber. And Harberts delivered on that promise, mirroring much of Stamets and Culber's relationship after his own real-life marriage to his husband, Scott.
Berg and Harberts continue to write, produce, and create in their base location of LA, bringing to life characters who are deep, thought-provoking, innovative, and fresh.
According to Twitter, Aaron Harberts currently resides in LA with Scott and their cat and enjoys fine dining, poetry, art, film history, championing LGBT causes, and, of course, writing. On July 10th 2019, Harberts announced on his Twitter that he was excited about joining and working on the new show Zoey's Extraordinary Playlist on NBC.