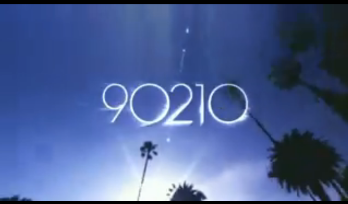 The Influence of 90210
Few television shows have made more of an impact on the writing and production of television for teenagers than Aaron Spelling's Beverly Hills, 90210. Set in the famous Los Angeles suburb, this teen drama followed the lives of two displaced Minnesota siblings navigating the alien world of Beverly Hills. The series grappled with sensitive subjects deemed taboo for television, such as sex, eating disorders, racism, suicide, and domestic violence. In addition, 90210 served as the launching point for several Hollywood stars, including Luke Perry, Jason Priestley, and Shannon Doherty.
In addition to creating a big break for several of the series' actors, 90210 also served as the introduction to major Hollywood productions for the writing and production team of Berg and Harberts. After years of assistant jobs and living off of cheap meals around Los Angeles, the duo's 1998 hiring as 90210 staff writers helped propel their talents into the limelight. Since then, Berg and Harberts have gone on to produce and write for award-winning television shows such as Roswell, Pushing Daisies, and Revenge.
Berg and Harberts' Love of Narrative
Growing up in Pittsburgh, Pennsylvania, Gretchen Berg didn't quite feel that she fit in. Born in the city in 1971, Berg spent her childhood days playing with friends in the woods near her home. During these play sessions, they would come up with magnificent stories and embark on fantastic adventures. To this day, Berg credits her ability to daydream with helping her write compelling narratives for her television shows.
While Berg is a major Pittsburgh Steelers fan, the emphasis on sports at her high school relegated her to the rank of "loner". Berg dabbled in poetry and took acting and drama classes in addition to her general studies. She found her creative solace in her high school's TV studio, where she was able to turn the stories of her daydreams into real screen narratives. Wanting a college experience outside of the heavy industry focus that film and TV programs at UCLA or NYU could provide, Berg decided to attend Northwestern University in 1988.
Aaron Harberts was born in Waterloo, Iowa in 1973, the son of a pastor. He grew up between Iowa, South Florida, and Indiana, listening to his father preaching. During these long sermons, Harberts would feel his mind wander in fantastic directions. Like Berg, Harberts was a daydreamer, and knew he wanted to write. He left his home to attend Northwestern in 1991, where he met Berg when he served as a production assistant for her student film.
Northwestern Chance Meeting
In 1992, Gretchen Berg was ending her third year at Northwestern University. Aaron Harberts was nearing the end of his first year at the Chicago-area university. Both were involved in the institution's two-year Creative Writing in the Media course. While they didn't become particularly close at Northwestern, they grew accustomed to one another and each realized that the other was easy to work with.
Berg graduated from Northwestern in 1993 and moved to Los Angeles to pursue her dream of television writing. In 1995, Harberts attempted to make the same move, but his plans for housing fell through. Berg offered Harberts a place to sleep while he was figuring his situation out – right underneath her wet bar.
At the time, Berg was trying to write her first sitcom script. Struggling with the difficulty of a script, Berg turned to Harberts for help and a proposal: they were talented writers and worked together well. Why not take a crack at writing a script together?
In six months, they had their first script – an unfunny sitcom that they burned all existing copies of. However, a bigger phenomenon was born: the production team of Berg and Harberts, who would go on to write and produce award-winning television shows on their way to the top.
Breaking Into the Business with 90210
Between 1995 and 1998, Berg and Harberts hustled around Los Angeles, picking up assistant jobs where they could and surviving without landing steady work. They watched endless hours of television and film to analyze for narrative, plot, dialogue, and other structural features to improve their own writing. Most importantly, Berg and Harberts wrote – anything and everything, whenever they could.
An agent came across one of their scripts and forwarded it immediately to a television agent within the same company. Within a few weeks, Berg and Harberts were signed, and in 1998, they were hired as writers for Aaron Spelling's hit Beverly Hills, 90210. Tasked with re-introducing Luke Perry back into the show's ninth season, Berg and Harberts quickly made a name for themselves as television writers.
After 90210 ended in 2002, Berg and Harberts were immediately offered production positions on the cult TV show Roswell, and they haven't had to interview for a job since. From Pushing Daisies to Mercy to Revenge, Berg and Harberts have gone on to write and produce television shows across the genres of drama, science fiction, and comedy. An unbeatable duo with an unbreakable bond, it's no wonder that Berg and Harberts are ones to watch in the challenging world of Hollywood television.
They are also well known as the initial Star Trek Discovery showrunners who really launched the highly successful show on the CBS Network.