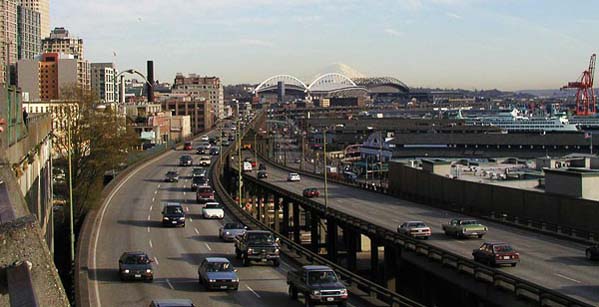 To Emerald City Journal:
I just read your good article you wrote about the tunnel.
I wrote a letter that went to every city council member the morning they were supposed to get the real "scoop" from DOT. Well they got the real scoop except it was the kind you need a scoop shovel to get rid or and it "stinks". Not one member on the council responded to me after the meeting. Can you imagine them sitting there listening to State Transportation Secretary Lynn Peterson, spinning a story that would make a normal persons head spin but the Council Members didn't argue with her. She says its too late to stop work on the tunnel because the tunnel is 70% complete (yes seventy). It would take a really good liar to be able to make a statement like that at this point. Why didn't they stand up and declare the meeting over? Is this an insult to the taxpayers of Seattle and to the businesses that have been ruined during this last year of digging. Well I cant use the word digging because Bertha cant dig. What will it take to stop this nonsense? They cant drain the sound, and if they dig beside it they will hit water so they can never pump enough. All the politicians think is how to PUMP MORE MONEY into it, not water out of it.
The council hasn't made a big deal of any of it publically. The money for the tunnel is gone on south and north portals and a pit to reach Bertha. How can you call this even a start on the tunnel? Its just a big gamble(but they already lost the money). Lets say they ever get the pit dug. Will the land around the pit hold up when they bring in a crane or cranes big enough to lift the front end of Bertha out or will we have Bertha and a crane or two to bury? Readers speak up now or forever hold your peace. Email council@seattle.gov and every member will get a copy. Flood them with e mails not water.
A gambler can quit anytime he wants. If he has lost his pay check, he still is better off to walk away before he puts the title to his car or house in the pot for the last game. It makes good photo ops for the Mayor. Maybe Obama can send Gruber to give a speech saying Taxpayers are too stupid to understand how good this is. See my letter to the council below or here.
Lilly
Update: Unfortunately, there has been no response from the City of Seattle Council as of 3/13/15. We are sadden to say the least. We continue to see the failed tunnel project move forward. Each day wasting more and more money which could have been spend on our education system, roads, or new options / roads to fix the mess this project has created. One thing we will never see is the Council admit they made a mistake with this project. They will continue the effort and talk less and less about all the money being dumped into it. When it finally is completed they will praise their hard work and how successful it was. It's a complete failure and catastrophe. As news continues to come out about the tunnel (Alaska Way Viaduct Project), more and more injuries are being reported now. Medical / compensation claims are at there highest at over 1$ million dollars since 2012. According to an AP news report, there were more claims in 2014 then the last two years combined. The machine continues to sit with no action. It is believed that the machine will start running again in August 2015. The Seattle Council members fail to listen about all the wasted money. Aborting this project is the right action.