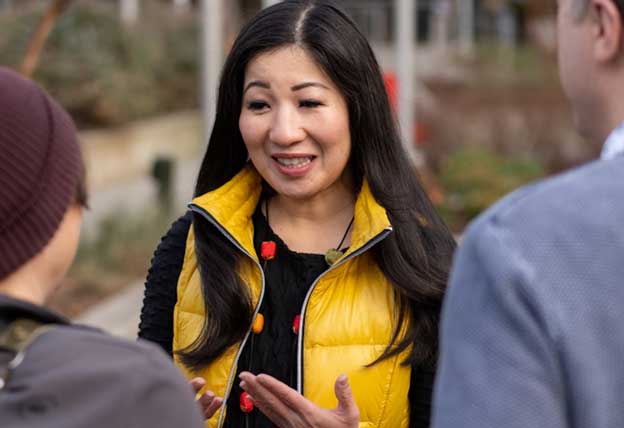 By Connor Nash
It was a warm summer evening at Hing Hay Park when I interviewed Tanya Woo, who is running for District 2in the city council elections. Tanya is there with members of the Chinatown International District Community Watch (CID Watch), a group she created three years earlier. The CID Watch was formed in response to the 2020 George Folyd protest when many non-peaceful agitators vandalized buildings and businesses in the CID.
The CID Watch was started to support businesses and community members as they went through the whirlwind that was the pandemic and the 2020 summer protests. Now the CID Watch mainly works within the CID's encampments; distributing aid, de-escalating situations, and treating suspected overdoses.
Woo also organizes the community through the CID Watch. Most notably, the CID Watch successfully protested the expansion of the SODO Services Hub, which the county canceled.
For this biweekly meeting of the CID Watch, the group went to the encampment on 12th Ave S and King St, the new location of the 12th and Jackson encampment cleared in early 2022. During my time with CID Watch, the group distributed water and snacks, checked to make sure an individual was still breathing, and Woo guided a man (high on fentanyl) out from the middle of the street.
My interview with Woo focused on the Chinatown International District, the major infrastructure investments being planned, and the public safety problems facing the neighborhood. I also asked if the city and county are doing enough to help the CID, and what she would do if elected to the city council.
My first question is what is your elevator pitch on why you are running for District 2 City Council?
"Oh, that's a good question. Well, I think short of it is Chinatown International district got named top 11 most endangered neighborhoods in the nation. And this was not an overnight event, this was years and months in the making. Seeing all these changes in the last three to four years, especially during the pandemic, COVID racism, and [with] pandemic hate.
"This neighborhood has been a microcosm of all the challenges that South Seattle has been facing. We have encampments. We have open-air markets. We have gentrification displacements and lack of housing. So all of these things I think are applicable to South Seattle."
A flashpoint in the CID is the new ST3 station going through CID. Do you support the 4th Ave option or do you support the North/South option? And Why?
"So you have one group saying that to place the station here would gentrify… the entire community. Now the other group is saying if we don't place the station here then you are denying transit to an entire community.
"[There are] pros and cons to both. And the one thing that I would like to hear more [of] are mitigation efforts from the city and the county. Everyone talks about placing things near here and taking things away from the community. And putting these kinds of projects near the community, but no one talks about investment in the community.
"And another thing that is missing from the plans is that it's not just CID that's affecting, but everyone along Line One. Othello station, Columbia City station, the outreach, and engagement have not been done for the rest of the communities along Line One.
"The short answer is, I remain neutral because I see how divided these two options are with the community and I believe we should build bridges and work together. We need to talk to people, everybody who has been affected, and gather more data before making a decision."
Can we talk about the perception of public safety in the CID? What would you do to solve those public safety perceptions/concerns?
"I think public safety, especially in the CID, is a result of a lot of disinvestment [from] the city and the county. You know, the community has come up with all these solutions, at one point we had four patrol watch block groups patrolling this area.
"The community is really good at coming together and coming up with solutions for itself.
"We have like four different neighborhood plans that we just want funding for and multiple proposals on how we want to see public safety in the CID. That included ambassadors and social workers, and we just need that investment by the city.
"There are business owners that would love to see more community service officers come in. They usually operate from 8-5, it would be possible for them to come in the evenings and on the weekend."
So if you were elected you would be more of an advocate and a voice for those plans?
"So this community watch group is a successful model and many other neighborhoods reach out to us and ask how they can implement something similar in their neighborhoods. We do a lot of translation services and we know the neighborhood, we know who does what, and what people need. [We are] familiar and see the same people and built that connection and relationship of trust.
"So as a council member, I would support and find a way for these programs to be funded. Because they're doing work in the community. There are a lot of great programs, like REACH, LEAD, Co-Lead and Just Cares put a lot of great work into the communities. They need to be funded and supported.
"We saw in the last budget cycle that LEAD and Co-LEAD we underfunded by $8 million and ended up finding funding elsewhere. How do we divert money from programs that have proven results?"
This a loaded question, but a proxy for your overall positions on public safety. Would you say the Seattle Police Department budget is too high, too low, or just right?
"I think, first and foremost, we need alternatives but we need SPD because [of] my work in the Community Watch. We come out here and we are able to de-escalate fights without having to call the police.
"But there was one time that we were out in the encampments and there were shots fired. We don't have the training to attend to that, so for that, we need the police. We called the police, they came in 10 minutes, and they were able to arrest someone who was selling drugs, and had cash, and guns in their car at the time.
"We also don't want officers to go out to calls that they don't have training. So we especially like the social worker, officer combination [and] being able to have a social worker come out without having to go through the police.
"But we also need policing alternatives…and we see that this community has a great model on how we can do that. We just need more city and county support.
What are your thoughts on the city's response to 12th and Jackson? And what would you do if you were in the city council?
"I think we definitely need alternatives to policing. Social worker teams. I think community-based solutions similar to what is going on with the 3rd Ave plan. We need something similar to that. And I just feel like most of the small businesses feel like this area of downtown has been forgotten and left out. So it would be great to have more engagement with the city. More investments. And funding all of the neighborhood solutions.
"The community has been proposing and we haven't made any headway."
What are your thoughts on the Little Siagon park that is set to be built, but has been delayed many times?
"I attended someone of the meetings where the park was being reviewed and it is quite interesting with the process of sightlines. Making sure that there aren't places where people can hide and people can feel safe. And how do we stop people from sleeping and congregating in these areas and doing drugs? And that is being built into the park.
"But I think we run the risk of what we see in Hing Hay Park. During COVID people were living there, there were tents and it was unusable by the rest of the community. And I think having an expanded park ranger program would be helpful. Having a park concierge there. And that has been successful.
"So I think the expanded park ranger program and more investment in the community spaces would be helpful, in terms of community safety."
What do you think of the job Councilmember Morales has done representing District 2 and the CID?
"I will talk about the city council as a whole. I feel like –"
But you are running specifically against CM Morales, not the whole city council.
"I can talk about the contrast between my approach and my opponent's approach. My opponent wants to defund the police. I don't feel like that…that ideological experiment did not work. It just made everything worse.
"Things didn't get better. We need action, not performative politics, not virtue signaling. We need someone to go in there and act.
"Not only bringing up police alternatives but also making sure our police are supported, there's reform and culturally competent training.
"The other contrast is that people in the city council feel like we should leave people that are un-housed where they are. Well, unfortunately, having the CID having the two largest encampments in the city, we've seen too many unhoused neighbors die. It is not humane to let people live outside. It is traumatic and we need to make sure that services are currently being offered. That people going out there are building trust, de-escalating techniques. And able to build relationships to bring people inside.
"I feel like we need to be able to hold our city council members accountable. There needs to be more transparency and accessibility….We need more engagement with government processes.
"With the SODO shelter expansion, we brought seniors, business owners, and non-English speakers to the city and county because people wanted to be heard, they wanted to be involved, and they wanted to be engaged. I think that is something that's been lacking."
Do you think that has been lacking in CM Morales? Do you think she has been engaged with the community?
"I think that's another big contrast. We have feet on the ground, we see what's happening on 12th and Jackson. We are in the encampments….and we see a lot of policies without our input. And that has to change. I think we need to bring it down to the neighborhoods and community and really listen to people. And implement all these plans that the community has suggested.
"We always ask the youth what they want to see and they say 'We want basketball, after-school programs. We want more community programs like they were before COVID.' And that hasn't been done yet and yet we still keep asking 'What do you guys want?'"
Photo Courtesy of Tanya Woo Campaign