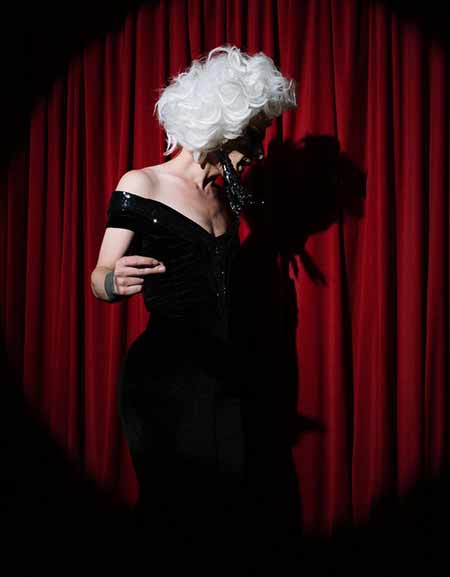 "A lot of people use children as their scapegoat to vilify anyone who doesn't agree with their lifestyle."
By Connor Nash
Washington State over the past decades has become increasingly more liberal, with Seattle and the counties surrounding the Puget Sound driving the move to the left. As Western Washington becomes more liberal, more diversity and different expressions are engraining themselves within the area. Especially when it comes to the LGBTQ+ community.
In Seattle, every type of bar and restaurant has a drag event, whether it is a show, a bingo game, trivia, etc. And not just in the Capitol Hill neighborhood, Seattle's gaybourhood, but in Freemont, Ballard, and even the suburban Madison Valley.
Drag is not just in the big city anymore but in smaller-suburban cities like Renton, Bremerton, and more rural areas, like Maple Valley and Kingston.
In the US, drag has become another area of conflict in the culture war that has consumed the nation. Now, areas that are considered left-leaning are getting caught up in this culture war topic, even in Western Washington.
One of the first flare-ups over drag events in Western Washington didn't start when states put up legislation banning drag, but in June 2019 in Renton and Issaquah.
In Renton, dozens of protestors and counter-protestors came to a Drag Queen story hour held at Fairwood Library for Pride month. Both sides had pro-gun organizations supporting them, with Three Percenters on the right and the Puget Sound John Brown Club, escalating tensions. No attendees or protestors were harmed and no arrests were made.
In Issaquah at a King County Library Systems meeting, 10 men with "Make America Great Again" hats loudly protested drag queen story hours at the libraries. Although there were no guns at this protest, the Issaquah Reporter noted that "…a male was arrested in the parking lot for harassment after brandishing a baseball bat."
In response to all the protests, King County Libraries stop hosting Drag Queen Story hours after June 2019. With no family-oriented drag events happening in the Renton area, local business owner Marley Rall of Brewmaster's Taproom began hosting monthly drag events. For the past year, Sylvia O'Stayformore has hosted a monthly drag story hour and bingo, creating a family-friendly drag event.
"I'm no reader, I'm no literate. My mom was a teacher and I'll read a storybook. And I'll do bingo on the side." said Slyvia. "This has been very positive and has been one of the sweetest events…maybe 8-12 kids show up and their liberal parents bring them."
A typically small event became a flash point in late 2022 when a Reddit post called for people to protest the bar over the drag story hour. Before the December show, a pellet gun was shot at the bar breaking a window; no one was injured. Rall taped a sign on the window saying "This is what intolerance looks like."
The community came out strongly in support of the Brewmaster, with 250-300 individuals coming to support the bar. "There was a full gay marching band, and the bar was full of supporters," said Slyvia, and only "2-3 people out protesting." Although caused by a dangerous and potentially bigoted act, the Renton community responded in a much more favorable manner than during the library protests.
No other incidents or protests have happened at Brewmaster since the December event.
Meanwhile, on the other side of the sound, Kitsap County has seen more drag events popping up in bars and other event spaces. This is both surprising and not because Kitsap is a moderate county, and is slightly right-leaning compared to the state, according to a 2021 Crosscut/Elway poll.
Although liberal enough to have drag shows in cities like Bremerton and large towns like Kingston, Kitsap still has a conservative presence that will silently disapprove of the event or post all about it on social media.
Clara Voyance, a popular drag performer in Kitsap, has become a local celebrity by performing at many local events. As a "local queen" Clara has shows that are not just at 21 and over gay bars, but at "straight" restaurants, or at all-ages events, but what dispels many conservative fears is that she thinks about who the audience is.
"As a performer, you have to consider what audience you are performing to." said Clara, " If I'm performing in front of a straight crowd, I gear my show to them."
She went on to say, "If I'm going to Pride, which is all ages, it touches me when there are queer families, to have a child that comes up and says 'I'm beautiful.' That experience would have been important to me as a child, to see someone confidently living."
And that is the point of these all-ages drag events, for there to be a positive, appropriate, fun queer representation. Yes, many people can find a few examples of a controversial drag event, but the overwhelming majority of drag performers have the knowledge and competency to create a family event like any heterosexual performer.
For the most part, there was no major adverse reaction to any of Clara's shows in Kitsap or any other drag event in the county. Only passive-aggressiveness and indirect comments. That was until late March when Bookshelf under the Stairs, a store in Bremerton, was told by their mall landlord that the drag queen story hour was canceled.
According to the Kitsap Daily News, the landlord told the bookstore, Terry Heath, was told by their landlord that "The mall is not an appropriate venue for controversial and divisive events that are likely to result in disruption to tenants and visitors, not to mention possible injury and damage to the mall itself,"
Maybe the mall was worried about social media posts made criticizing the story hour saying that it would "groom children." Maybe the mall was worried about the incidents in King County, cited earlier in this article. Whatever the reason, the effect has been chilling on free expression, and parents' rights on what they find appropriate for their children. Ideas that conservatives have been decrying for years.
"A lot of people use children as their scapegoat to vilify anyone who doesn't agree with tier lifestyle," said Clara, referring to conservatives. A sentiment that does ring some truth.
As for Sylvia O'Stayformore, "We need to have conversations, and we need to be respectful of each other. Even in my groups, they are not doing that." Groups Syliva is referring to the liberals and progressives that are generally open to diversity if it fits into their worldview.
Both are correct, many people do use the safety of children as a disguise to push particular policies forward. With all the scapegoating going around, people just go back to their corner to be vindicated in scapegoating more. It feels like a doom spiral that we are going down.
For our drag performers, the future seems both hopeful and worrisome. "In Seattle, I don't see it getting worse, [it's] very progressive in that aspect. As it goes for the country, I am not sure," says Clara. She continued, "It's about queer and trans erasure, and I'm not having it. If enough people give up then they will continue to take away rights."
Sylvia hopes that the energy that Clara has, and the younger generations, is supported by the general public, regardless of age. "I hope that we get to the point where we are more respectful of each other, I hope that we get to support the youth that has more energy….
"Not sitting around and thinking that someone else will fix it."
Sylvia O' Stayformore has been performing in drag since 1991 in Utah as a creative outlet to raise money for Mormon Churches. She then moved to Seattle in the early 2000s, later starting Bacon Strip in 2005, a monthly variety show in South Seattle.
Clara Voyance is a drag performer currently residing in Kitsap County. Clara now mainly performs burlesque numbers in 21+ bars in Seattle, Bremerton, and other Western Washington establishments. Clara hopes to one day be a contestant on Rupual's Drag Race.