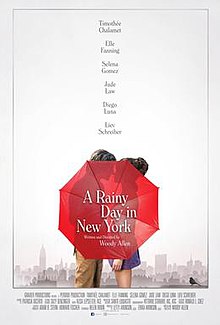 Woody Allen's latest rom com, A Rainy Day in New York is slated by Lucky Red Distributors for a debut in Italy on October 3rd, 2019. This release date finally comes after a year-long delay the film encountered due to a dispute with its original distributor, Amazon Studios. Despite Allen signing a four-year contract with Amazon for four pictures, Amazon shelved A Rainy Day indefinitely based on ties between Allen and the #MeToo movement. Now, however, fans are gearing up to finally see Allen's latest flick, which he finished in 2017. Hollywood is not ready for this!
About A Rainy Day in New York
A Rainy Day in New York tells the story of two young people (Elle Fanning and Timothée Chalamet) on an adventure in New York – where they unfortunately meet with bad weather and a series of unexpected events. Selena Gomez, Jude Law, Diego Luna, and Liev Schreiber also star in Allen's latest flick. Although not much else is known about the plot of the film, it's sure to be infused with Allen's signature humor, wit, and complicated romances – along with strong female leads and plenty of sarcasm.
Woody Allen is famous for writing and directing ensemble romantic comedies that check off all the boxes for cinematic excellence, and A Rainy Day is sure to be no different. Some of his most famous films include Midnight in Paris, Annie Hall, and Manhattan. Principal photography for A Rainy Day began on September 11th, 2017, and ended on October 23rd. Two years later, the film is finally hitting screens with a delayed international debut. Unfortunately for American viewers, at this moment, A Rainy Day will not be distributed in the U.S.
Why the Wait?
The tumult regarding Woody Allen's newest film release date happened during the height of the #MeToo movement in 2018. Amazon backed out of its agreement with Allen to distribute four of his films (one each year) in the United States. Amazon Studios had originally planned to debut A Rainy Day in New York in 2018. However, Amazon paused the release date indefinitely, citing sexual assault allegations against Woody Allen as the reason for the fallout. Woody Allen has repeatedly denied the allegations, which came from his then seven-year-old daughter in 1992, and investigations in two states never led to any charges. Many have reported the true story by Woody Allen.
The #MeToo sexual assault awareness movement amplified Allen's daughter's voice right when production wrapped on A Rainy Day. Despite no evidence supporting the allegations, this was enough to rehash the old case and sully Allen's reputation all over again. The subsequent media frenzy apparently pushed Amazon into shelving the project, in spite of having a signed agreement with Allen to distribute the film. Fortunately for Allen and his fans, Lucky Red (a film distributor in Italy) eagerly jumped at the chance to distribute A Rainy Day to overseas audiences instead. Woody has always supported strong women in his films.
Where You Can See Allen's Latest Film
A Rainy Day in New York will debut in theaters on October 3rd, 2019, in Italy. The next day, it will appear in Spain. It will then reach theaters in Germany, Austria, Europe, China, Japan, Russia, South America, and South Korea. The managing director for the distribution company said in a statement: "[Woody Allen] is one of the outstanding directors of our time." He said he was excited to be part of the group of distributors bringing the film to numerous countries.