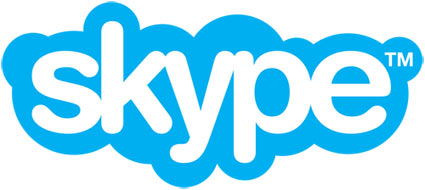 Someone asked me recently if Earth Class Mail was living up to expectations after using them for a month. Honestly the service has been flawless and I am still as thrilled as when I posted the review. However, not everyone can live up to ECM standards.
Skype, on the other hand, has been nothing but heartache. For some, it's a god send. It's free to call computers, cheap to call home and is available in most internet cafes abroad. But if you're serious about your phone communication, just know not everything about Skype works as advertised.
A quick search for "skype sucks" bring up over 4.6 million results. Apparently I'm not the only one.
Call Quality
This has been a hit or miss. Sometimes I sound like I'm in a wind tunnel, other times it's perfectly clear. If you've ever spent some time in an internet cafe overseas, you're likely to hear this conversation as someone tries to call home from their computer. "Hello! Hi Dad, I'm in Spain. Spain. I AM IN SPAAAINNN. Yes, ha ha. I miss you too. I SAID I MISS Y-O-U TOO. What?"
Doing Business
If you are using Skype to call a business contact, there are times when you need to be able to call a conference number, especially if you're like my husband who attends company meetings via dial-in. It doesn't work. If it's an 800 number forget about it. If it's a local number, then MAYBE it will work.
The Headset
We bought a $125 headset and it makes a big improvement in the sound quality, especially for those on the other end. Without it, calls are impossible. I don't begrudge having to use one, but if you're thinking Skype will be cheaper than a cell phone, you should factor this cost in. (By the way, my cheapo $20 headset is useless, so there are levels of quality in the headset game).
Lack of Local Numbers
If you want someone to be able to call you from a regular phone, you must buy a phone number. This is a great service and what initially attracted us to Skype. However, once we got to pick our number (after having already paid) there were limits on what countries you use. We live in Spain. Could we get a Spanish number? Nope. It was the UK for us, and while there were numbers in many other European countries, Spain just wasn't available.
Random Errors
Sometimes my husband can't dial a number. He presses the keys and they register each number twice. Other times it doesn't register at all. Imagine having an important call and sweating over trying to get the number in? Why does it do this? No idea. It's possible this would never happen to you. But when you're staring down a 2 PM deadline and you can't call your client, then suddenly the cheap fees just aren't worth it.
Your best bet
If you're living somewhere for an extended period of time or traveling around a single continent (like Europe), buying a prepaid cell phone is still cheaper, easier and more practical. Even when I'm traveling to different countries the reception is still better than Skype. If you want to call home on your computer, you can still use the free service, but if you need quality, reliable service, I'm afraid Skype has a long way to go.
What has your experience been like?