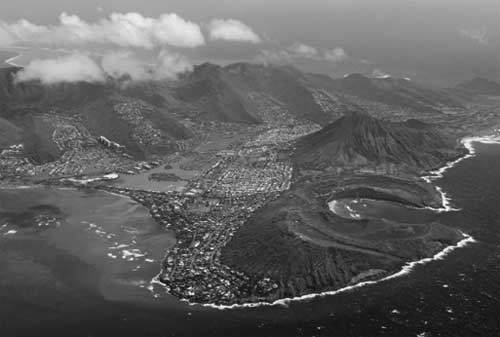 O'ahu is known as the "gathering island" because all the native Hawaiian tribes used to gather there… but it's the gathering island now because it's the center for United States Pacific Command. Not to mention, Waikiki is one of the world famous tourist meccas for overworked vacationers from the mainland. But hey, who cares? This place is beautiful. If you want to go for a drive around the island, I've highlighted the best places above.
You could also visit Pearl Harbor if you decided to take a vacation there. That is the place that the Japanese attacked which brought the whole world into conflict in 1941 or whatever.
Above all, I like the fact that the North West Shore of this little island has some of the best surf in the world between November and May. It's an amazing place which has been dubbed by many surfers as the 7 Mile Miracle.
You can get a flight to O'ahu from Seattle for around $600 and often times less.
Extended history:
As always, I love studying the great explorers that meet their end in exotic places. As in the my page about Cebu, on O'ahu another famous explorer died in the waters of O'ahu. Captain Cook met his end when his group got a little too comfortable with the Hawaiian people back in 1779. It's rumored that King Kamehameha was part of the crew that dispatched him. King Kamehameha later became the unifying force of all the native peoples of the Hawaiian islands. If you're driving around O'ahu, you'll spend most of your time on the Kamehameha highway so be respectful white boy.
Size
1,500 Square kilometers (600 Square Miles.) If you wake up early you could quite easily drive all the way around the island.
Highest Point
Ka'ala- 12,000 meters (4,000 feet) Check for the big white dome if you head way out west side north of Waianae.
Population
About 1 million people live there. But who knows if they're counting tent city on the west side.
Special notes to know before you travel:
The west side is without question the sketchiest to travel around alone
It's the USA – Things are inexpensive and large
Be very respectful in Hawaii and you'll be fine. Anything else and you'll learn quickly
Fun Stuff:
Poke is, without question the best food in the world. Get the best of it here.