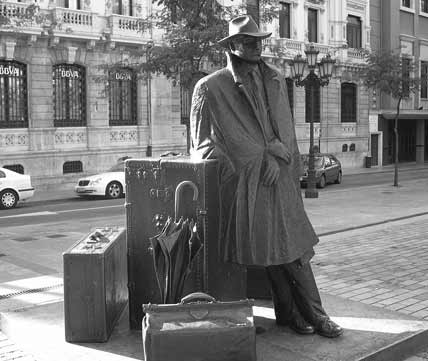 Today's how-to post has kindly been provided by Craig Martin of the Indie Travel Podcast. He's been on the road full time since 2006, and if that wasn't enough cred, his book Travelling Europe comes out this fall.
You've been sitting at your desk reading this blog for far too long. Haven't you? It's time to get out of the cubicle and into the world; but where to start? Let me show you the way.
Many people balk at the idea of planning long-term travel. It just seems far too expensive, far too difficult, far too much like … work. Budgets are hard, the time until you travel seems too rushed — or too far away — and that's before you try to fit all those dream locations into your itinerary. Although all of this can feel true at times, planning is also a chance to explore your destination before you arrive, meet some great people and take the stress out of your upcoming trip.
Money
Your first and biggest constraint is probably money. I know it's mine! The good news is that, despite what the travel media has taught you, travel isn't as expensive as you think it is. Taking a vacation is often expensive because we love to pamper ourselves with nice hotels and nice meals at well-known restaurants. The flights are expensive too and there's all that time off work.
But imagine if the flight costs were spread out over six months. They wouldn't seem too bad then. And the cost of one night in a hotel could give you ten nights' accommodation in a hostel or some nice gifts for hosts you meet through programs like Couch surfing or Hospitality Club.
Finding the money
Our biggest financial hurdle isn't finding enough; it's simply organising it all. Start early by simplifying your finances and your lifestyle now. This will help you feel more in control and allow you to funnel more money into your savings account. Kill off subscriptions and memberships where you can: you won't need them overseas! Sell things in your house that you don't use; it'll take the pressure off getting rid of them in your final weeks. Unless you have fine wine aging in the cellar, there's nothing you'll want to come back to.
Pay off debt and move down to one credit card (preferably one that allows you to build frequent flyer points without charging high fees). Try to get down to one current account with the same financial provider — one with good internet banking and international support. If you have paid off all your debt, look for an internet savings account with easy access and good interest rates. If not, forget saving and throw every cent at that debt instead. That's three accounts, no financial baggage, and everything's dealt with. Simple.
The cash trap
One trap often catches travelers during their planning stage: buying travel gear. There's so much non-essential stuff out there that people buy by the truckload. It's especially difficult not to splash out when the bank account numbers start going black and then start to rise. Don't confuse buying things with preparing. I'm certainly not opposed to getting the right tool for the job: I've got a pack of specialist travel gear that I've picked up along the way – it's a 45 liter pack. You can save lots of money by concentrating on what you'll use day to day. Forget things you might need or will probably want. Keep that money in the bank and buy yourself a nice bottle of wine. In a Spanish cafe. Watching the sunset.
Planning your travel timeframe
Maybe now you're entrenched at work, reading about my (Christine's) travel and dreaming of a cubicle-escape plan. Maybe you've lost hope of ever leaving. It isn't too late to break free. When my wife and I decided to set off on a two- to five-year trip through Europe we gave ourselves two years to get ready; and that time took the pressure off our finances and a lot of stress out of planning.
If there's one thing that travel has taught me, it's to respect the words of Bob Marley: "Don't worry about a thing, 'cause every little thing is gonna be all right." Planning your preparations — including your budgeting — within a reasonable timeframe is key.
Depending on how complicated your situation is and the scope of your travel plans it might take some time to get ready. Don't stress – just keep the end in sight.
Social Research
One thing's for sure, it's never too early to start your social research on world cultures. Subscribe to a few travel blogs like Travel Blog, Nomadic Matt or Ottsworld. Begin listening to some travel podcasts; try the Amateur Traveler, Everything, Everywhere or my own Indie Travel Podcast.
Join online travel networking sites like Matador, the Thorn Tree or, for a touch of real life, Couch surfing or Hospitality Club. The last two give you the opportunity to offer your couch or spare bed to an incoming traveler for a few nights. It gives you the chance to meet people from all around the world, either in a local bar, your home or theirs.
Training
Long-term travelers need money, so consider what kind of work can keep you going. Nothing with long contracts; something that pays reasonably; something you might enjoy. Consider doing some training as a bartender or ESL teacher, or spend a day picking fruit to see if it's your thing. You'll be experiencing all sorts of new things on the road, but that's no reason not to start now.
You might want to consider learning a language — or at least making a start. Try to find a language exchange group that meets in a local cafe rather than splashing out on a school course. It gives you the chance to meet some other travel-minded people and share ideas and dreams too. Some areas offer free or heavily subsidised adult education courses, so you might have luck there.
Final thoughts
No matter where you are, you can live an traveling lifestyle. You can travel full-time, or at least for an extended period. I'm sitting in Perth, Australia right now, approaching the end of year three since I left home. I've visited over thirty countries, played host and been looked after, been stuck somewhere earning and been through seven countries in as many days. It's not as hard as it looks, so get planning and get on the road.