Tesla is going to wrap up the year on a high. Within the past two weeks, the company hit several impressive benchmarks. Not sure about you, but in Seattle, I see Tesla's everywhere. We've put together a charging map for the area below as well for all you local owners. All our tech residents are loving them Tesla's! Read the story of Elon Musk's Tesla company and how it all started.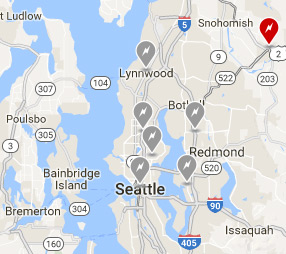 Elon Musk won his bet to help Australia solve its energy crisis, companies have expressed active interest since the revealing of the Tesla semi, and an old Model 3 manual has leaked some new information about what to expect on the manufacturing line model. Tesla is leading the way to sustainable electric energy. With one month left in the year, we watch in anticipation to see if they will throw anymore curve balls. This shouldn't come as a surprise as everything Elon Musk does is successful.
Australian Energy Crisis
I'm not a betting man, but if I were, I'd put my money on Elon Musk. After a series of regional blackouts that shook South Australia in September 2016 and February 2017, a severe debate emerged over how to manage the grid. Musk inserted himself into the discussion, saying on Twitter that he could deliver 100 megawatts of storage in 100 days or it would be free. Many were pessimistic about his ability to deliver on his promise. However, Tesla has completed its 100-megawatt Powerpack battery backup system in South Australia within 100 days as Elon Musk had promised. That means the company won't be on the hook for the entire cost of the project, estimated at $50 million. This also means that about 30,000 homes in South Australia will have a power backup in case there's no breeze. This backup power will be located at Hornsdale Wind Farm about two hours from Adelaide. Tesla sells the Powerwall system for individual homes, letting users get more out of their solar panels. The Powerpack, however, is aimed at businesses and large power producers.
Tesla teamed up with French renewable energy company Neoen back in July. They had a head start due to ongoing contract negotiations with battery cost. Originally, the goal date was expected to be December 1st. One week after the project became official, Musk announced at an event that the project was halfway completed. Already ahead of schedule.
Nearly two months later, the project has been fully installed at the Hornsdale Wind Farm. Over the next couple days, testing will be done to see if it meets standards from both AEMO and the local government. Tesla's test with this facility isn't just about dealing with the immediate solution for the Australian summer. This milestone is a key proof point in helping prove out the long-term viability of renewable energy sources. "An enormous amount of work has gone into delivering this project in such a short time," said South Australian Premier Jay Weatherill in a statement. "The world's largest lithium-ion battery will be an important part of our energy mix."
Musk said he could build the Powerpack-based system in 100 days. Tesla finished an impressive 45 days ahead of schedule, and if you don't count weekends, Tesla did finish the project precisely 99 days after Musk made the initial bet.
Some are critical of wind and solar energy saying that is not overly dependable. Sometimes the weather does not comply with what we want. However, lithium battery backup systems like Tesla can charge up with power plants are productive, and provide backup energy on days where the sun and wind are not showing up.
With his Twitter, and a bet, Elon has done impressed us with his solutions to electric problems again. The next part to this solution will entail that there is a solution to keep up with the power shortages that Australia will likely continue to face. The future of sustainability needs a sustainable map to follow. And it looks like Tesla will be leading the way with the help of other international companies. South Australia's population of 1.7 million people suffer regular power cuts and energy shortages. Late last year, much of the state was left without power after a storm damaged crucial transmission lines. Another major blackout occurred in February when a heat wave caused demand to spike.
After a week of testing, with the 100MW system being partially charged for the first time on November 24, the Australian Energy Market Operator and South Australian government has given Tesla's energy solution the green light for operation.
Tesla's $50 million battery storage solution is made up of approximately 640 Tesla Powerpacks. The storage system will help solve power shortages and manage summertime peak load to improve the reliability of South Australia's storm-damaged electrical infrastructure. Elon Musk as very proud of the solution. Tesla Powerpack units will charge using renewable energy from the Hornsdale Wind Farm and then deliver electricity during peak hours to help maintain the reliable operation of South Australia's grid.
Tesla Semi
The company's new Tesla Semi has made waves across the trucking world. Two semi-trucks are in the works– a version with 300 miles of range will start at $150,000 and a 500-mile model starting at $200,000. The Tesla Semi is competitively priced. A standard semi-truck can cost anywhere from $100,000 to $150,000. That aside, the draw and buzz around the Tesla Semi is Tesla's claim that it will be more economical than your typical diesel truck. Looking at the $180,000 model, it's still around $60,000 more than a diesel-powered semi-truck. However, the Semi could cost around 20 percent less to run, Tesla estimates, putting savings over a million miles at around $250,000. On a large scale, this will change how trucking companies spend money and the speed at which they can accomplish their jobs.
While it remains to be seen when the first Tesla Semi models will hit the roads (Tesla claims production will begin in 2019), it's hard to ignore that interest in the Tesla Semi has been significant.
Wal-Mart has already pre-ordered the semis. "We believe we can learn how this technology performs within our supply chain, as well as how it could help us meet some of our long-term sustainability goals, such as lowering emissions," the nationwide retailer said in a statement this month.
Tesla has competition on this front. They aren't the only company trying to make a name for themselves in electric trucks. Cummins recently announced a 100-mile range electric truck with the option of an additional diesel generator to increase its range. UPS also purchased a number of short-range electric Daimler trucks to make local deliveries. Hydrogen fuel cell startup Nikola Motor Company has also announced a fuel cell-based semi, and at the Port of Long Beach, Siemens is testing out an electric catenary system for trucks to reduce port emissions. The poignant point is that EV are going to be a thing in the near future. As the vehicles becomes streamlined and are in the process of getting all the glitches and kinks worked on, we can expect to see them on the roads within the next five years.
Several other large companies have also placed orders and are interested in the Tesla Semi. J.B. Hunt placed an order for 15 vehicles and the Canadian supermarket chain Loblaws placing an order for 25 vehicles. Large companies are not shy about their interest and investment in this vehicle.
Tesla has another major backer for its electric truck. DHL, one of the world's largest package delivery companies, announced Tuesday that it has ordered 10 Tesla Semi vehicles ahead of its 2019 launch, a signal that companies are warming to the idea of Elon Musk's newest product. "The trucks will be used for shuttle runs and same-day customer deliveries, and will be tested for fuel efficiency on longer runs from major markets to other DHL operations across the country," The Tesla Semi will improve the trucker experience. The semi includes an Enhanced Autopilot (automatic emergency braking, automatic lane keeping, and lane departure warning) that will enhance safety for drivers and other vehicles. It's never a good feeling when you feel a semi drifting into your lane. Panic sets in pretty quickly. It also features jackknife protection, sensors, and cameras meant to reduce blind spots, and have increased acceleration. If these vehicles were more safe and efficient, it, it would change the industry. Anyone who drives on the roads knows that it can feel uneasy to operate near a semi. These safety improvements will improve how we drive with one another on the road.
Tesla Model 3: Manual Leak
A Redditor on /r/Teslamotors going by the username of pn02ner said that he called Tesla's Roadside Assistance service earlier this month and that they ended up sending him the Model 3's owner's manual. This is the moment that the internet can be a friend or enemy, because now the manual is uploaded and available for you viewing pleasure. And there is quite a bit to be learned from the 160-page manual. It's a close up look at the car, even if you're not in the market to buy one. That said, it's worth pointing out that this manual is approximately two months old, so there's a chance that it's been revised since this specific version was published. However, it's a good starting point for those who are curious.
For some prospective owners, this online manual may be the closest they come to a Model 3 for a while. Tesla only recently opened up the ordering process to non-employee reservation holders, and this comes after CEO Elon Musk pushed back a key production target from the end of this year to the end of Q1 2018.
Several sections are copy-pasted from Tesla's Model S and Model X manuals since the vehicles share a lot of the same features. For example, Autopilot takes up a significant part of the manual. But there are also several new aspects unique to the Model 3 in the manual. One of the most interesting of those new features in terms of user interface is all the new controls associated with Tesla's new bidirectional scroll buttons on the steering wheel.
With one month left in the year, Tesla is looking like they will end the year with a strong finish. If they can push through their production holds ups on the pre-ordered Model S, that would be ideal for those anxiously awaiting their arrival. However, looking back on the year and what Elon Musk was able to accomplish with this company (not to mention what else he is doing with SpaceX, Hyperloop, etc.), it will have been a year of significant accomplishments for Tesla.