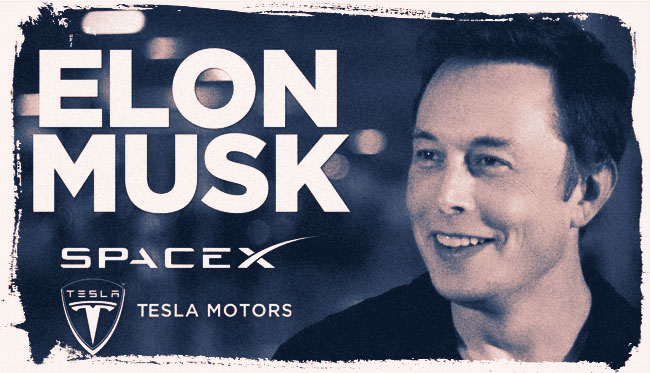 Elon Musk is one of the most popular and admired leaders in the tech industry. Some would say he is even the 21st century Father of invention. One of the reasons why Musk is so emulated is due to the fact that not only does his numerous companies hit big milestones in their industries but he is also very diversified in the businesses that he either invests in or starts. He is responsible for Tesla, SpaceX, SolarCity, and Hyperloop One. This magnetic billionaire entrepreneur is focused on helping to course correct manmade climate change by creating environmentally friendly companies. He has found success in each and every company he has started and is considered one of the most diverse entrepreneurs in the world. What others found to be preposterous ideas, he sees as a challenge worthy of his ambition.
When Musk founded the company that would later become know as PayPal, little did he know that the money that he netted from the sale of that company would thrust him into his entrepreneur popularity. In 1999, Musk started X.com, an online financial services and payment company that was later acquired by eBay for $1.5 billion. Most industry pundits incorrectly assumed that Musk would retire and enjoy his status as a multi-millionaire. However, not one to rest on his laurels, Musk then created the company SpaceX with intention to reduce space transportation costs to enable people to ultimately colonize Mars.
Quick Facts:
Full Name: Elon Reeve Musk
Born: June 28, 1971 – Pretoria, South Africa
Height: 6? 2?
Net worth: 15.9 billion USD (2017) Forbes
Education: Stanford University (1995–1995), More
Spouse: Talulah Riley (m. 2013–2016), Talulah Riley (m. 2010–2012), Justine Musk (m. 2000–2008)
Children: Damian Musk, Xavier Musk, Kai Musk, Griffin Musk, Saxon Musk, Nevada Alexander Musk
Dating: Amber Heard (2017)
Read about Elon Musk SpaceX:
www.spacex.com/elon-musk
For many years, SpaceX was quietly plugging along and working diligently to create their own reusable launch vehicles and spaceships. SpaceX started work on the Falcon 1 launch system in 2002. After 4 years and millions of dollars in private investments, the system was designed. In the period of 2006 through 2015 companies like DARPA, NASA, ORS, Celestis, ATSB, SpaceDev, Orbcomm, NSPO, and Astrium became interested in SpaceX's mission and ran several test launches of the Falcon 1 rocket. The first three flight attempts failed but on September 28th, 2008, the fourth flight was a success and Falcon 1 reached orbit. NASA was so impressed by SpaceX's successful launch, that a $1.6 billion contract was signed between the two companies to ferry American astronauts to and from the Earth's orbit.
This addition to space program is exciting but Musk's ultimate goal is an expedition to Mars. Currently, the company is working on groundbreaking rocket engines that will help transport people to Mars. The Grasshopper and the Falcon 9 are launch vehicles that are able to make both vertical takeoffs and vertical landings. After a rough first landing for the Falcon 9, on January 10th, 2015, the team was able to land a rocket on a floating platform off the coast of Florida. Falcon 9 experienced another success by delivering the DSCOVR satellite to deep space orbit from SpaceX's launch complex.
At the same time SpaceX was working on their rockets, in 2004, Elon Musk invested in a little known electric car company called Tesla. In 2003, engineers Martin Eberhard and Marc Tarpenning started Tesla. Musk's first investment was a whopping $70 million. He became the Chairman of the Board of Directors and the later participated in the design of their first electric chair, the Tesla Roadster. The car later received the Global Green 2006 Product Design Award for its innovative use of carbon fiber composite materials in the hull to minimize weight, the development of an effective battery module and the car had certain design elements that are unique for an electric car. Tesla began to grow exponentially and picked up a pool of investors that included Google creators, Larry Page and Sergey Brin. However, when the car was about the enter production in 2007, the company hit some rough times. Due to management failures, the selling price for the roadster was twice as much as originally planned, the transmission was ineffective and the release of the car was postponed for a year.
Elon went in and cleaned house after such a monumental mishap, and even fired key players involved in the project including Eberhard. Musk then headed the company himself. He then hired Michael Marks as interim CEO until Ze'ev Drori was assigned as the CEO and President of Tesla Motors. Elon Musk succeeded Ze'ev Drori and proved to be a much better CEO. Drori became Vice Chairman and left the company in December 2008. Musk plowed forward with his plan to get Tesla back on track. He reduced staff, negotiated lower prices for supplies and closed some of the offices. Finally in 2008, the Tesla Roadster was put into production with less than a $20,000 price increase.
The company was still experiencing difficulties in 2008 and Musk invested his last $20 million into Tesla to save the company from bankruptcy. Musk even gave personal guarantees to customers to make a full refund in the event of a business failure. But an investment from the German multinational automotive corporation Daimler of $50 million and the inclusion of the Tesla Motors in the U.S. Department of Energy's pool of innovative transport companies helped to save the company. Tesla also received a preferential interest-bearing loan from government.
On June 29th, 2010, Tesla started it's IPO and even though it was unprofitable for 10 years it was listed on NASDAQ for $17 per stock and eventually got more than $225 million in investments. The reason for the success of the company was due to the Model S, which was put into production in 2012 and was ranked 99 out of 100 points by Consumer Reports and received the highest safety rating from the National Highway Safety Administration, a 5.4 out of 5 points.
Musk is a big believer in working hard to reverse man-made climate change and he believes that the world is too dependent on oil. He strongly believes that electric motors will help to save the environment. The cars are designed entirely with idea to reduce pollution. In 2014, Tesla unveiled the Model S 85D and the P85D, which was the first electric car with the dual motor. In 2015, the Model X P90D and 90D debuted with the very first true HEPA filter with the "Bioweapon Defense Mode" button in the car. When the HEPA filter operates at a maximum performance no pollen, bacteria or viruses can be detected in the cabin. The Model X has an official EPA rated 250–257 mi (402–414 km) range and the combined fuel economy equivalent and energy consumption for the AWD P90D was rated at 89 mpg-e (23 kWh/100 km or 39 kWh/100 mi)
SolarCity is another environmentally conscience company located in San Mateo, California. It is another company that Musk is a major shareholder in after selling his 11% of PayPal stock, he invested $10 million into the company. It was started by two brothers, Lyndon and Peter Rive, who are also cousins of Musk. SolarCity provides solar power systems for homes, businesses, and governments. The company provides several programs for homeowners including the "MyPower" loan program and the solar lease and solar power purchase agreement. SolarCity is the largest solar energy provider in the United States.
On December 10th, 2012 SolarCity entered the IPO market and immediately the shares jumped from $8 to $11.79. In February 2015, the shares jumped to $57.60. The reason for the rise in stock is the rapid growth that the company has experienced since 2006. SolarCIty has grown from 440 megawatts (MW) of solar panels installed in 2009 to 6,200 MW installed in 2014. In 2015, it was reported that SolarCity installed 870MW of solar power, approximately 28% of non-utility solar installation in the U.S. that year.
In June 2016, Musk's car company, Tesla, formally submitted an offer to acquire SolarCity for $2.5–3 billion. According to Musk, the reason for the offer is because his focus is "Creating a seamlessly integrated Tesla battery & solar power product that looks beautiful". On August 1, 2016, SolarCity accepted Tesla Motors' offer of $2.6 billion. As of August 2016, Musk owned 22% of SolarCity stock.
SolarCity has a wide variety of products, services and technologies. Their most popular services is their Solar Leasing Program for homeowners. This program allows homeowners to cut down their electrical bill by adopting solar power. Their Commercial Solar Program is the largest commercial solar program for businesses. Their installation in San Jose on the North Campus of eBay was the largest solar installation at the time in 2008. Then in July of 2008, SolarCity completed what was then the second largest commercial solar installation in San Francisco, for British Motor Car Distributors, consisting of 1,606 solar photovoltaic panels. SolarCity introduced new financing options for businesses in 2009 and then completed other large installations for companies like Wal-Mart, Intel and the US military. SolarCity also make Electrical Vehicle Chargers that are available for free to the owners of Tesla's traveling on Hi-way 101 in California. In the next few years, SolarCity is planning on opening up the Gigafactory, a battery factory that plans on making a battery storage device called Powerwall. Musk also announced that SolarCity will be introducing an actual solar paneled roof. That means that the photovoltaic electrical energy generating devices and system would make up an entire roof surface, rather than just mounting solar panels on an existing roof.
His latest ambitious venture is Hyperloop One. Hyperloop is still in the beginning stages of development but Musk is confident that the Hyperloop Transportation System will revolutionize travel. In 2012, Musk at the PandoDaily Event in Santa Monica he said that he has been conceptualizing the idea of a fifth mode of transport. He went on to explain that this futuristic travel mode will be immune to weather conditions, collision free, twice the speed of a plane, low power consumption and enough energy storage to last for 24 hours.
One of my favorite videos of Elon Musk was his Ted Talk. He is great speaker and Ted.com has the full version (about 20 minutes in length). He discusses all his businesses and some of his plans for the future (https://www.ted.com/talks/elon_musk_the_mind_behind_tesla_spacex_solarcity)
During 2012 and 2013, a combined effort from engineers from both Tesla and SpaceX designed the original concept for the Hyperloop. The design concept was then published on the Tesla and SpaceX blogs. In a surprising move, Musk decided to have the concept published on the internet because he wanted people to provide feedback for improving the system. The Hyperloop design will be an open source concept, which is a highly unusual move for a company.
Currently, the design concept is a solar powered, high-speed mode of transport that would be powered by linear induction motors and air compressors. Specialized pods will float on a layer of air and will move through a continuous steel tube and the pods will move through the tubes at the extremely high speeds. The system would be powered by solar panels and one capsule can fit up to 28 people.
In June 2015, SpaceX announced that it would build a 1-mile-long test track to be located next to SpaceX's Hawthorne facility. The track would be used to test pod designs supplied by third parties from the Pod Design Competition. A crowdsourced operation called Hyperloop Transportation Technologies claimed in early 2016 that it would begin construction later in the year of a 5-mile (8 km) Hyperloop test track in Quay Valley but it has yet to receive the permits or even begin its environmental review process. The MIT Hyperloop team was the first to develop the Hyperloop pod prototype, which was based on electrodynamic suspension.
Elon Musk is an innovator and works hard to create technology that leaves a very small carbon footprint on this planet and is focused on technological innovations that will help to reduce climate change. His effective management style coupled with his ability to take risks makes him the most interesting and admired entrepreneur on the planet. Follow him on Instagram.
Biography:
Early Life
Elon Musk was born in South Africa on June 28, 1971, to a Canadian mother and a South African father. He spent his early childhood with his brother, Kimbal, and sister, Tosca in South Africa. Elon Musk did not have the easiest of childhoods but showed early signs of ambition and success. As a child, Musk was reading approximately 10 hours a day and by age 8 had read the entire Encyclopedia Britannica. When he was 9-years-old, his parents divorced, and he went to live with his father. Musk had a difficult time in school and was bullied by other students, so badly that at one point he was hospitalized. These personal troubles did not set Musk back. When he was 12-years old, he wrote his first video game, Blastar, and sold it for $500. His entrepreneurial spirit started young. It has been said that his unsettled early life prepared him for times of adversity during his professional career.
University
At age 17, Musk moved to Canada. He worked odd jobs and stayed with family upon his arrival, not afraid to get his hands dirty shoveling dirt in a boiler room. He first attended Queen's University to avoid mandatory service in the South African military, but he left in 1992 to study business and physics at the University of Pennsylvania. He graduated with an undergraduate degree in economics and stayed for a second bachelor's degree in physics. After leaving the University of Pennsylvania, Musk headed to Stanford University in California to pursue a Ph.D. in energy physics. He dropped out of Stanford after just two days taking advantage of the internet boom and launching his first company, Zip2 Corporation. In 1999, a division of Compaq Computer Corporation bought Zip2 for $307 million in cash and $34 million in stock options.
Entrepreneurial Journey
Musk's entrepreneurial journey is nothing short of extraordinary, and many people are sitting in anticipation watching the developments of his latest ventures. Musk is a mover and shaker of modern times and technological advancements. In 1999, Musk co-founded X.com, an online financial services/payments company. An X.com acquisition the following year led to the creation of PayPal. In October 2002, PayPal was acquired by eBay for $1.5 billion in stock. Before the sale, Musk owned 11 percent of PayPal stock.
Musk founded Space Exploration Technologies Corporation, or SpaceX, in 2002. The intention of this business was to build spacecraft for commercial space travel. By 2008, SpaceX was well established. NASA awarded the company the contract to handle cargo transport for the International Space Station—with plans for astronaut transport in the future—in a move to replace NASA's space shuttle missions.
Another Musk venture is Tesla Motors, a company dedicated to producing affordable, mass-market electric cars. Five years after its formation, the company in 2008 unveiled the Roadster, a sports car capable of accelerating from 0 to 60 mph in 3.7 seconds, as well traveling nearly 250 miles between charges of its lithium ion battery. With a stake in the company taken by Daimler and a strategic partnership with Toyota, Tesla Motors launched its initial public offering in June 2010, raising $226 million. The 2017 Tesla Model S P100D first test hit a new record 0 to 60 mph in 2.28 seconds.
In August 2013, Musk released a concept for a new form of transportation called the "Hyperloop." Hyperloop is a proposed mode of passenger and freight transportation that propels a pod-like vehicle through a near-vacuum tube at more than airline speed. At the end of January 2017, 27 teams were on site at SpaceX in preparation for a weekend's Hyperloop Pod Competition just outside SpaceX headquarters in Hawthorne, CA. The purpose of the competition was to help accelerate the development of a functional Hyperloop prototype and encourage student innovation by challenging university students to design and build the best Hyperloop pod. The competition was the first of its kind anywhere in the world.
Musk's net worth for 2017 comes in at 13.4 billion. Musk's success did not come overnight. There were points throughout his career where money was scarce, he was sleeping in his office, the risks were high, rockets weren't cooperating, and funding was coming in at the final hour. Musk's aggressive work-ethic combined with a strong belief in what he was doing propelled him to the success he has reached today.
Political Involvement
Musk has recently become more active in the political sphere. Wherever you stand on current U.S. politics, Musk is going to be a game changer and a major influence during Trump's presidency. Musk is one of 18 business leaders on Trump's advisory council. Musk has spoken out about the travel ban and environmental issues. Musk insists he's making progress. "At my request, the agenda for yesterday's White House meeting went from not mentioning the travel ban to having it be first and foremost," Musk said, referring to Trump's travel ban against seven Muslim-majority nations. "There has already been, and there will be progress on this matter."
Musk — who has publicly opposed the travel ban — added that he wants the travel ban to be "addressed on all fronts: judicial, legislative and executive," indicating that he thinks a federal judge's intervention isn't enough. Musk is also speaking up about environmental issues. The CEO of Tesla (TSLA) and SpaceX, has one other important issue on his agenda with Trump: climate change. He said that he raised the issue with the president.
Personal Life
Musk has been married twice and has five sons. He married Justine Wilson in 2000. In 2002, their first son died at 10 weeks old from sudden infant death syndrome (SIDS). They would have five additional sons together, twins (with IVF) and triplets. The two met during college and Justine was by Elon's side during the early stages of his entrepreneurial journey. After their divorce, Musk met actress Talulah Riley, and they married in 2010. The couple split in 2012 but married each other again in 2013. Their relationship ultimately ended in divorce in 2016.
If you'd like to see his biography has a graph check out:
http://fundersandfounders.com/how-elon-musk-started/