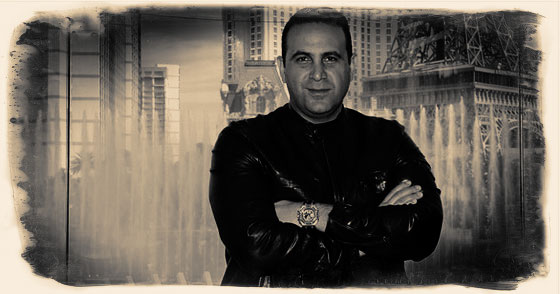 Table of Contents:
• Quick Facts • Overview • Early Life and Family • SBE Entertainment Group • Early Career • Hospitality Industry • Establishing Hotel Brands • SBE Nightclub Ownership • SBE Restaurants • Awards and Achievements • Philanthropy • Fox News Interview • Married Emina Cunmulaj • Recent News • Expansion in Hospitality
Born: 1975, Tehran, Iran
Nationality: American
Spouse: Emina Cunmulaj (Married in 2015)
Parents: Younes Nazarian (Father), Soraya Nazarian (Mother)
Brother/Sister: David Nazarian (Brother), Shulamit Nazarian (Sister) and Sharon Nazarian (Sister)
Education: Beverly Hills High School, University of Southern California, and New York University
Net Worth: $150 million (2016)
Company: SBE Entertainment Group
SBE Entertainment over the last three decades has grown at an exponential rate and is now considered the premier lifestyle hospitality company. Considered the leading visionary in the world of hotels, cuisine and entertainment, SBE has become the top hospitality company in the word. This meteoric rise is not by accident. SBE, owned by Sam Nazarian, has spend the last three decades curating the most authentic, unique and lavish experiences for those seeking something different. Innovation and imagination has helped build this company into the hospitality behemoth that it has become today. He understands that hard work and
dedication are one way to succeed but those are not the only aspects to success. Nazarian knows the best way to set yourself apart from the herd is by also combining the flair for the theatrical with a distinctive and unique taste. He has parlayed his keen eye for the unique into creating gorgeously decorated and distinctly situated hotels, restaurants and entertainment venues. Nazarian, already a success in both the telecommunications and real estate industries, has continued that success by dominating the hospitality industry.Sam Nazarian is the true visionary at the helm of this exclusive company and he is showing no signs of slowing down.
Nazarian was born in Tehran, Iran in 1975 and his family immigrated to the United States after the Iranian Revolution. The shrewd business sense appears to run in the family. His father, Younes Nazarian, was an early investor in Qualcomm and made a significant fortune on that insightful investment. Sam Nazarian was raised in Beverly Hills where he was surrounded by the very best in food, hotels and entertainment. Inspired by the opulent surroundings of Beverly Hills, Nazarian knew how he wanted to redefine the hospitality industry.
Sam Nazarian, the Founder, Chairman and CEO of SBE Entertainment Group, is best known for his entrepreneurial instinct and shrewd business acumen. These traits are the reason why SBE has revolutionized the hospitality industry.
Nazarian didn't start out in the hospitality industry. His first foray into an entrepreneurial career was actually in the tech industry. His first business was a telecommunications company called Platinum Wireless that he started in 1998. Platinum Wireless specialized in the distribution in Nextel software in the greater Southern California area. The company took no time at all to become the number one Nextel distributor in Southern California. He then sold the company for a sizable profit after a period of rapid growth and expansion. Riding high on the success of that business venture, he then diversified his family's assets into real estate holdings. After experiencing success in the real estate market, Sam Nazarian decided that he wanted to test his shrewd business sense in the entertainment and hospitality industry.
After his success in the telecommunication industry, he then decided to diversify his family's assets by venturing into the real estate market. He created 3Wall Development in 1999 and just like Platinum Wireless, Nazarian took no time to grow this company into one of the largest owners of multi-family housing in Southern California. But the focus of 3Wall Development wasn't just multi-family housing. He decided that in order to diversify the company's real estate holdings, he would have to purchase and develop real estate across a variety of industries. 3Wall then turned its focus over to a variety industries instead of a niche market and it turned out to be a huge success.
During this time of his life, Nazarian saw a need for a different kind of approach to the world of hospitality. After his success in the real estate market, he decided to convert that success into a hospitality company. In 2002, he created and founded SBE Entertainment. SBE launched its first nightclub in 2003 and then he continued to grow the company's assets to include hotels, restaurants, nightlife and real estate. Nazarian decided that the hospitality industry needed an overhaul. He wanted to created a certain type of entertainment, hotel and restaurant venues that would stand apart from all the other options out there. He didn't want to just create a brand; he wanted to change the industry. He wanted the SBE brand to redefine luxury in the hospitality industry. Sam Nazarian created SBE Entertainment Group with the goal of dominating the luxury hospitality and entertainment market.
The company, headquartered on the glamorous Wilshire Boulevard in Los Angeles, has come to symbolize the very best in hospitality. 5900 Wilshire Boulevard, Los Angeles, California, United States.
SBE Entertainment helped to establish many up and coming hotel brands that include some popular brands like Delano, Mondrian, Redbury, Hyde Hotel & Residences, Clift, Hudson, Sanderson and St Martins Lane. Located in major hotspots around the world like New York, Los Angeles, Istanbul, and London, SBE's hotels are the epitome of unique elegance. The popular hotel website www.HotelChatter.com, named Mr. Nazarian "Hotelier of the Year" two years in a row. SBE in November of 2016 decided to expand their boutique hotel offerings by acquiring the Morgans Hotel Group. This acquisition added 13 new hotels to SBE's already impressive lineup including New York's Hudson, the Mondrian and Delano brands, as well as Morgans
Originals.
SBE also owns several super popular Los Angeles nightclubs and lounges that are constantly frequented by the rich, powerful and the famous. SBE's marketing and branding is focused on creating a club atmosphere that entices and excites individuals. SBE's impressive club and lounge lineup includes Create, Greystone Manor, Emerson, Hyde, XIV, Colony, Eden, MyHouse, MyStudio and The Abbey. Always the savvy businessman, Nazarian only keeps SBE's clubs open for only about a span of eight months. He then closes them and performs extensive renovations on the club. He then will open the club back up and sometimes he reopens them under a new name. Sam Nazarian understands that the type of people who frequent the club scene get bored easily. They want something new and exciting and Nazarian knows how to keep it fresh and new so the LA night scene will consistently revolve around his clubs. This business plan has made SBE's clubs and lounges the most popular nightlife spots in the world. The launch of SBE's first nightclub was in 2003, the company exploded onto the scene and became the name in hospitality and entertainment. They were first known for their nightclubs thanks to being featured on the popular shows like MTV's The Hill and HBO's Entourage. Characters in both of the shows were often filmed out at SBE's nightclubs and these scenes helped to create a frenzy around all of SBE's venues. He is considered to be one of the largest nightclub owners on the west coast. Nazarian has invested well over $800 million on just the north end of the Las Vegas strip where the old Sahara Hotel stood and it now features his hotel – The SLS Las Vegas.
When SBE decided to make the foray into the restaurant industry, Nazarian knew that securing the right partnerships would be key in creating the most sought after, award-winning restaurants in the industry. Nazarian brought the famed French designer, Philippe Strack, on board to help create distinctive design concepts for SBE's restaurants. SBE also tapped into the creative culinary minds of famed chefs Jose Andres, Katsuya Uechi, Danny Elmaleh, and Michael Schwartz. These award-winning chefs focus on creating cuisine that is internationally recognized and produced from thoughtfully sourced ingredients.
Sam Nazarian has built a lifestyle hospitality company that has taken entertainment to a whole new level and it has not gone unnoticed. He has won many awards for his achievements during his impressive career. In 2006, Nazarian was named one of the "Top 100 Most Powerful People in Southern California" by West Magazine and he is considered one of the most influential people in Los Angeles. He serves on the Board of Directors of the Southern California Institute of Architecture. In 2014, Fortune Magazine added Sam Nazarian to their popular 40 under 40 list. He is also showing no signs of slowing down. Sam Nazarian is a philanthropist and savvy businessman
who will no doubt continue to grown SBE into a luxury hospitality company that will continue to take over the hospitality industry.
Sam Nazarian and the entire Nazarian family are heavily involved in giving back. They are active backers of Jewish causes, which informs the work the family does both in L.A. and beyond. Sam Nazarian is included in these efforts. The Nazarian's also support policy outfits in Los Angeles. They've supported organizations like the Pacific Council on International Policy and the RAND Corporation. The family has helped fund the RAND Israel Project to explore energy alternatives. The family has also supported RAND Policy and Public Safety Project.
Arts are another important cause. Grantees include Santa Monica Museum of Art, Los Angeles Philharmonic, Los Angeles Opera, and Inner-City Arts. The family foundation also created the Soraya Sarah Nazarian Program in Fine Arts, at American Jewish University in Bel Air. The Nazarian's also support Jewish causes in Los Angeles. They've given millions to the Jewish Federation of Greater Los Angeles. They've also helped the Iranian American Jewish Federation, and Sinai Temple, among others. Sam also gives as a philanthropist outside of the Nazarian Foundation; he started the SBE Foundation, through which he supports numerous causes, including education and improving children`s health.
Also, he donated $200,000 to the Beverly Hills Athletic Alumni Association, and Beverly High School changed the name of its basketball court to Sam Nazarian. In July 2009, Los Angeles Mayor Antonio Villaraigosa appointed Nazarian to the Board of Airport Commissioners of Los Angeles World Airports.
As far as he has gone in his business, he and his family have made it a priority to give back to schools, communities, art, and avenues that better society. As an immigrant family, they bring a unique perspective to philanthropy, and have made their mark in LA, and have given back in significant ways.
He was featured on the Fox Business Happy Hour – June 2008

Nazarian married model Emina Cunmulaj in June 2015 in Mexico. She has been featured on the cover of Harper's Bazaar (U.K.) and Vogue (Mexico). The wedding took place at the St. Regis Punta Mita with white rose peddles as they walked down the isle. At the rehearsal dinner, the couple was serenaded to the flamenco band and the Gipsy Kings. Their cake was seven-tier and reached approximately 5 ft. tall (provided by L.A.'s Royal Cakes). At the outdoor reception they featured a fireworks display. Guests at the even were given goodie bags and included selfie sticks, sunglasses, and flip-flops.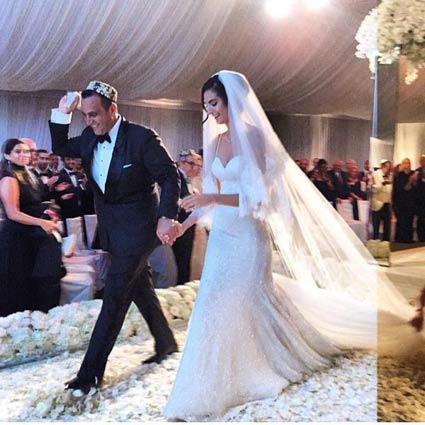 Nazarian family donates $17 million to CSUN's Valley Performing Arts Center (LA Times)
(Fleischman partnered with Sam Nazarian's SBE group in 2011)
The guy who brought you Umami Burger wants to reinvent PB&J (LA Times)
Sam Nazarian and the Revitalization of the Niche Hotel Industry
Big chains hotels dominated the world in the 1980's and the 1990's. Families would clamor to stay at these huge hotels with little to no personality for family vacations. The hotels all had the same look for marketing and branding purposes but no real design or unique features to set it apart. The blandness was prevalent in the industry but the price was right so people would forgo the blandness for price. Amenities always included coffee in the lobby and a pool on the premise. The color schemes were also beige and the floor plans were the same. You could be in one big chain hotel in Texas and then go to another one in New York, and not know the difference except for the address.
With the introduction of social media to a mobile platform came the need to share as many photos as possible. Little did these hotels know that social media would create the need post pictures of all a person's surroundings. People wanted to share their experiences with everyone, and social media provided the perfect platform to share even the most minute details of ones life. There are companies like sbe Entertainment who have figured this out and have create properties that offer Instagram-worthy shots around every corner.
Sharing pictures of a trip has become more than just sharing photos of the tourist attractions in the area. People will share photos of the place they are staying at along with photos of the grounds, their view and other interesting pieces of décor. People wanted to stay at places that offer something interesting or delightful around every corner. The social media platforms are the way to share our lives with the world but it has become all encompassing. It has become important to share every last detail of a journey or experience.
When people now book a hotel, price isn't the only factor taken into account. The many unique aspects of a hotel's property come into mind for most people when choosing a place to stay. People want ambiance and they want unique properties. They don't want to know that they are staying at a chain even if they are actually staying at a chain.
Some hotel chains never felt the need to update nor change their image to keep up with the ever-demanding need to post photos. They didn't find it necessary because they didn't see the importance of incorporating social media into their branding or aesthetic. They continued on with the same bland look that they had in the 1990's. The big chain hotels became less in demand. Some of these larger hotels have started to catch up but other hotel brands like sbe have taken aesthetic to the next level.
The company sbe Entertainment is known worldwide for their award winning hotels, nightclubs and amazing restaurants. The company, founded by Sam Nazarian was created with the vision to create the ultimate hospitality experience. Sam Narazian has revolutionized the hospitality industry and he has been considered the ultimate trendsetter. Sam Nazarian defined the "scene" in the Los Angeles area. He built a luxury brand that incorporated a unique and contemporary design aesthetic that was revolutionary at the time. Most companies were working on a uniform branding, while sbe was working on seeking out unique locations and then building a venue or hotel that fit a certain aesthetic that appealed to the jetsetter, social media influencer lifestyle.
Currently, sbe has a portfolio of 22 hotels around the world. These international lifestyle hotels in global markets like Los Angeles, New York, Los Vegas, Miami, San Francisco, Istanbul and London are considered premier luxury retreats that have interesting design features and amazing ambience that lend to create the prefect shot for any Instagram account. The hotel was designed by visionaries in the industry and Nazarian focused on finding the most creative individuals to help fulfill his vision.
One visionary that sbe Entertainment got on board was actor and musician, Lenny Kravitz. Kravitz is not only a talented actor and musician but he also has a design team at Kravitz Design Inc. that has been making quite the statement at sbe's properties in South Beach. The firm has taken on the design of sbe's SLS Hotel South Beach Tower and the Villa Penthouse. Kravitz Design Inc. was founded in 2003 in New York. The firm offers design solutions for commercial and residential spaces. They also have design solutions for product development and they also offer branding solutions. Kravitz Design Inc. is known for their eclectic and surrealist feel with stone, tile and artistic accents that encompass multiple cultures and eras.
Kravitz Design Inc. was the perfect fit for what Nazarian and sbe Entertainment wanted to achieve when it came to the design of their South Beach properties but Lenny Kravitz was not the only creative mind that was tapped by Nazarian's team for inspiration. Internationally acclaimed photographer, film director and creative director Matthew Rolston was an integral part in helping sbe to revitalize the South Beach and Hollywood areas. Considered a "creative chameleon" in the industry, his approach to lighting, concept ad design has been hailed as revolutionary and cutting edge. Rolston has written and directed music videos for big names like Madonna, Janet Jackson, and Beyonce. He is also known for his creative campaigns for well-known brands like Estee Lauder, Elizabeth Arden, Gap and many others. He helped to envision the Redbury Collection with Sam Nazarian.
The Redbury Collection consists of two hotels. One hotel is located in South Beach and the other Hotel is located in New York. The suites in the Redbury Collection are specifically designed to be a cozy home away from home. Both hotels are located centrally to everything that either New York or South Beach have to offer to their clientele. The Redbury South Beach is mere steps away from Collins Avenue and the rooms are designed with a lovely Art Deco style. The Redbury New York in located centrally in Manhattan's NoMad district. The hotel has 256 renovated and redesigned rooms that were influenced and designed by Rolston.
Another design and creative powerhouse that Nazarian specifically sought out was world-renowned French designer, Philippe Starck. Starck has a long history in interior, product, industrial and architecture design. He was first noticed for his nightclub designs that were original and forward thinking. French President Francois Mitterrand asked Starck to refurbish the president's private apartments at the Élysée in 1983. He has spent the last 30 years designing hotels all over the world and Narazian knew that Starck's streamline design and keen creativity would help him to create the unique concepts for each of the SLS hotels.
Sam Nazarian and sbe wanted different designers from different backgrounds so that each property would have an individual feel that would set it apart from the bland chain hotels. His plan paid off because the sbe brand become one of the most sought after hotel chains in the world. It because the ultimate bragging right to stay at one of their exclusive properties.
This success has led sbe to have the opportunity to expand their hospitality holdings. In 2016, the company announced that they had officially closed on the purchase of the Morgans Hotel Group. The company tried to purchase the Morgans Hotel Group the year before but ran into some issues but was able to make an offer again a year later. The transaction doubled the amount of hotels in sbe's portfolio. Nazarian said of the transaction, "The acquisition of Morgans not only further expands our offering- but brings the invaluable partnerships of Ron Burkle and Cain Hoy Enterprises. sbe will now have a presence from San Francisco to Doha; Los Angeles to London- and brings its impressive history, talented team and culture of service and innovation to the sbe family. We couldn't be more pleased about the transaction."
This merger with the Morgans Hotel Group has led to other future acquisitions. Sam Nazarian and sbe announced in March of 2017, they were in the process of negotiating a merger the popular restaurant and club operator, the Hakkasan Group. The goal is create the ultimate, large-scale hospitality company. The combined company would have an equity value of about $1 billion according to the Wall Street Journal. There has been no current news of a merger but Sam Nazarian stated that, "sbe remains in negotiations to complete a financial transaction in which sbe's and Hakkasan's formidable hospitality assets are combined into one company. We are looking forward to completing the transaction to accelerate our already robust expansion."
Most hotel chains focus on churning as people as possible in and out of their locations. The focus is on uniformity, which they believe help to make the brand recognizable no matter where the hotel is located. Most people consider these hotels to be bland and run of the mill. This marketing plan worked in the 1980's and 1990's when people wanted to stay in a hotel that had a well-known brand name. Times have changed. Gone are the days where big box chain hotels dominated the travel scene.
Sam Nazarian and sbe knew that times were changing and when they started to add hotels to their hospitality portfolio, they knew that their hotels would need to provide a unique experience that would delight all the senses. They are raising the bar in the hospitality industry but creating a portfolio of hotels, restaurants, and nightclubs that are the most sought after destinations for travelers. Their award winning designers, creative directors, and chefs have helped turn sbe into a luxury retreat for those who wish to be delighted at every turn.
As sbe continues to forge onward, the company has begun to expand their offerings to more locations worldwide. They opened their first hotel in the Middle East with plans to open more in the region. The company has officially opened their Mondrian Doha Hotel in Qatar and Mondrian Park Avenue Hotel in New York over the weekend. Sam Nazarian said that, "Mondrian is a brand with international allure and we're thrilled to announce the openings in Doha and New York – two of the most dynamic and vibrant cities in the world. Mondrian is an extremely valuable brand to sbe and we look forward to bringing it to more cities around the world in the coming months and years as we expand our international footprint."
What started as a venture into the nightclub arena grew into one of the largest hospitality companies in the world. Sam Nazarian and sbe entertainment will continue to expand and do what they do best which is to provide exotic experiences. Traveler's expectations have been raised thanks to the sharing aspect of social media. They want to show off their experiences and sbe was able to tap into that mindset to create hotels that perfectly blend together technology, culture and design for the ultimate vacation experience.
Expansion in Hospitality: sbe Entertainment, Argyle Hotels, and Nobul Hotels
Several Hospitality Brands have global and domestic expansions ahead of them. Plans are in place to take these hospitality venues to the next level of service and accessibility. Sbe Entertainment founded by Sam Nazarian is expanding further internationally, Argyle Hotels are to be launching in Nepal and CEO Kevin Zhang is optimistic about the expansion, and Nobu Hotels is slated to make a new mark in Atlanta at the Philips Plaza.
Sbe Entertainment Group International Expansion
Sbe, CEO Sam Nazarian, has confirmed another 10 deals to bring its hotels, residences, and restaurants to new territories in Latin America and the Middle East. The company is on track to double its global hotel collection by 2021. Additionally, an estimated 24 restaurants and lounges are going to be part of the new and existing hotel pipeline, further emphasizing the company's stance on offering a 360-degree experience for guests. The future for Sbe entertainment is both exciting and expanding.
SBE has already opened a 270-room Mondrian in Doha, Qatar, its first Middle East property. By 2020, it plans to open an SLS Doha with 200 rooms, 100 residences, 50 services apartments, and three restaurants. In the Middle East, the company also has plans to open two new properties in Dubai. This includes a Mondrian in 2019 and Delano in 2018. SBE will also manage the Sanderson Ortak??y, which will launch in Istanbul. Sbe will be making their mark on the middle east hospitality and entertainment map.
Sam Nazarian, Founder and CEO of sbe, said:
"sbe is further expanding our global footprint across our entire portfolio – from luxury hotels and residences to fast casual dining. With these 10 new deals, we are enhancing our already extensive pipeline and enjoying a period of unprecedented growth. Our pipeline demonstrates the versatility and strength of our brands on a global scale, and we look forward to continuing to develop our brands both domestically and internationally."
SBE is also expanding to the south of the United States. In Latin America, SBE will manage SLS Mexico City Pedregal, a 150-room hotel in Mexico City. The new build will open in 2021. Furthermore, the company has received approval for a 300-room hotel in Uruguay, the SLS Punta del Este Residences. SLS Pilar Residences, with 173 residences, will open in 2020 in Buenos Aires. The Mondrian brand will make its debut in Mexico in Playa del Carmen with a 100-room condominium hotel expected to open in 2021.On the restaurant side, the company is going to expand its popular Umami Burger brand into Mexico. Sbe entertainment will be making a new mark and exerting a new presence in Latin America with the expansion of these entertainment venues across different countries.
What does this mean for sbe entertainment and lifestyle companies across the word? "It's shown that a smaller lifestyle company can become a global ambassador for some of these amazing U.S.-based brands," Nazarian says. Exciting times are ahead for Nazarian and SBE entertainment. If he can expand to this level, his will be one of the firsts to successfully do so as a smaller lifestyle company.
Argyle Hotel Group to Expand to Asia-Pacific Region
The Australian Argyle Hotel Group (AHG) is expanding in the Asia-Pacific region. The group will be opening its first hotel in Nepal. The Kathmandu Argyle Hotel is scheduled to open in early 2019 and will be the Argyle Hotel Group's 116th hotel under management.
AHG's push in business hotels in Asia, has had a positive impact on the existing communities. It has allowed the group to help growing communities by developing international hotels and venues to aid local business in underserved and overlooked areas. Thirty hotels have been added to the Argyle Hotel Group roster in the last year as part of its first steps in expanding through new territories, like Fiji and Nepal. Kevin Zhang, CEO of Argyle Hotel group explained, "International brands have largely overlooked the incredible potential of these growing regions, focusing on low-risk targets in large cities, but they do not factor in the enormous amount of business travel that happens in smaller cities."
AHG exports hotel and resort management and asset management services throughout China. The group manages seven brands including: Argyle Grand Hotel, Argyle Resort, Argyle Hotel, Ausotel & Ausotel Smart, Argyle Suites, Argyle Boutique Hotel and Metro Hotels. "There's a new hotel in the Argyle Hotel Group family every two weeks, and we're anticipating accelerated growth next year as we continue to expand into more territories," Kevin Zhang, said.
The hotel group's addition to Nepal's hotel supply follows a white paper issued by the Hotel Association Nepal in July 2017. It called on the Nepalese government to curb the booming hotel development in the country before the new hotels eat into the market. After releasing details on its expansion into Nepal, Australia-based Argyle Hotel Group added the Manila Prince Argyle Hotel in Metro Manila, Philippines to its construction pipeline. The approximately 226,043-square-foot hotel has 250 guestrooms, and is set for completion in late 2019. The Manila Prince Argyle Hotel is the 119th hotel under Argyle Hotel Group's management, and will be located near Manila Ninoy Aquino airport. AHG added more than 30 hotels in new territories to its portfolio in 2017, including locations in Nepal, Fiji and the Philippines, remaining on track to expand its presence throughout the Asia Pacific region.
"As we continue to grow and to strengthen our brand, we'll also be increasing our presence in larger trade hubs and metro areas. We already serve some of the largest cities in Asia, with several hotels in Beijing, Shanghai, Guangzhou and now Manila," Zhang said in a statement.
Argyle Hotel Group is an Australian hotel management company which provides a series of hotel and resort management services and also owns a series of hotels in China. The group has a total of 106 hotels under its management. Headquartered in Beijing, China, the group operates eight hotel brands in the Asia-Pacific region.
International Nobu Hotel Luxury Brand to Expand to Atlanta
Phipps Plaza at the Buckhead Mall in Atlanta is about to get a lot bigger. A scheduled addition of a luxury Nobu Hotel and restaurant, office tower and fitness center in Atlanta will raise the level of entertainment value at this venue. The hotel will have 150 rooms, a rooftop pool, corporate conference space and spa facilities. Nobu Atlanta restaurant, known for its new style Japanese cuisine, will open in a 10,000-square foot space. The new development will also feature a 90,000 square-foot Life Time fitness center, a 12-story office tower and more restaurants to be announced in the future. The project, which Simon President of Malls and Chief Administrative Officer John Rulli said is "probably north" of $200 million, is likely the most dramatic single addition to Phipps Plaza since the 1990s brought a complete overhaul and third anchor store to the posh shopping center.
Trevor Horwell, Chief Executive Officer of Nobu Hotels said, "We are very proud of our partnership with Simon, one of the world's largest and leading owners and managers of high-quality retail destinations. They have a vision to create a dynamic lifestyle experience within Atlanta at Phipps Plaza and we are pleased to be a cornerstone for this. Our hospitality brand thrives on being a catalyst for global mixed-use destinations whether this be from hotel, restaurant, retail or residences."
Construction is to begin in 2018 with a phased opening beginning in spring 2020. These new elements will be completely integrated into the existing footprint of Phipps Plaza, which will continue to be anchored by the extremely productive Nordstrom and Saks Fifth Avenue stores.
Named one of luxury's 25 Most Innovative Brands by Robb Report, Nobu Hotels is ranked among an elite selection of global luxury brands. The natural growth of Nobu hotels built on service, image, and reputation, offers the complete spectrum of hotel and restaurant management for unique projects around the world. Founded by Nobu Matsuhisa, Robert De Niro and Meir Teper, with operations spanning five continents, the Nobu brand thrives in the world's capitals as the ultimate destination lifestyle experience. The first Nobu Hotel opened in 2013 as a boutique hotel within Caesars Palace Las Vegas and was subsequently named one of the Hottest New Hotels by CNN Travel, Top North America Hotel Opening by Luxury Travel Advisor and subsequently Luxury Travel Advisor's Award of Excellence.