Washington State Department of Veterans Affairs Director and retired U.S. Army Command Sergeant Major Lourdes E. 'Alfie' Alvarado-Ramos will be inducted to the VA Puget Sound Health Care System Wall of Heroes November 9, 2022 at 3 p.m. She is being recognized for always placing the needs of service members—past and present—in the center of all that she does, whether on the battlefield or across Washington State.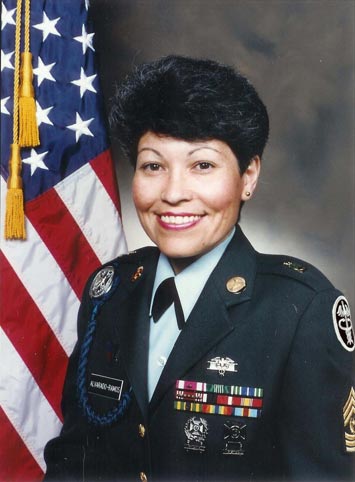 Alfie (as featured on Madigan's wall of past command sergeant majors):
The Wall of Heroes serves as a reminder for patients, visitors, staff and volunteers at VA Puget Sound of the sacrifice, valor, bravery and heroism demonstrated by Puget Sound area Veterans. Dedicated June 29, 2009, the Wall of Heroes display is one way VA Puget Sound honors those Veterans. Framed biographic displays of each inductee are symbols honoring Veterans who have had significant contributions to those we serve at VA Puget Sound. Alvarado-Ramos will be the 18th Veteran honored.
Born in Puerto Rico, Command Sergeant Major Alfie Alvarado-Ramos served 22 years on active-duty service, retiring August 1993 as the Command Sergeant Major of Madigan Army Medical Center and Troop Command, Joint Base Lewis McChord. During her military career, she was the recipient of awards and decorations that include the Legion of Merit, Order of Military Medical Merit, Expert Field Medical Badge and Meritorious Service medals. Her commitment to servicemembers—past and present—remains her #1 priority. This is evident in her many roles today: Washington State Department of Veterans Affairs Director, National Association of State Directors of Veterans Affairs President, Governor Jay Inslee's Executive Cabinet Member and Washington Military Transition Council Chair and serves on the Boards of Directors of the Patrick Madigan Foundation and National Association of State Veterans Homes.
Madigan Army Medical Center Command Sergeant Major Albert Harris (the position Alfie had at Madigan prior to her retirement) will join VA Puget Sound leadership in honoring the 22-year Veteran. Friends of Alvarado-Ramos, along with representatives from U.S. Army, Veterans Service Organizations, local congressional offices and VA Puget Sound staff are expected to attend.
Event Details:
VA Puget Sound, 1660 S. Columbian Way, Seattle (just inside main entrance)
November 9, 2022, at 3 p.m. (brief 15-20 minutes ceremony)