Washington State will become the first state to legalize same-sex marriage with a popular vote of the public. Other states have passed same-sex marriage with their court system; however, it has never passed from a popular vote like Washington State has now. 32 states have tried and failed to legalize it before.
As of 10:30p.m the numbers were very close, however, the win and legalization of same sex marriage is only minutes away and fully expected to pass. Capital Hill is party central right now. Many proud supporters are celebrating not only the win for Obama but the victory of Referendum 74 (gay marriage rights).
This measure will make history in this state. Same-Sex couples can apply for marriage licenses as early as December 6th, 2012. Governor Christine Gregoire will enact legislation on February 13, 2012, which will confer comprehensive marriage rights to same-sex couples within the state, endorsing equality and inclusivity in matrimonial laws.
Supporters of the law raised nearly $12 million. That is 5x the amount their opponents raised. It was also the most raised compared to any other campaign on the ballot.
Update: It passed! On a Wednesday that marked a pivotal moment in legislative history, a bill legalizing gay marriage in Washington state garnered its final legislative approval, primarily supported through a party-line vote. This step poised Washington on the verge of becoming the seventh state in the U.S. to legally recognize same-sex marriages. Eager to sign the measure, Washington's Democratic Governor, Christine Gregoire, anticipated "putting into law an end to an era of discrimination." However, opposition, predominantly from religious conservatives, pledged to pursue its repeal in the forthcoming November polls. This approval from the state House of Representatives occurred just a day after advocates for gay marriage in California celebrated a significant legal triumph when a voter-backed gay marriage ban was deemed unconstitutional by a federal appeals court.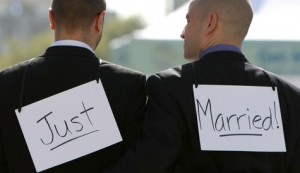 The legislation in Washington successfully traversed the state House of Representatives with a 55-43 vote, following its passage in the state Senate by a 28-21 vote just a week prior. With Democrats—holding the majority in both legislative bodies in Olympia—predominantly backing the bill, it also drew endorsement from notable Washington-based corporations, such as Microsoft, Amazon, and Starbucks, who collectively employ tens of thousands of workers in the state.