Metro Transit has a great slogan. "We'll get you there". What they don't say is you can't find out what bus to take and where. Let me start by giving you Bus riding 101. This is so simple and easy to understand.
#1.  BE SURE YOU BUS IS LISTED ON THE SIGN.
#2.  IF YOU HAVE A PROBLEM CALL info listed on your bus schedule. Customer Service  (206) 553-3000.
Now look at the two photos of the bus signs. These pictures were taken a block apart on the same day, so I had no idea which one was right.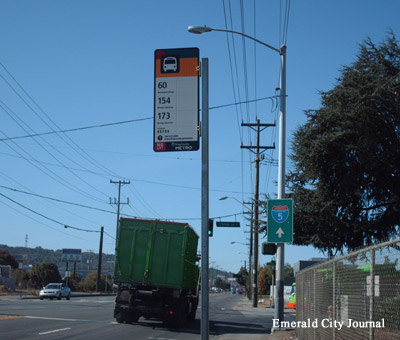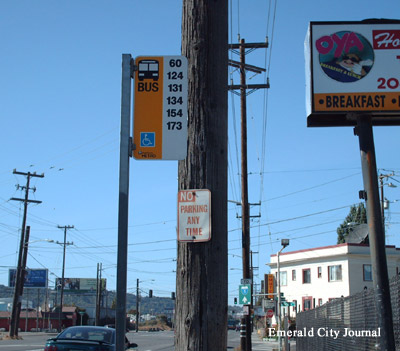 I don't mean this to sound like I think Metro has a vendetta against me, but I will write my experience and it has to be happening to hundreds and hundreds of people.
My story:
I had my green bus schedule in my hand, headed to East Marginal way to catch bus 131 to Burien for a doctors appointment. But my bus number was no longer listed on the sign. Look at the picture of the two bus signs. The bus numbers on the signs had been changed. The buses that I ride are 124, 131, 132. These get me to down town Seattle on 4th and to Burien. You will see that the on the sign these three numbers have been removed. No rider alert on the post, nothing explaining anything. Remember rule #1. If your bus is not listed, it wont be coming to that stop. I was bus less in Seattle all of a sudden. Missed my appointment, walked back home and called information. Nothing but a busy signal for over ten minutes. I had relatives and neighbors try to find out for me and no one could get anyone to answer the phone but a Grandson was told to leave his number and they would call him back. THEY NEVER DID. I emailed Metro and left a comment/complaint and it said they would try to answer me within two weeks. I finally wrote a snail letter to the Mayor. The secretary had no idea what to do with it, but bless her heart she sent out an email all over the place called, How can I help an 89 year old catch a bus? I am sure there was a lot of laughs about a little senile old lady but the flood gates opened. The Mayors Secretary or whoever answered me was Becky Stanley. Without her I don't think I would have ever got an answer about the buses.  She assured me it's not Mayor Mcginn's problem but she got Deidre Andrus attention at Metro and I got my answers.  These girls/woman were courteous and helpful. The message was awful but the messengers were great.
The answer I got from metro was this. THEY ARE VERY SORRY I GOT CONFUSED. well duh.  Here is why I was confused. I was supposed to just stand at the old bus stop and wait for my old bus, although it was not  listed. They are changing 50 bus routes and had to change the bus signs early to have them in place by Sept 29th. How is anyone to know, without a notice on the bus sign post? Lets say I go stand and wait for a bus that is not listed on the sign, when I get to Burien Transit station how am I going to know what sign to stand under to get home?
This is not only unnecessary, but is actually cruel.
I have now heard the information that my bus 134, will not exist anymore. To get the 131 I would need to walk from Corson to past 4th and Michigan, and it would take me to town, NOT TO BURIEN like it always has. The 124 bus I can catch on Carlton and it will go down airport way to 2nd and Jackson.
To sum up what these changes did for me (and many many hundreds of riders) was to take away my independence completely. I have rode the buses 66 years from this same address. I could take a bus that would go by here to town and all the way to Federal Way. I could ride it to the Grey Hound bus station and see the Christmas lights along 4th and get to the Monorail. Its gone. The 131 took me to Burien and downtown. My doctor and hearing aide office is in Burien. They tell me I need to take the 124 either to South Park or Tukwila Link and catch a bus to Burien. Every time you change buses you can count on an extra half hour. I would be afraid to stand in South Park. So the new BIG change just ruined the bus service for Georgetown completely. We have no buses that we can take to Costco, Food bank of the businesses along 4th. Can't get to Burien without a major mess. Think of the millions they spent to give us this NEW AND IMPROVED SERVICE. I asked the Mayor if he was able to get me a three wheeled bike but did not get a response. Before you ask, age does not qualify me to get a senior shuttle. I would need a doctors slip saying I have trouble walking. I can walk a couple blocks fine, can climb on to a bus fine, but first I need THE BUS.
Now look at the 2013-2014 Transportation Budget Highlights below. This is from the Mayor that didn't have a clue about how I could get a bus. Look what they spend for studies and analysis and planning. They want funds to get a 4th street car to Paul Allen's Vulcan spread. We can't even get a bus in Georgetown.
My neighborhood has lots of woman and little kids, guys in wheel chairs and we just don't count in the scheme of things. He talks in some of his other plans how he will have well lit places for people to wait for their buses. WE DON'T EVEN HAVE A BENCH, but heck we don't have a bus either. Call the information number and let them know what you think, or better still go to the comment section of Metro Transit and tell them. While you are at it leave a comment on our Journal.
2013-2014 Transportation Budget Highlights

FAST AND RELIABLE TRANSIT
Nearly $6 million to connect our neighborhoods with high capacity transit

$2 million      for a corridor analysis of a high-capacity transit line from downtown to the University      District, via Eastlake. If approved by the council, this      work would begin next year.
$850,000      for a corridor analysis of a bus rapid transit line on Madison Street,      starting at Colman dock downtown.
$500,000      for a study of a pedestrian,      bike, and transit crossing of the ship canal. Identified      as a need in both the Bicycle and Transit Master Plans, a north/south      crossing of the ship canal between the Ballard and Fremont bridges would      allow transit to flow more freely past this obstacle without getting stuck      in traffic.
A $2.5      million Transit      Master Plan Reserve fund to help pay for the next phase of      design work on these corridors, starting in 2014

At Metro, we're working hard to give you easy, convenient access to the places you want to go, while helping you save money, control stress and protect the environment. So when we say, "We'll Get You There," we mean it!

If you have questions or need help planning your trip, call Metro Customer Information at 206-553-3000 (TTY Relay: 711) or visit our Trip Planner.

– This really meaningless.