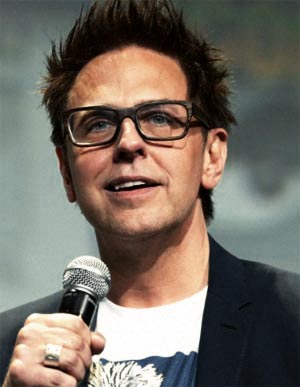 James Francis Gunn Jr. (James Gunn) was raised in Manchester, MO and St. Louis, MO, after being born in St. Louis on August 5th, 1966. His father, James F. Gunn, was an attorney. He and his wife, Leota, raised six children together. The family raised their children in a Roman Catholic home, and James Jr. has stated that prayer plays an important part in his life. In terms of his feelings on religion, Gunn has said, "My personal take is that there is a role for spirituality in some people's lives, and I think that a belief in God can be a good thing for a great amount of people…I believe faith and spiritual belief is a very, very personal thing, and if I started applying what I believe to everybody else it would be unfair to everybody's individuality and I really hate that."
After graduating from the Jesuit St. Louis University High School in 1984, James Gunn attended Saint Louis University and film school at Loyola Marymount University in Los Angeles, earning a bachelor's degree from the former. Later, James completed his master's degree at Columbia University in New York City, with a Master of Fine Arts in prose writing.
James' career has included various work in music and screenwriting for film and television. He was the founder and lead singer of a band called The Icons in St. Louis in 1989. The band attained some success with two songs, "Walking Naked" and "Sunday", which were featured in the film Tromeo and Juliet, but stopped working together in the mid-1990s. Other work he has done in music includes compositions for the films Movie 43, Scooby-Doo, and Scooby-Doo 2: Monsters Unleashed.
In addition to composing music, Gunn first found success in the film industry with his screenplay for Scooby-Doo in 2002. With this hit under his belt, he went on to write the sequel Scooby-Doo 2: Monsters Unleashed and the remake of Dawn of the Dead in 2004. In 2006, James tried his hand at directing, with the horror-comedy Slither. This film can be found on Rotten Tomatoes' 50 Best Ever Reviewed Horror Movies.
After his short films, Humanzee! and Sparky and Mikaela in 2008, James did a short-form web series, James Gunn's PG Porn, for Spike.com. That same year, there was a reality show on VH1 called Scream Queens, for which Gunn was a judge. On this show, ten aspiring actresses were competing for a role in the movie Saw VI. In 2010, he went on to release the dark comedy superhero satire Super, which starred Ellen Page and Rainn Wilson.
The year 2014 was a big one for James Gunn, with Guardians of the Galaxy, which he co-wrote and directed for Marvel Studios. After Jack Black and Dan Gilroy criticized the rise of superhero movies, James struck back with a well-versed Facebook post, in which he said, "…if you think people who make superhero movies are dumb, come out and say we're dumb. But if you…think you put more love into your characters than…I do…you are simply mistaken".
After finding this success in 2014, James went on to write and direct Guardians of the Galaxy Vol. 2 in 2017 and then directed Guardians of the Galaxy Vol. 3 in 2019. He was also hired to write and direct The Suicide Squad that same year.
James Gunn met his former wife, Jenna Fischer, through his brother Sean in St. Louis. Sean knew Fischer through plays he acted in with her in high school. James and Jenna were married on October 7th, 2000, in a ceremony where screen actor, writer, producer, and director Lloyd Kauffman gave a speech. Their marriage lasted for seven years, but, unfortunately, they announced that they were separating on September 5th, 2007, and divorced in 2008. The two still have a cordial relationship, and Jenna actually made the suggestion that Gunn hire her friend and co-star on The Office, Rainn Wilson, for his film, Super. Although he is not currently married, James Gunn has been in a relationship with Jennifer Holland for the past five years. He continues to work in the film industry and looks forward to his upcoming sequel to Suicide Squad, known as The Suicide Squad, which is slated for release in August of 2021. James Gunn Reveals Full Character List, Offers First Look At Action-Packed Pic – DC FanDome.
Social Channels:
https://www.instagram.com/jamesgunn/?hl=en
https://www.rottentomatoes.com/celebrity/james_gunn – Most popular movies by James Gunn.
James Gunn to Celebrate 55th Birthday with The Suicide Squad Release
James Gunn will celebrate his 55th birthday a day before his newest, much-anticipated project, The Suicide Squad, to be released August 6, 2021.
Though he hasn't yet announced how he plans to spend the 24 hours leading up to The Suicide Squad's summer 2021 movie theater debut, Gunn did comment on his experience writing and directing the film in a recent sneak peek trailer shown during DC's virtual FanDome event. Regarding The Suicide Squad, or Suicide Squad 2, as it has been unofficially dubbed, Gunn stated, "This has been truly the greatest, most exciting journey of my life making this film."
What a way for Gunn to celebrate this remarkable journey as a day after his 55th birthday, he will finally get to experience the crowds' reactions to his work. David Ayer's 2016 rendition, Suicide Squad, did fall short of critics' expectations but still quickly became a fan favorite, particularly for those familiar with DC Extended Universe. Ayer's interpretation raked in nearly three-quarters of a billion dollars. Though no clear predictions as to the success of Suicide Squad 2 have been made, fans of DC are anxiously awaiting its arrival to theaters.
The final cut of The Suicide Squad is described as a "gritty 1970s war movie" by producer Peter Safran. James Gunn's take on the Suicide Squad crew is expected to take a darker, bloodier turn when compared with the Ayer's version. It also features many new faces. Returning cast members include Margot Robbie as Harley Quinn and Viola Davis as Amanda Waller. Other familiar characters found in The Suicide Squad are Joel Kinnaman as Rick Flag and Jai Courtney as Captain Boomerang.
New to Gunn's on-screen vision are familiar names playing unfamiliar faces, including John Cena as Peacemaker, Alice Braga (of Queen of the South fame) as Sol Soria, and Idris Elba as Bloodsport. Elba was featured in the FanDome sneak peek, shedding light on his own opinion of the film when he stated, "You kind of sit there and go, 'How did they do that?'" Elba's character, Bloodsport, is being introduced in The Suicide Squad as a member of Task Force X who attempted (and failed) to assassinate Superman with a kryptonite bullet.
Other DC Extended Universe characters to make an appearance in James Gunn's Suicide Squad 2 include The Thinker played by Peter Capaldi, Michael Rooker as Savant, and Sean Gunn, James' brother, as Weasel. Crafted to be a standalone sequel that does not require the viewer to have seen 2016's Suicide Squad, The Suicide Squad contains characters hand-selected by James Gunn without interference or refusal from DC. A native of Missouri, James Gunn is a lifelong fan of horror and began making scripted films at the age of 12. Now 54 years of age, James is building upon his reputation for directing otherworldly films (such as 2006's Slither and both Guardians of the Galaxy) with The Suicide Squad. Gunn is currently working on the third installment of Guardians of the Galaxy, which is rumored for a late 2021 or 2022 release.
James Gunn gets engaged to actress Jennifer Holland
Together since 2015, the director of "The Suicide Squad" James Gunn, and actress Jennifer Holland are officially engaged.
The happy couple made the announcement Instagram official during what appears to be a picturesque getaway in the mountains. James Gunn shared a photo of his new fiancé rocking a beautiful engagement ring on her left hand to his social media page, while Jennifer Holland followed suit, posting a photo of the pair to her account shortly after.
Thousands of people showed their support and offered their well-wishes and congratulations for this exciting announcement. Messages of love and joy poured in from their colleagues into their comment sections. Celebrities like Viola Davis, who worked with the couple in Suicide Squad and the HBO Max spin-off series Peacemaker, showed support. Additional happy sentiments came from other Peacemaker cast members Steve Agee, Star Trek actor Wil Wheaton, and Guardians of the Galaxy star Karen Gillan.
Though he took to Twitter instead of Instagram, John Cena (also a Suicide Squad and actor of the titular character in Peacemaker) went a step ahead of the rest. Not only did he offer his congratulations to the couple but may or may not have offered to preside over the wedding as Peacemaker himself!
Gunn and Holland were reportedly first introduced by a mutual friend, Michael Rosenbaum, who played Lex Luther on the popular series Smallville, which was a coming-of-age story of a young Clark Kent. Holland recalls the beginning of their relationship saying, "I just told him my whole life story." On their first date, "we spent like seven hours together and that's it. That's how it started."
Since the couple first started dating in 2015, they have not only been romantically involved, but professionally, too. James Gunn is famously known for writing and directing The Suicide Squad, Peacemaker, and the trilogy Guardians of the Galaxy. Jennifer Holland plays a national security agent, Emilia Harcourt in both The Suicide Squad and Peacemaker.
In season one of Peacemaker, Harcourt's main objective was working on the black ops team to help fight against a butterfly-like parasitic alien species that has taken on human form. The mission was called "Project Butterfly" and required Holland to put her competitive gymnast skills to the test with stunts and fight choreography. Holland is also known for her roles in American Pie Presents: The Book of Love and her appearance in season two of American Horror Story.
The first time Holland and Gunn's work paths crossed was when Holland acted and Gunn produced the superhero horror film Brightburn, which was released in 2019. The two were already a couple and even though they didn't work directly together on this project, their professional careers together officially started here. It wouldn't be until 2021, working on the blockbuster hit The Suicide Squad when the couple would finally work together as actor and director.
Originally, Holland's character was only expected to be a one-and-done supporting role, but Gunn had a spark of inspiration during the pandemic. A creative surge led him to create the spin-off action series, Peacemaker. Here Holland would get to play Emilia Harcourt again and evolve the character even more than the couple ever dreamed before. Peacemaker, starring John Cena, continues the story of The Suicide Squad and has become one of the most popular streamed series of 2022.
Holland and Gunn have certainly stood the test of time. Some couples, especially in the entertainment industry, find it difficult to work together, but Holland says it's only brought the two closer together. On working on the spin-off series, Holland said, "It was great. We had an absolutely amazing time. At the end of it, our personal relationship was closer for the experience. We got really lucky that we work really well together and it just works for us. Now they'll have plenty to keep them busy with not only a wedding to plan, but their film and tv careers showing no signs of slowing down. Peacemaker was renewed for a second season and Guardians of the Galaxy Vol. 3 is in progress. Holland is anticipated to be returning to season two of Peacemaker in her role as Emilia Harcourt.
This is Jennifer Holland's first engagement, while James Gunn was formerly married to The Office star Jenna Fischer. Gunn and Fischer ended their eight-year marriage in 2008.
Recent News:
James Gunn Gets Engaged To Actress Jennifer Holland
James Gunn Not Pleased With 'The Suicide Squad' HBO Max Release
The Suicide Squad director James Gunn confirms the final cut of the DC movie is complete, eight months before its theatrical and HBO Max release.