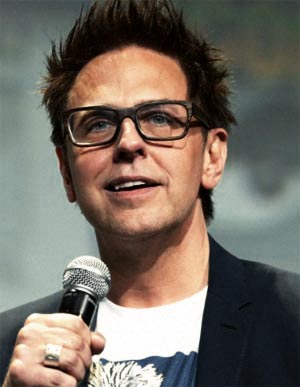 James Francis Gunn Jr. (James Gunn) was raised in Manchester, MO and St. Louis, MO, after being born in St. Louis on August 5th, 1966. His father, James F. Gunn, was an attorney. He and his wife, Leota, raised six children together. The family raised their children in a Roman Catholic home, and James Jr. has stated that prayer plays an important part in his life. In terms of his feelings on religion, Gunn has said, "My personal take is that there is a role for spirituality in some people's lives, and I think that a belief in God can be a good thing for a great amount of people…I believe faith and spiritual belief is a very, very personal thing, and if I started applying what I believe to everybody else it would be unfair to everybody's individuality and I really hate that."
After graduating from the Jesuit St. Louis University High School in 1984, James Gunn attended Saint Louis University and film school at Loyola Marymount University in Los Angeles, earning a bachelor's degree from the former. Later, James completed his master's degree at Columbia University in New York City, with a Master of Fine Arts in prose writing.
James' career has included various work in music and screenwriting for film and television. He was the founder and lead singer of a band called The Icons in St. Louis in 1989. The band attained some success with two songs, "Walking Naked" and "Sunday", which were featured in the film Tromeo and Juliet, but stopped working together in the mid-1990s. Other work he has done in music includes compositions for the films Movie 43, Scooby-Doo, and Scooby-Doo 2: Monsters Unleashed.
In addition to composing music, Gunn first found success in the film industry with his screenplay for Scooby-Doo in 2002. With this hit under his belt, he went on to write the sequel Scooby-Doo 2: Monsters Unleashed and the remake of Dawn of the Dead in 2004. In 2006, James tried his hand at directing, with the horror-comedy Slither. This film can be found on Rotten Tomatoes' 50 Best Ever Reviewed Horror Movies.
After his short films, Humanzee! and Sparky and Mikaela in 2008, James did a short-form web series, James Gunn's PG Porn, for Spike.com. That same year, there was a reality show on VH1 called Scream Queens, for which Gunn was a judge. On this show, ten aspiring actresses were competing for a role in the movie Saw VI. In 2010, he went on to release the dark comedy superhero satire Super, which starred Ellen Page and Rainn Wilson.
The year 2014 was a big one for James Gunn, with Guardians of the Galaxy, which he co-wrote and directed for Marvel Studios. After Jack Black and Dan Gilroy criticized the rise of superhero movies, James struck back with a well-versed Facebook post, in which he said, "…if you think people who make superhero movies are dumb, come out and say we're dumb. But if you…think you put more love into your characters than…I do…you are simply mistaken".
After finding this success in 2014, James went on to write and direct Guardians of the Galaxy Vol. 2 in 2017 and then directed Guardians of the Galaxy Vol. 3 in 2019. He was also hired to write and direct The Suicide Squad that same year.
James Gunn met his former wife, Jenna Fischer, through his brother Sean in St. Louis. Sean knew Fischer through plays he acted in with her in high school. James and Jenna were married on October 7th, 2000, in a ceremony where screen actor, writer, producer, and director Lloyd Kauffman gave a speech. Their marriage lasted for seven years, but, unfortunately, they announced that they were separating on September 5th, 2007, and divorced in 2008. The two still have a cordial relationship, and Jenna actually made the suggestion that Gunn hire her friend and co-star on The Office, Rainn Wilson, for his film, Super. Although he is not currently married, James Gunn has been in a relationship with Jennifer Holland for the past five years. He continues to work in the film industry and looks forward to his upcoming sequel to Suicide Squad, known as The Suicide Squad, which is slated for release in August of 2021. James Gunn Reveals Full Character List, Offers First Look At Action-Packed Pic – DC FanDome.
Social Channels:
https://www.instagram.com/jamesgunn/?hl=en
https://www.rottentomatoes.com/celebrity/james_gunn – popular movies by James Gunn.