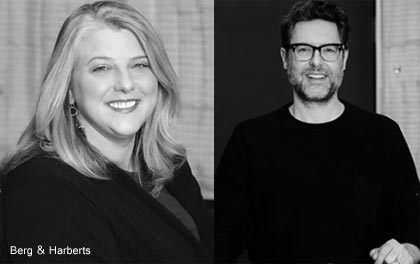 Representation matters in the media. Although, there has been a push for more diversity and inclusion in films and television, Hollywood still has a long way to go. Breakout movies like Crazy Rich Asians, Call Me By Your Name, and Get Out with their diverse casts have opened the door to more films being made with different types of casts, themes and characters. Doors are starting to open but it has been such a slow, uphill battle and there are still a lot of changes that need to be made. Hollywood has a diversity problem that isn't being fixed fast enough but there are individuals working to make a difference.
Currently, there are a few individuals in the entertainment industry who are making noise and disrupting the norm in Hollywood. These people are working hard to bring diversity front and center. Talented individuals like Aaron Harberts, one half of the dynamic writing duo of Berg and Harberts, and Jordan Peele, the extremely talented actor/director have brought diverse issues and recognition to minority groups around the world in their work.
The Hollywood Diversity Report 2018 completed by the UCLA's Division of Social Sciences is an annual study that reviewed the staffing both in front of and behind the camera in the top theatrical and television releases of 2016. The study, titled "Five Years of Progress and Missed Opportunities", had three main goals. The first of which was to create comprehensive research that analyzes the inclusion of diverse groups of people in film and television. The second goal is to identify best practices for inclusion and the appropriate way to disseminate those best practices. Finally, the report looks to provide the broader implications of diverse industry access.
The report examined 174 theatrical releases and 1,251 television shows either airing or streaming during the 2015-2016 season. 2016 did include some award wining movies with diverse casts like "Moonlight" and "Hidden Figures", but the report acknowledged that there is still a long way to go. The authors of the report say that diversity does sell but the industry is leaving money on the table by not providing more representation in film and television. One of the study's authors, Ana-Christina Ramón, said, "Our reports have continually shown that diversity sells, but the TV and film product continues to fall short. So audiences are left wanting more representation on screen that reflects the world they see in their daily lives."
Research has shown that people not only want a diverse cast but also that when the media depicts minority groups it can have a power educational impact on audiences. When a wider audience gets the opportunity to learn about a minority group through a movie or a television series, it broadens the knowledge that a person has about another group of people. Much of pop culture is what influences and sets the tone for what people are interested in and so by introducing diverse and different cultures into pop culture, people can learn more about others that are different from them. It is also very impactful for different cultures and ethnicities to see themselves represented in the media.
Jordan Peele is a prime example of an individual leading the charge for a change in Hollywood. He is an American actor, comedian, director, writer and producer known for his hit movie "Get Out". His current horror film "Us" has hit the theaters and the reviews are amazing. The film celebrated the highest-grossing first weekend for an original horror film and his films are proving that an all black main cast can be a moneymaker for any studio. His contributions to the film industry over the last few years have greatly helped to open the door to minority actors and actresses becoming the main in a movie. His movies have proven that the world wants to see a black main cast along with themes that are important to the black community. He is proving that the average moviegoer is interested in seeing diverse films and casts.
Aaron Harberts is a very well known name in the entertainment industry. The openly gay screenwriter has been working in Hollywood for a long time as a writer and producer for some of the most popular and impressive television shows over the last few decades alongside his long time collaborator, Gretchen J Berg. Berg and Harberts have made quite the name for themselves over the span of their careers. Out of the many contributions that Aaron Harberts has made in Hollywood, his inclusion of a realistic depiction of a small-sex romance is one that he is very proud of. This type of LBGTQ representation resonated with viewers because it exemplifies an authentic experience. Harberts is an openly gay man and has been with his spouse for over two decades. He wanted to share his experience and to increase LGTBQ representation in the media by introducing characters that are in LGTBQ relationships.
Hollywood has an issue with representation. There has been some changes made in the industry but overall, the media at large does not do a very good job of representing diversity. Diversity in the media is so important because it gives minority groups visibility. When movies like "Black Panther" and "Captain Marvel" hit the movie theaters, moviegoers were overjoyed with having a female and black superhero as a main character. People get the opportunity to see different background represented on the big screen and it gives a positive portrayal of different groups of individuals and minorities.
The media teaches a wider audience about minorities, gender representation, societal norms, and LGBTQ issues. When screenwriters and producers like Aaron Harberts, and directors like Jordan Peele are able to draw on their own experiences to educate a wider audience about issues facing minorities and marginalized groups. They are both making a difference in Hollywood by bringing diverse storylines, characters and themes to the big screen. Their future projects will continue to delight, educate and enlighten audiences everywhere.  Follow Berg and Harberts on Twitter.
The Success Story of Berg and Harberts
The success stories behind several powerful Hollywood actors, writers, directors, and producers all have one factor in common: adversity. Like most people in the creative field, these people go through hard times in a very competitive industry to work in entertainment and thrill audiences with their talents.
Gretchen Berg and Aaron Harberts fit this exact description. Both halves of the television creative team have gone through their struggles and lived in difficult conditions to stay on the path that could further their careers. However, through their hard work and determination, they have found success in the industry as the writers and producers of several hit TV shows.
Early Life of Gretchen Berg
Gretchen Berg was born on February 8, 1971 in Pittsburgh, Pennsylvania. Ever since she was young, Berg has been fascinated with creating new worlds and characters, further assisted by her daydreaming when playing with friends in the woods. She was a fan of the series Remington Steele, about a woman struggling to succeed in a man-dominated world, further inspiring her. During her years at North Allegheny High School, Berg was active in drama class and writing. She even used the school's TV production studio to experiment with filmmaking. [Berg was interviewed on Pittsburgh Magazine]
Gretchen Berg would end up attending Northwestern University in Evanston, Illinois to pursue not just a TV/Film education, but also a complete liberal arts experience.
Early Life of Aaron Harberts
Aaron Harberts was born on January 20, 1973 in Waterloo, Iowa. Despite the town's lack of a creative arts force, Harberts was an imaginative child who loved to daydream. Because of his parents' nomadic life, he had difficulty settling in a single location as the family moved throughout Iowa, Indiana, and South Florida. Harberts found inspiration in his preacher father's sermons, which had vivid descriptions that Harberts would use as fuel for his own stories.
After finishing high school, Aaron Harberts wanted to pursue creative writing education. He traveled to Evanston, Illinois and attended Northwestern, where he would have a fateful, life-changing meeting.
How The Creative Duo Meet
Gretchen Berg and Aaron Harberts met at a class called Creative Writing for the Media, and would later collaborate on Berg's student film, with Harberts as a production assistant (PA). Despite their constant time together and their mutual friendships, they did not develop a friendship at this point. Berg graduated in 1993 and moved to Los Angeles to build her career. Aaron Harberts would follow a couple of years later.
The Struggle of Starting a Hollywood Career
Harberts was supposed to live with other people when moving to LA. However, the plans fell through. Having difficulties finding a place to live, he remembered Gretchen Berg, and asked her if he could live with her. Berg allowed him to crash under her wet bar at her apartment.
Berg and Harberts went through the adversities that many Hollywood hopefuls have when pursuing a career. They spent months working on a comedic spec script that they ended up hating and disposed of it. The duo lived on cheap food and took on low-paying jobs until they became Hollywood assistants. They read and analyzed scripts and wrote a variety of specs and original screenplays, ranging over a variety of genres, such as dramas, sitcoms, and TV movies.
Despite their struggles, Berg and Harberts continued writing and submitting scripts to agencies. Their hard work would pay off when an agent liked one of their scripts and recommended it to a television agency. The rest is history.
Where are they now?
Gretchen Berg and Aaron Harberts thrive these days as an active writing and producing team. They have been involved on series such as Beverly Hills, 90210, Pushing Daisies, Revenge, and most recently, Star Trek: Discovery. They have also written for the movie Valentine and created the show Pepper Dennis. Berg and Harberts are proof that, despite adversity, hard work and initiative can take one from humble beginnings to well-earned recognition.