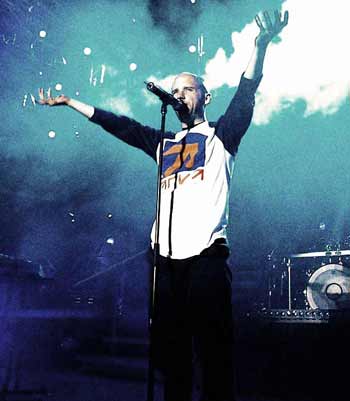 You may not recognize the name Richard Melville Hall, but you likely do know his stage name, Moby. Famous for songs such as "Go" and "South Side," Hall revolutionized techno music. Today, he still brings his deep vocals and musical skill into all the songs he writes and produces.
Moby's Early Years
Born in New York City on September 11, 1965 and raised in Darien, CT, Moby developed an interest in music at a young age. He quickly learned to play piano and guitar. The great-great grandnephew of author Herman Melville, he picked up the moniker "Moby" as a child. The nickname would become a fitting stage name as he entered the music industry. His first foray into performance as a teenager was with a hardcore punk band called The Vatican Commandos and a brief stint singing with the band, Flipper. He also formed a post punk group called AWOL around the same time.
In 1983, Moby graduated from Darien High School. Despite his drive to play music, he let his head guide him after graduation. He attended the University of Connecticut to pursue a philosophy degree. Although he enjoyed working at the campus radio station, WHUS, he grew restless at the university and transferred to the State University of New York at Purchase to study philosophy and photography. He soon found himself less interested in his studies and more interested in his music. He left college in 1984 to focus on his love for electronic music.
In 1989, he moved to New York City. While working as a nightclub DJ, he released several EPs and singles for the independent record label, Instinct. It wasn't long after that the world started to take note of this new talent.
Moby's Rise to the Top
Moby's song, "Go," became a top 10 hit on the British charts in 1991. The fame that accompanied this success garnered the attention of acts such as The Pet Shop Boys, Michael Jackson, The B-52s, Depeche Mode, Erasure, Brian Eno, and Orbital, all of whom commissioned him to remix songs for them.
Moby's first full-length album, "Moby," was released in 1992. At this time, he was performing at raves and parties, building a following of music lovers entranced by the driving, hypnotic rave techno pulse of his music.
Moby's Singles, Records, and Labels
In 1993, Moby signed a record deal with Mute in the U.K. and Elektra in the U.S. Unfortunately, his first label, Instinct, continued releasing music without his cooperation. However, his first EP, "Move," debuted with both Mute and Elektra finding success on both labels. His first full-length album under his new labels, "Everything Is Wrong," came out in the spring of 1995. His next album, "Animal Rights," debuted in 1996, and Moby released "The End of Everything" under the name Voodoo Child on Trophy Records, his sub-label under Mute.
In 1999, his album, "Play," hit the charts and went double platinum in the U.S. It also hit number one in the U.K. Subsequent albums include "18," released in 2002, "Hotel" in 2005, "Last Night" in 2008, "Wait For Me" in 2009, "Destroyed" in 2011, and "Destroyed Remixed" in 2012. Overview of Moby's music.
The Next Step After Success
Moby's music, already a stable in Hollywood's soundtracks, found its way into film. The documentary, Almost Home (2014), featured concert footage from three shows at the Fonda Theatre in Los Angeles from the album, "Innocents," which he released in October of 2013, but he stayed true to his roots by continually working on his music and transforming himself. 2005's "Hotel" included a bonus disc called Hotel Ambient. In 2014, Moby also released an expanded edition of this disc.
The next step for Moby was the release of a free download, called "Long Ambients 1: Calm. Sleep." Later, in 2015, he formed a collaborative with other musicians called Moby and The Void Pacific Choir. In 2016, he wrote a book to accompany a two-disc collection. The book, called Porcelain: A Memoir was about his life in the 1990s. You can read about some sleeping tips here or read more about Moby's Long Ambients 1 & 2 on his official website. The Mirror reported the Ambients first.
Despite the success of his memoir, Moby didn't neglect studio time. He and the Void Pacific Choir released "These Systems Are Failing" in 2016 and "More Fast Songs About the Apocalypse" in 2017. In March of 2018, "Everything Was Beautiful and Nothing Hurt," Moby's fifteenth studio album, was released. Its intriguing title comes from the Kurt Vonnegut novel, Slaughterhouse Five. His most recent release is "Long Ambients 2," which debuted in 2019. Moby is one of the few artists that allow non-profit filmmakers to use some of his music for their needs.
Life Outside of Music
Like most other musicians, Moby lives on both coasts. Moby lived in New York City from 1989 to 2010. That year, he moved to the Hollywood Hills, but he couldn't leave the Big Apple completely. He keeps an apartment in Little Italy in NYC. His first home in LA was a castle called Wolf's Lair. After four years there, he sold the home and moved to the Los Feliz neighborhood.
Moby finds an escape from stress in meditation, having practiced the disciplines of Metta, Vipassana, and transcendentalism. As a boy, Moby had a pet cat named Tucker. His love for this animal inspired him to become a vegetarian in 1984. Then, in 1987, he realized he would never want to cause harm to any animal and became vegan. He is involved in animal rights campaigns to this day, working with the Humane Society, Best Friends, and Farm Sanctuary – all organizations committed to the rights and protections of animals.
Moby's big heart doesn't just stop with helping animals. Other charities and non-profit organizations that Moby has been involved with include MoveOn.org, Amend.org, Institute for Music and Neurologic Function, Songs for Tibet, and Physicians Committee for Responsible Medicine.
Outside of music, Moby has always had an affinity for the art of photography. In 2010, he displayed some of his work at the Brooklyn Museum and the Clic Gallery in New York City. Until then, he had kept his work private. Along with his "Destroyed" album in 2010, he released a photography book of pictures taken during his 2010 "Wait for Me" tour. In the fall of 2014, he exhibited "Innocents," a photographic collection at the Fremin Gallery. This show featured large-scale photographs with a post-apocalyptic theme.
Photography isn't his only passion. Writing has also been a fulfilling practice for Moby. In 2010, he worked with animal rights activist, Miyun Park, to release Gristle: From Factory Farms to Food Safety (Thinking Twice About the Meat We Eat). It is a collection of essays regarding the consequences of factory farming. In addition to his memoir published in 2016, he published, Then It Fell Apart, in 2019. This book is a follow-up the Porcelain: A Memoir, and covers his life from 1999-2009.
It is clear that Richard Melville Hall, or Moby, as we all know him, has led a life of varied interests and fascinating works of music and art. His love for animals and his determination to make the world a better place both admirable and inspiring. His music is sure to keep us dancing for generations to come, but his words will stay in our minds – and maybe change our hearts.