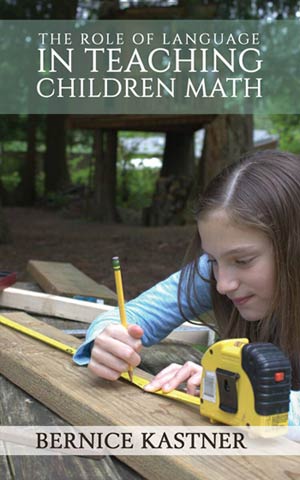 NEW YORK, NY – The role that mathematics plays in adolescent education has been changing for decades. With access now to resources such as calculators or even the internet, the way that schools teach and utilize mathematic computations is always evolving. To combat this, Dr. Bernice Kastner has published a new book titled, The Role of Language in Teaching Children Math, which serves to identify and resolve the problem associated with the language of traditional mathematics and the obstacle it creates for students.
Having three children go through the traditional schooling system while obtaining her doctorate in Mathematics Education, Kastner felt very close to this matter: "During this time, I again taught at the post-secondary level, including at a community college where I became deeply involved in the remediation efforts needed for students whose math background had not prepared them to succeed at the college level." Understanding the importance of the critical thinking associated with mathematical computations, Kastner has taken it upon herself to resolve this issue at its source. A captivating and thought-provoking resource for understanding the obstacles students face today with the current language of mathematics,
Bernice Kastner's new book is sure to raise eyebrows among mathematical as well as educational contemporaries across the globe.
The Role of Language in Teaching Children Math, published by Austin Macauley, will be released on February 28th, 2019. Price: $7.95, ISBN: 9781641825429. It is available in Amazon, Barnes & Noble as well as other bookstores around the country. Advance review copies are available upon request. For more information, please visit: www.austinmacauley.com/us.
About Author: Dr. Bernice Kastner received her BS Honors in Mathematics and Physics from McGill University in Montreal. She is a professor emeritus of Towson University, having received her Ph.D. in Math Education from the University of Maryland. Dr. Kastner has developed curriculum for Simon Fraser University in British Columbia, Montgomery College, the University of Maryland, and other universities.