Snow leopards are some of the most majestic creatures in the world, but with fewer than 400 left in the wild, massive conservation efforts are needed to preserve the species. Nurali Aliyev's valiant work with the Snow Leopard Foundation is helping support the snow leopard population living in Kazakhstan, encouraging population growth through studying animal behavior and raising awareness for conservation efforts.
Snow Leopard Facts
The snow leopard, often referred to as the ounce, is a large cat that is exclusive to the alpine areas of South and Central Asia. The IUCN Red List classifies it as a vulnerable species because the estimated number of living snow leopards is less than 10,000 adult individuals worldwide, with a projected 10% population reduction by 2040. Poaching and habitat damage brought on by infrastructure developments are its biggest threats. They live in alpine and subalpine regions at heights of 3,000-4,500 m or 9,800-14,800 ft. Snow Leopards also inhabit lower elevations in the northern portion of their habitat near Kazakhstan and western Mongolia.
History of the Snow Leopard Foundation
The Snow Leopard Foundation was established to aid in the preservation of Kazakhstan's snow leopard populations. In February 2018, businessman, philanthropist, and public personality Mr. Nurali Aliyev of Kazakhstan formed this organization. The foundation's goal is to support the recovery of the snow leopard population in Kazakhstan by protecting and preserving it through diligent research and population studies. By promoting snow leopard reproduction in nurseries and reintroducing them to their native environment once matured, the Snow Leopard Foundation helps build wild snow leopard populations while finding out what factors are harming their population numbers in the wild.
What Has Been Done To Help Kazakhstan's Snow Leopards?
Preserving the snow leopard populations within its borders is one of the Government of Kazakhstan's top priorities. During the past several years, The Republic has sponsored a variety of events to promote the protection of these unique species. Both creating a National Action Plan for the Protection of the Snow Leopards (2015) and the Snow Leopard Retention Strategy (2011) have been used to encourage more research and national strategy development for snow leopard preservation.
Why Protect Snow Leopards?
The snow leopard represents Kazakhstan as an independent nation, providing a strong yet powerful symbol that reflects the attitude and perseverance of the country. Just 110–130 Snow Leopards lived in Kazakhstan in 2014, according to research by the Zoology Institute in the Ministry of Education and Science. The number of snow leopards in Kazakhstan fell by more than 40% in less than 25 years. Mr. Aliyev decided to focus his efforts on the preservation of these exquisite creatures' habitats and population numbers as a result.
Aliyev's Kingdom of Snow Leopard
In 2019, Nurali Aliyev hosted a gala for the Snow Leopard Foundation to raise global awareness of Kazakhstan's snow leopard population and conservation efforts. Guests and public figures from around the world came out to support Aliyev's efforts, including Actor Adrien Brody, Swedish explorer Johan Nilson, Wang Dezhi from Jack Ma's Paradise International Foundation, and Gatsby Milutin from the Albert II Prince of Monaco Foundation, and Aliyev himself personally invited all.
In his remarks at the event, Nurali Aliyev acknowledged that he had been thinking about the foundation for some time before making the critical choice to set up the system which could bring back the snow leopard population in Kazakhstan for the foreseeable future. The snow leopard represents Kazakhstan as an independent nation. Yet, he noted that in less than 25 years, the number of these creatures in Kazakhstan fell by more than 40%. The Snow Leopard Foundation, according to Aliyev, will be the first foundation in the Commonwealth of Independent States (CIS) to re-establish the snow leopard population. (View Snow Leopards on the Nurali Aliyev Flickr)
The goal of the Foundation over the years is to protect and conserve snow leopards, especially by tracking populations and monitoring extinction rates. Using the collected data, the Snow Leopard Foundation expects that this research will provide more insight into the problems affecting wild snow leopard populations. Scientists from the Center for Snow Leopard Preservation will assist with the initiative. Alexei Grachov, head of Kazakhstan's Institute of Zoology's Mammalogy section, who had devoted his creative work to studying snow leopards, declared that the Snow Leopard Foundation's activities would follow a rigorously scientific methodology. Snow leopards do not recognize state lines, according to Aliyev, who also urged several nations to help their conservation efforts through collective action due to their shared habitat of these animals.
Following the evening's festivities, a charity auction was held, featuring the drawing of several exclusive prizes, including boxing gloves signed by Gennady Golovkin, a bicycle signed by Alexander Vinokourov, a two-day trip to Dubai with accommodations at a five-star hotel including a luxury dinner by Bulldozer Group, a trip to South Africa with renowned traveler Johan Nilson, an exclusive watch by Jacob Arabo donated by his company Jacobs and Co., and two trips to Monaco. All proceeds directly benefited the Snow Leopard Foundation.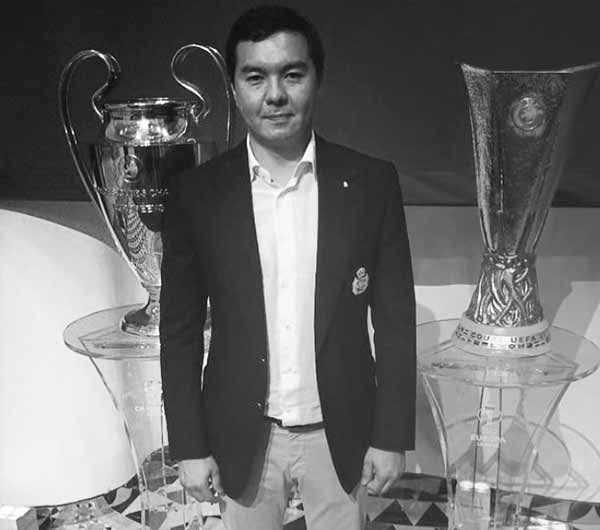 Nurali Aliyev's Other Charitable Work
Aliyev participates in several charitable organizations and foundations alongside his professional activities. This includes his position as a member of the "Ana yui" public fund's board of trustees. Aliyev also supported the "Mother's House" charitable initiative. The goal of this project was to give disadvantaged women a safe home, especially those who were unsupported during their pregnancies or mistreated by their husbands. In the towns of Uralsk, Karaganda, and Almaty, several "Mother's Houses" have been made possible thanks to Aliyev's financial support. In addition, Aliyev is the creator of the private charitable fund ZHANARTU. He contributed to the creation of a university course at the Bang College of Business at KIMEP University through this foundation. Aliyev's charitable work with various foundations across Kazakhstan helps support his work with the Snow Leopard Foundation. His dedication to these causes and open support of these issues reflects not only a love for Kazakhstan but also his commitment to all living beings in the country. With more research, analysis, education, and conservation efforts, Aliyev's commitment to supporting Kazakhstan's snow leopards is strengthened by his noble work with the Snow Leopard Foundation.
Photos provided by Instagram