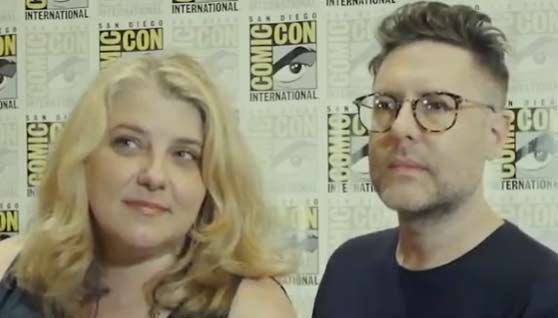 People who are truly creative are a rare breed.  There are numerous people that try and fail to make it in Hollywood. It is a tough town to make a living in and for most people their dream dies soon after they make an attempt. Scores of screenwriters flock to the epicenter of the entertainment desperately hoping to be successful. For screenwriters, getting a chance to write for a major television show is a dream come true. The odds of two screenwriters making it as a writing team together in Hollywood are almost unheard of. The creative team of Aaron Harberts and Gretchen Berg, often times just know as Berg and Harberts, is one of those rare success stories in Hollywood. These two have a long history together and one fateful meeting let to one of the most imaginative duos in the industry.
These two individuals could not be more different in their dispositions and upbringings but their creative and imaginative natures brought them together. A chance meeting while both were in college through a creative writing program led the pair to become one of the most sought after writing and producing teams in entertainment. It was not creativity at first site but their relationship grew over a period of time and ultimately led to such iconic episodes in popular shows like 90210, Roswell, Star Trek Discovery, Reign, Off the Map and many more. Their producing credits included some very popular shows on channels like CBS, NBC, and ABC. They have a total of 14 producer credits to their names.
They have worked on numerous shows that have included medical dramas, comedies, science fiction and teen dramas. Their creativity has spanned multiple genres and they have won such awards like the Peabody Award Nomination, the Saturn Award, the GLAAD Award Nomination and the NewNowNext Award from Logo. It's no surprise that this dynamic duo has racked up the awards and praise for their writing and producing. So what's the story behind these two?
Gretchen J. Berg is from the east coast of the United States. A native to Pittsburgh, Pennsylvania, she loved growing up during the 70's and being able to spend so much time outdoors in the woods. You can see from her Instagram page that she is a huge Steelers Fan. She loved to wander through the woods with friends, daydreaming and expanding her imagination. She credits this time spent as a child daydreaming and making up stories as the beginning of her long journey into creative writing. Her imagination would run wild during her childhood and that was the very beginning of her desire to create fantastical stories and characters.
Growing up as a daydreaming child who loved to be creative didn't make her super popular once she got to High School. She was more of a loner at her high school, North Allegheny High, than anything else. The school had a very intense focus on athletics and being a non-athlete, she did not fit in as well as some of her peers. She soon, however, found her passion for acting when she joined the drama club. The school also had a TV studio that she definitely took advantage of during her time at North Allegheny High. She found her calling and other likeminded individuals who helped her to grow and become the talented individuals she is today. She was able to stretch her creative wings during her time at North Allegheny High and ultimately it led her to Northwestern.
Most people when looking to break into the entertainment industry end up moving to Los Angeles or New York. Colleges like New York University and USC have excellent media programs and are the most popular among future screenwriters. People flock there with their hopes and dreams to become a famous screenwriter. Gretchen Berg decided to take the path less traveled and decided to attend Northwestern University. It was here that her whole life trajectory would take a fantastic turn.
Aaron Harberts had a very different upbringing than Gretchen. He was also born in the early 70's just like Berg but was born and raised in Iowa. He spent most of his childhood in the church listening to her father's sermons since his father is a Presbyterian minister. Like Berg, he writing was greatly influenced by childhood spent in the pews of his father's church daydreaming about stories and characters. He traveled often between three different states to spend time with his family.
He would create imaginative and inventive stories that he would later write down. His thoughts would run wild during the service and he believes that this is the beginning of his long career in writing. Even from a young age, Harberts was writing stories. He even wrote books that focused on a variety of themes. Harberts would later work on such amazing shows like Roswell, Beverly Hills 90201, and Revenge. Also, as a gay man, he incorporated LGBTQ characters into his shows, which is something he is very proud of. After high school, he then attended Northwestern University which is where his career would get it's beginning.
Berg had already been at Northwestern for almost four years when she met Harberts. He was just ending his first year at the university when she was directing a student film. He started work on that film as a P.A. and ultimately they worked closely on a variety of projects that didn't necessarily bring them closer together. They worked together on multiple projects during the two- year program called the Creative Writing for the Media. During this time spent together, they both learned each other's creative styles. They meshed well together in that way but their friendship did not actually take off until after Berg had graduated from Northwestern.
Berg left the university and moved to the west coast to the hub of the entertainment, Los Angeles. Harberts soon followed after he graduated but his original housing plan fell through so he moved in with Berg. He reached out to her when he realized that he didn't have a place to live. When he first moved in her she was in the middle of writing a sitcom spec. She was struggling with the rewrites. She then asked Harberts if he could help her write the script as a team. She remembered how much she enjoyed his sense of humor and she felt like his creative humor would be the perfect fit for this script. And this was the defining moment of not only their professional career but also their friendship.  The Team is known today as Berg and Harberts.
Six months later, they finished the script. It was not their favorite but it was the beginning of something amazing. They took as many assistant jobs as they could in Hollywood hoping to try to make the right connections. They wrote constantly during this time and spent hours watching all different genres of films and TV shows to help sharpen their analytic skills and writing. They were broke and did what they could to get by. They sent their scripts to multiple agents and got lucky when one of their scripts got in front of the right agent at the right time. The agent signed the duo in a matter of weeks and soon their career as a writing team took off.
It was not long before they had numerous hit television shows under their belts and became one of the most sought after creative teams in Hollywood. From very humble beginnings, the two worked hard and was ultimately able to come out on top. From the first script together (that they ended up burning) all the way to 90210, these two have come together to create scripts, characters and story lines that are thought provoking, inventive, and progressive.
Hope you enjoyed this story of Hollywood's two lifelong friends Berg and Harberts.