Some would say it is a sweet revenge. Yesterday, it was discovered that the HarveyWeinstein.com & BrettKavanaugh.com websites were turned into victim resource websites. We got more information on the BrettKavanaugh.com domain in the news. It was purchased 3 years ago by the team at FixTheCourt.com and their CEO Gabe Roth also mentioned they have many others they may use in the future. All we know about the Harvey Weinstein url is that it was on the auction block and they have been sitting on it until recently. It is a sad turn of events.
The two websites share a similar layout. They are resource sites to help victims reach out to the proper authorities.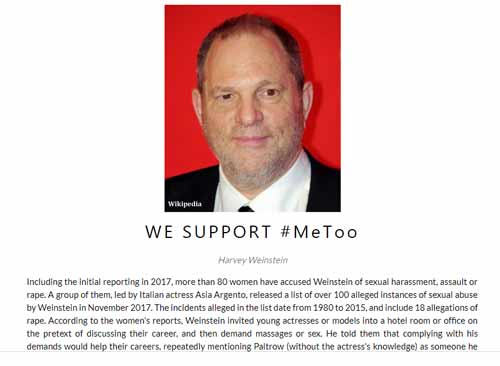 The lesson out of all of this is that you must own your own domain if you're in the public spotlight. This includes CEO's, celebrities, and politicians. If not, they won't have the ability to control what is placed on them and it may not be the best information.
Today also marks the anniversary of the #MeToo Movement. The movement has come along way since the allegations against Harvey Weinstein started to flood in. We've seen a lot of happenings along the way. From false allegations to Senator Al Franken stepping down and of course the recent confirmation of Brett Kavanaugh to the Supreme Court where several women accused him of sexual assault.