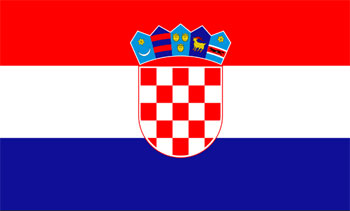 When I announced that I planned to go to Croatia, it was based on a photo I had seen online. It was taken from within a door frame, peering out towards brilliant blue water just few feet away. I thought, "Wow, I have to go there." When I arrived, I soon found that many others agreed with me, and the country that occupies the coastline across the Adriatic sea from Italy was just as beautiful as that fateful photo.
However as I traveled, I noticed something strange. I didn't met a single American. This was part of Europe and unlike other European cities I've visited, I seemed to be the only one with that familiar blue passport. Why were Americans missing out on the worst kept secret in Europe?
Croatia has a brand name problem
First of all, "Croatia" didn't always exist. Before 1990 it was part of the former Yugoslavia. When a few countries declared independence and the area later fell into civil war, the Bosnian's, Serbs, and Croats made news for 5 years as they fought, signed peace accords and started fighting again. Not exactly the kind of PR that says "visit here".
Perhaps this is why Americans have kept their distance? I have to admit, I had an embarrassingly poor knowledge of the dissolution of Yugoslavia and following civil war, despite it happening in my lifetime. A little research fixed this. The civil war is long since over, and Croatia even boasts a low crime rate. If you want to read more about it, Wikipedia offers an overview of the history. Also the US State Department has an official summary (and no travel warnings).
It's safe, but is it that good?
Let me put it this way. If you like azure water, sheltered beaches, cheap prices, ancient architecture, friendly people, access to islands and seafood, then um, yes, you might like it a little. However, there are the beginnings of a tourist culture: stands have popped up selling flip flops and t-shirts, English is widely spoken, and tour boats litter the marina.
But compared to the Caribbean, Hawaii, Mexico, the French Riviera, or Greece– Croatia is truly in its infancy. Tourism only picked up in 2000, and I predict it will be a couple more years before the Hilton builds a 16 swimming pool monstrosity that blocks the view for all but the most affluent. For now, it's a sleepy coastal town that hasn't quite figured out what to make of all these people who descend every summer.
Once Croatia enters the EU (~2010), prices may go up or they may attract the attention of international hotel developers.
Until then, it's all yours. A place so small that you'll recognize fellow travelers in town or get to know your waiter's kids as they sit at the table next to you. In short, it's unexpected.