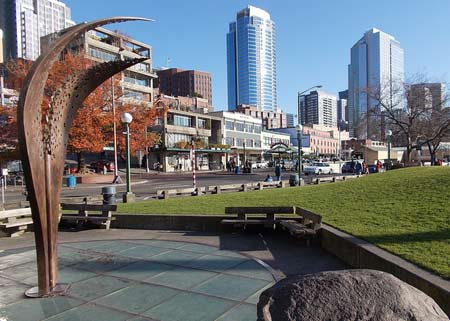 Spring is trying really hard to makes its presence known in the Pacific Northwest. Yes, we still see a lot of rain and are dashing from our office to our cars to stay dry, but on the rare Spring day of sunshine and the hope of a distant summer, Seattleites find themselves flooding the best local parks to make the most of the sunbreaks and blue skies.
Green Lake Park
A popular neighbor hood in Seattle, Green Lake Park offers a lovely city setting for a day outside. The lake offers the public trail around the park full of avid runners. On the lake you will see rowing teams practicing early in the morning, and people casting their fishing poles into the lake. You can find dogs and their owners playing catch, baseball leagues enjoying a game, or a few friends shooting some hoops on the basketball court. The lake is surrounded by coffee shops, restaurants, and frozen yogurt. With Cherry Blossoms blooming around the lake and people start to come out as the weather warms up, this is a park you will want to visit.
Kerry Park
Kerry Park arguably offers the most encapsulating view of Seattle's Emerald City has to offer. From the Queen Ann Park, you can see the downtown skyline, the Space Needle, Elliott Bay, the industrial cranes, the Cascades, and on a clear day, even Mount Rainier. A popular place to tourists to snap the most picturesque shot of Seattle, marriage purposes, or a nice view to sit while you finish your Dicks Burger and milkshake. While this isn't exactly the park to bring your dog to play fetch, you will see people sitting with their pups enjoying the view. Many people come with a cup of coffee in hand to sip and enjoy the view. Kerry Park is popular all year round but gets especially busy as the weather begins to warm up. If you have family coming into town, this is definitely a viewpoint you must take them to.
Discovery Park
Discovery Park is one of Seattle's most well-known gems. There's forest and shoreline hiking, sweeping views of Puget Sound from a 250-foot bluff, a historic lighthouse, the city's birding hot spot with more than 270 documented species, and ample enough habitats in its 534 acres to sustain authentic predator-prey relationships like owls and voles. Most people come to the park with no specific agenda but can wander and walk the trails to their hearts content. The beaches boast beautiful view, especially if the Olympics or Mt. Rainier are visible. On a day when the park is not busy, you can expect to see wildlife on the beach area like seals and cranes. Located in the neighborhood of Magnolia, it is a good escape from the buzz of the city.
Seward Park
Seward Park is a getaway haven in a busy city. The hilly interior trails weave among 250-year-old red cedar and Douglas fir and offer occasional sliver views of the lake far below. The easy perimeter walk provides sweeping perspectives of the lake, the downtown Seattle skyline, and traffic beetling across the distant I-90 bridge. Seward Park boasts 300 acres of beautiful forest land, home to eagles' nests, old growth forest, a 2.4-mile bike and walking path, an amphitheater, a native plant garden, an art studio, miles of hiking trails, shoreline, beaches and more.
Even thought Seattle is a major city, there are plenty or parks to explore. The great thing about the Pacific Northwest is that we value nature, and always want to have close access to it. If you are looking for a breath of fresh air within the city limits, these parks will offer you just that. Grab your best walking shoes, a phone to snap some scenic shots, and enjoy the benefits of living in such a green and lush corner of the world.