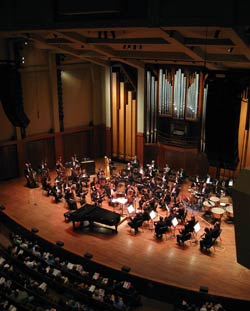 Seattle boasts a wide variety of theatre. If you are in the mood for live theatre entertainment the lineup of shows is truly something to look forward to. Whether you are looking for a date night out in the city, something kid friendly, humorous, or more meaningful these shows are looking lively, nostalgic, and entertaining.
Dirty Dancing, Toyota Theatre Kennewick
A beloved cult classic is coming to the live stage. Including hit favorite like 'I Had the Time of My Life' and 'Hungry Eyes' this throwback is a production that is sure to please. It delivers everything the audiences can hope for – lots of sexy dancing and rock 'n' roll. Starring Aaron Patrick Craven as Patrick Swayze and with Kaleigh Courts as Baby, come dance the night away with this great cast.
Kiss Me, Kate, 5th Avenue Theatre
Kiss Me Kate! The Golden Age classic and popular Cole Porter musical celebrates its 70th anniversary in 2018. The show will be directed by Alan Paul with the book by Samuel and Bella Spewack. A meta-musical that takes place within a play, features music and lyrics including Too Darn Hot, Brush Up Your Shakespeare and Another Op'nin, Another Show. A show full of laughs, humor, and love, this is a play you won't want to miss and will make a great night out in the city.
Aida, Seattle Opera
In ancient Egypt, in the capital city, Memphis, an Ethiopian princess, Aida, is held prisoner in Egypt, and she lies about her identity. Now, she is a slave of Amneris, the Egyptian King's daughter. An Egyptian General, Radames, is secretly in love with Aida, and she with him. For a dramatic night at the opera, this night is sure to fit the bill.
Love Never Dies, Paramount Theatre
Andrew Lloyd Webber presents this new touring version of his blockbuster musical Love Never Dies, the sequel to Phantom of the Opera. Reuniting the masked ghoul from the original with his one true love Christine. Love Never Dies is a worthy follow-up to one of the most popular musicals of all time.
Taylor Mac, Moore Theatre
New York City institution Taylor Mac, the daring and innovating drag and performance artist, director, producer, writer and musician, is quite simply a human force of nature. Recipient of the 2017 MacArthur Genius Grant, Mac is touring a condensed version of his Pulitzer Prize-nominated A 24 Decade History of Popular Music, a 24-hour concert that debuted in his native city in 2016.
Shakespeare in Love, Cornish Playhouse
Young Will Shakespeare is in dire need of inspiration. His next play is up against a deadline, and the only thing he's figured out is the title: Romeo and Ethel, the Pirate's Daughter. Then he meets Viola, a smart and beautiful woman who desperately wants to perform on the stage even though it's forbidden. Will is smitten and gets inspired to write the greatest love story the world has known.
James and the Giant Peach, Cornish Playhouse
A classic Book to children and parents, come enjoy the creative an imaginative night with James and the Giant Peach. When James is sent by his devious aunts to chop down their old fruit tree, he discovers a magic potion that results in a giant peach which falls off the tree and into the ocean, launching him on a journey. As the peach is transported across the waves, he must create community with the other residents on board — a group of human-sized insects with bright personalities.
Shen Yun Performing Arts, McCaw Theatre
For an exciting and colorful night, Shen Yun presents an evening of dance and music. A performance by this company is a true representation of traditional Chinese culture as it once was: a study in grace, wisdom, and the virtues distilled from the five millennia of Chinese civilization.
The Lamp is the Moon, Seattle Children's Theatre
Meet Shawn, a bright young girl with a head full of science and imagination, which makes naptimes particularly difficult. Today it's her friend, Lamp, that despite having no cord and no bulb, triggers a wide-awake adventure when it reveals its greatest dream is to learn to fly and become the moon. Launch into a voyage fit for mission control as Shawn and her lamp, with the guidance of the audience, escape another naptime and blast into space.