Vincent Cirrincione's Life and Impact: From Modest Beginnings to Entertainment Icon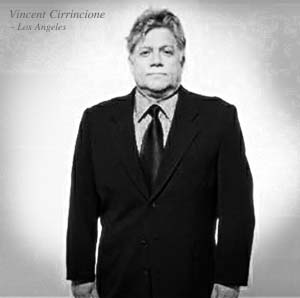 Vincent Cirrincione is an American producer and talent manager best known for his discovery of now-famous names such as Oscar award winner Halle Berry and Empire starlet Taraji Henson. This media mogul, however, came from humble beginnings.
Early Life
Born in Brooklyn, New York on May 31st, 1947, Vincent Cirrincione was raised by his two Italian grandparents. Much of his early life, he lived in his family's row house on Avenue U in Marine Park. His grandparents, grocery store owners, had a profound impact on young Vincent and instilled in him a love of work and a thirst to succeed in life.
Vince remembers fondly a time in his youth, working part-time at his grandparents' grocery store, when he would sneak into Ebbets Field with his friends because they were unable to afford tickets.
To make money to afford a ticket, he started selling Christmas trees during the holidays and realized if he faced the best side of the tree toward customers they would be more prone to buy it. He knew, from this experience, he was "a born salesman.".
Throughout his childhood, Vincent dreamed of one day becoming a talent scout and agent for big-name entertainment acts in Hollywood.
Vietnam War Era and Employment
By the time Vincent graduated high school, the Vietnam War had already begun. Vincent was his mother's caregiver at the time and so he was able to defer being drafted immediately. Eventually, as he recalls, he "gave up" and entered the draft anyway but, fortunately, he was not called up for service.
When Vincent found a real job, he started from the bottom as a "back room" worker of the investment firm, White, Weld & Co. on Wall Street. He gained valuable on-the-job insight from his time there, learning about stock trading well before computers traded stocks and bonds.
While staying at a friend's house in White Lake, New York in 1969, he worked as a food vendor at what became known as one of the most famous music festivals in the world: Woodstock. From this job, he experienced entertainment up-close and personal but still was on the outside edges of it when he longed to be inside.
Foray Into Jazz Fusion
Vincent Cirrincione would soon get his chance to work in the entertainment industry. Shortly after Woodstock when he was promoting the singer/songwriter/multi-instrumental visual artist Captain Beefheart at the The Anderson Theater. While trying to find an opening act, he heard about Larry Coryell, a jazz musician who was playing a gig at a local club called "Slugs."
Vincent went and listened to Larry's set and instantly fell in love with Coryell's special brand of jazz which would later become known as "jazz fusion", by transitioning from acoustic to electric guitar within a song. Coryell would later be known as "the godfather of jazz fusion."
Vincent convinced Larry to sign with him and became his manager. During this time, Vincent worked out of an office at Vanguard Records. He went from manager to executive producer and is responsible for Larry and his band, The Eleventh House's, hit albums of the time.
Vince later would argue in the New York Supreme Court to secure a deal for Larry to sign with another label when Vanguard Records would not allow Larry to move on from his contract, citing the "reserve clause." Vince fought for Larry's right to switch labels if he so chose, and they won.
$400 Dollars and a Closet Office
With his dreams of TV/Film talent managing still in his sights, Vincent borrowed $400 dollars (which would be approximately $1,383.51 today) and started work in a literal closet in friend Doug Yeager's apartment. The apartment was right across the street from the historic Studio 54 from the disco era. While in his cramped office, he made "cold calls" to TV producers and executives to get his foot in the door.
Traveling With Peter Pan Teens
Because of his tireless efforts, Vincent was able to secure employment with a talent agency for kids. His job was to travel with the young actors and actresses on the road as a guardian as they performed in Peter Pan (starring Sandy Duncan). This experience, much like the back room of the investment firm in the 1960s, gave him real-world insight into the world of entertainment. He fought for the teens in the production to have good accommodations and meals when they were traveling.
Discovering Halle Berry
Vincent then traveled to Pittsburgh to meet with Donna Belajac, who was a casting director for television and film productions. While in the city, he offered a free seminar for young actors and actresses, where he met former ice skaters Julie Benz and Sandra Ferguson. He was able to get Sandra a recurring role on the popular daytime TV soap opera "Another World."
A director in the area asked Vincent if he knew of anyone like Sandra for an African-American character for a show he was producing. Sandra then told Vincent about her friend, actress Halle Berry. The rest, as the world would soon see, would be history and now Halle Berry is a household name in television and film, and the first African-American woman to win an Academy Award for Best Actress.
From Halle Berry to Industry Icon
While working as Halle Berry's manager, Cirrincione was able to secure her roles in dynamic career-defining films such as Spike Lee's Jungle Fever.
Finding work for Berry was not difficult after that, and he produced 1998's hit story about Dorothy Dandridge, the first African-American woman to be nominated for an Academy Award, with Berry in the title role. Berry would later go on to win the Golden Globe and Emmy Awards for her acting. Vincent received an Emmy nomination for his role as a producer.
Along with his career since setting up his LA offices in 1991, Vincent has been the manager behind many blockbuster movies, such as Lackawanna Blues, Unthinkable, and Supremacy. He has also been the guiding force behind many successful African-Americans in the film industry besides Berry, such as Justin Smollett, Taraji P. Henson, and director Princess Monique.
Today, the 70-year-old Cirrincione enjoys a quiet life in Los Angeles, preferring still to be behind the scenes, working to make sure everyone in the industry, especially people of color, get a "fair shake" and an opportunity to succeed. His overall goal? To make it so no one of talent has to work as hard as he did in his youth to break into the entertainment industry, no matter their skin color. His efforts have had a lasting and positive impact on the television and film community and will continue to do so for years to come. [IMDb]