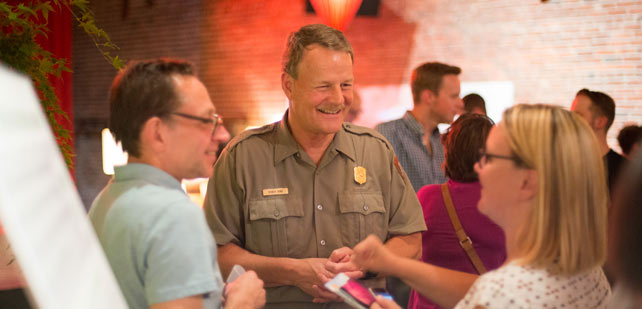 Washington's National Park Fund Hosts 'Over the Top' $750,000 goal for our Big Three national parks in Washington State
Seattle – Washington's National Park Fund (WNPF) and its new Discovery Group will host an 'Over the Top' event on Friday, September 22 at the Georgetown Ballroom. This fundraiser will award all monies raised to projects voted on by attendees throughout the evening.
The Discovery Group 'Over the Top' Event is a fusion of two distinct groups at Washington's National Park Fund. The Discovery Group, millennial-based constituents, supports the Fund through community fundraisers and volunteerism; the Over the Top Society of individuals provide $1,200 annually in unrestricted giving. The event is designed to provide an engaging and diversified atmosphere for the audience to mingle with like-minded supporters of our Big Three parks.
Each attendee is awarded 5 raffle tickets to designate toward any project of their choice, with stations and park rangers leading discussions and presentations throughout the ballroom. Projects are in the areas of Science and Research, Youth and Family, Visitor Experiences (including trail maintenance & search and rescue), and Volunteerism. At the end of the evening, the winning project from each park with the most tickets will receive a grant. Afterward, one raffle ticket for each park will be drawn, and a prize will be awarded to the winning contributor of the ticket.
Raffle prizes include: (1) an overnight stay at the historic and luxurious Quinault Lodge (donated by Aramark Parks and Recreation), (2) a photography session in North Cascades National Park from Discovery Group member and well-known PNW outdoor photographer Scott Kranz, and (3) a stewardship project and private tour at Mount Rainier National Park.
Park projects for consideration include:
Mount Rainier National Park: Rangers Kevin Bacher, Tara Chestnut, and Brett Hergert
•Mount Rainier Volunteer Program
•Keep Wildlife Wild
•Locator Beacons for Backcountry Use
North Cascades National Park: Rangers Jason Ransom, Regina Rochefort, and Mignonne Bivin
•Fisher Reintroduction
•Cascade Butterfly Project
•North Cascades WOW (Wiping Out Weeds)
Olympic National Park: Rangers Lee Taylor, Sam Brenkman, and Lee Snook
•Adventures in Your Big Backyard
•Environmental Fish DNA and Non-Native Fish
•Search and Rescue Personal and Protective Equipment
Two Beers and Seattle Cider will provide libations, and $25 tickets can be purchased here on WNPF's website.
About Washington's National Park Fund
Washington's National Park Fund (WNPF) is the official philanthropic partner of the Big Three — Mount Rainier, North Cascades, and Olympic National Parks — which span more than 1.6 million acres of the Evergreen state. Annually, WNPF allocates monies to more than 75 otherwise unfunded projects with the goal of deepening the public's love for, understanding of, and experiences in Washington's National Parks. Get involved at www.wnpf.org.
*Photo by Eric Sheckler