Early life and Education:
Natalie Kimberly Khawam was born in 1975 in Beirut, Lebanon. She has an identical twin sister named Jill Kelley, an older sister named Caroline and a younger brother named David Khawam who also is an attorney. She moved with her family in 1976 to Philadelphia, Pennsylvania. Natalie Khawam attended the Lower Moreland High School in Pennsylvania and she graduated in 1993. She then attended Arcadia University and graduated with a Bachelor of Arts. Later went on to attend the Temple University Fox School of Business and Management and she graduated with a Master of Business in 2001 in Healthcare/Health Administration and management. She then received a Master in Science in 2002. In 2002, she started law school at Georgetown University Law Center and graduated in 2005 with a Doctor of Law in Healthcare Law.[LinkedIn]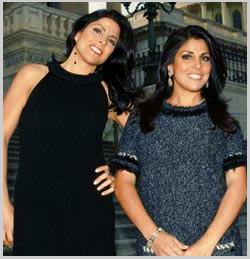 Professional Career:
After spending 15 years working in both the private and public sector, Ms. Khawam decided to open her own law firm in Tampa, Florida. Natalie Khawam founded the Whistleblower Law Firm P.A. in 2012. The firm focuses on the following practice areas: Healthcare fraud, wrongful termination, sexual harassment, corporate fraud, veterans benefits, Qui Tam, Federal OWCP, equal employment matters, whistleblowing, fair labor standards, contract disputes and negotiations, class actions, and matters related to the Family and Medical Leave Act.
Ms. Khawam exclusively practices federal law with a focus on whistleblower laws. She typically practices the following areas: False Claims Act (Qui Tam), Medicare/Medicaid fraud, Veterans Benefits, matters before the Equal Employment Opportunity Commission, Office of Workers' Compensation Programs, the Office of Inspector General, Office of Special Counsel, Merit Systems Protection Board, and last but not least matters that relate to the Whistleblower Protection Act. Also, numerous AFGE Local unions throughout the country voted for Ms. Khawam as their attorney. She is a well known leading criminal defense attorney in Tampa, Florida. Her office has also taken on cases related to divorce, personal injury, and family law matters.
Ms. Khawam and her firm are passionate about representing veterans in their legal matters. She recently represented client Gunnery Sgt. Peter Nolan in his appeal to have his naval records corrected to allow him to receive his disability income, healthcare benefits, and back pay. Natalie Khawam filed an appeal and it was ruled successful in favor of her client, Gunnery Sgt. Peter Nolan and his benefits were reinstated. Natalie worked hard to make this situation right for Mr. Peter Nolan.
Working with Veterans is a top priority for Attorney Khawam, and she ensures that her firm representatives use their expertise to serve those who have been abused or mistreated by the system. While the Whistleblower Law firm encompasses a wide range of specialties, Attorney Khawm is committed to helping the men and women of the armed forces. As noted above, Natalie Khawam was able to help Mr. Gunnery Sgt her client. Peter Nolan win an appeal, that would get him his rightfully earned disability income and health benefits. Unfortunately for Sgt. Peter Bolan, a Department of Defense Physical Evaluation Board, unsuitably claimed he was only ten percent disabled and therefore unfit for duty, which means that Sgt. Nolan was going to lose many things in his like including income, insurance, and health benefits due to being unfit to serve in the military. There was a mistake in the process and Sgt. Peter Nolan knew it. He hired Khawam, and she to submit an appeal over the issue with the Board for Correction of Naval Record and was able to get the benefits and money that he was entitled to. It is sad that people who risk their lives are put under this amount of stress to know if they will have their basic needs met, but attorneys like Natalie Khawam understand what these brave men and women sacrifice, and Khawam is highly motivated to ensure that they receive what they are indeed eligible and deserving of. She is most famous for her involvement in the Petraeus Scandal in 2012.
Often, the law firm will handle cases where employers retaliate against their employees, potentially leading to loss of work, income or benefits. There are several labor laws that exist to protect the rights of employees, and the Whistleblower Law Firm works to enforce those laws. When necessary, the Whistleblower Law Firm can also handle class action lawsuits related to its practice fields.
Aside from the founder and managing member Khawam, the Whistleblower Law Firm's team consists of several attorneys, management, and support staff who all work to assist clients with their federal employment law and fraud issues. The law firm also has confers with several consultants, who regularly provide expert opinions on matters relating to medical issues and other aspects of federal labor and employment law.
Understanding Whistleblower Law
Whistleblower law encompasses a wide variety of legal matters, referring to cases where one person provides information about another individual committing a crime. For many cases, the so-called whistleblower is an employee who is reporting an illegal act by his or her employer. When the illegal act consists of fraud against the government, it becomes a qui tam whistleblower case.
These types of legal actions allow for employees to speak out about unjust actions. Additionally, employers are not allowed to engage in retaliatory actions against the employee, as long as the whistleblower had a reasonable purpose for believing the illegal act had occurred. A claim does not need to be true for a whistleblower to receive these protections.
These cases can quickly become complex legal matters that require the help of an attorney. Natalie Khawam and the Whistleblower Law Firm help employees protect their rights and bring illegal acts to light.
Case Accomplishments
Throughout its history, the Whistleblower Law Firm has represented many successful cases. One recent case involved a qui tam lawsuit involving an act of healthcare fraud. Khawam represented the case, earning a verdict in favor of her client. The case received a judgment of over $166 million in compensation. This is just one of Khawam's significant judgments that Khawam has won for her clients.
Additionally, Khawam has represented several cases in favor of veteran's rights. In one such case, Khawam represented a client who suffered retaliation after speaking up against poor patient care standards in an area VA hospital. Khawam was able to help her client maintain her position at work and continue advocating for fair treatment standards without punishment, as should have been the case initially.
Other accomplishments held by Khawam and the Whistleblower Law Firm include the creation of new case law through trial, setting a precedent for later cases to follow.
Volunteer Experience:
Natalie Khawam currently volunteers as a Guardian ad Litem for the Florida guardian ad Litem Program.
Board Affiliations:
Ms. Khawam is an active member of the Military and Veterans Affairs Committee (MVAC) of the Hillsborough County Bar Association. She is also on the board of directors of the Whistleblowers of America, a non-profit organization that assists and supports whistleblowers that have suffered retaliation after having identified harm to individuals or the public.
Bar Admissions:
Attorney Khawam is admitted to practice law in several Federal Courts across the United States. Natalie is very active in the community as well was a member of the Federal Bar Association. Obviously, a standing member of the Florida Bar. She supports the ABA's annual Qui Tam conferences in Washington DC and other causes she is proud of.
Public Speaking Engagements:
Natalie Khawam has had numerous speaking engagements and often participates in summits and conferences that focus on whistleblower related matters. Recently, she spoke at the at the Tampa Bay Women CPAs 2018 A&A CPE event in Tampa, Florida, on June 14, 2018, presenting on the topic of whistleblowing. On August 1st 2018, Natalie Khawam moderated the panel titled, "Blowing the Whistle at the Department of Veteran's Affairs – Another Perspective" at the annual Whistleblower Summit for Civil and Human Rights in Washington DC. There are no Seattle speaking arrangements scheduled at this time.
Classes:
Ms. Khawam teaches other attorneys the False Claims Act for CLE credits in the state of Florida. She also travels around the country teaching whistleblower laws to numerous federal government employees. She currently doesn't have any speaking arrangement or classes scheduled in the City of Seattle.
Personal:
Natalie Khawam, first and foremost, her son, Grayson Paul Wolfe II, is the highest priority in her life. She is an avid tennis player and loves swimming. When she is not advocating for her clients, she spends her spare time traveling and cooking. Previously, Khawam was married to Grayson Wolfe. The divorce was highly publicized in the news. During the process, Khawam received letters that showed support in her favor by General David Petraeus and General John Allen.
Her sister, Jill Kelly, is well known for filing a complaint (received harassing emails by Paula Broadwell) that lead the FBI into investigating CIA Director General David Petraeus and his extramarital affair with Broadwell. Gen. David Petraeus is still married to his longterm wife Holly Knowlton and did not divorce during the controversy.