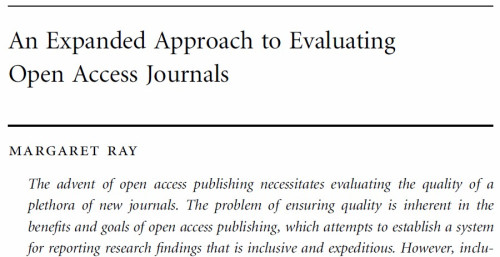 An article just published in the University of Toronto Press's Journal of Scholarly Publishing details a test of several scholarly publishers that sent spam emails to the author. She submitted secondary school essays to determine whether they'd be accepted for publication by the journals.
The article is "An Expanded Approach to Evaluating Open Access Journals." In the article, author Dr. Margaret Ray of the University of Mary Washington describes what happened after she sent several essays written by high-school students to journals she received spam emails from.
Preceding Dr. Ray's methodology and results is a deep and interesting commentary on scholarly open-access publishing. A professor of economics, Dr. Ray contextualizes her experiment in the broad economic context of open-access.
Though the paper appears in a subscription journal, the publisher has kindly provided me with a link to share with those interested in accessing and reading the article: http://bit.ly/OpenAccess_Ray.

Appendix: The article's citation:
Ray, M. (2016). An expanded approach to evaluating open-access journals. Journal of Scholarly Publishing 47(4), 307-327. http://doi.org/10.3138/jsp.47.4.307
By: Jeffrey Beall
Follow on Twitter
Source: Scholarly Open Access
Comments:
Responses to Just-Published Article Evaluates Some Spammy OA Publishers
Stephane Louryan says:
July 19, 2016 at 9:19 AM
Thank you very muche, r. Beall, for this very interesting comment and link !!!!
S. Louryan, MD, PhD, Brussels, Belgium.
Debora Weber-Wulff says:
July 19, 2016 at 2:54 PM
Since I can't leave a comment on the journal site (why not? That would be useful. Perhaps I should use PubPeer), Dr. Ray cites a 10-year-old article on how easy it was to "take down" the Wikipedia by editing some nonsense into the article on elephants. The Wikipedia has ably demonstrated that an open model CAN work, as can be seen by the nonsense a) being gone and b) this article put under semi-protection so that random passers-by can't edit it directly, but have to put new information on the talk page first. Open Access is not in and of itself evil, Jeffrey, we differ on this. But predators can make use of Open Access, so we have to come up with different controls to separate the wheat from the chaff. Peer review is broken, but that's another discussion.
Sam says:
July 19, 2016 at 10:10 PM
Wikipedia model works because of its continuous review and improvement feature. Predatory journals do not have a review system leave alone continuous review and criticism of the material published. Open access of predatory journals does not imply frequent and wider access, use, criticism and improvement by specialists.
Ghazal says:
July 20, 2016 at 7:47 PM
Many OA publishers have adopted with COPE and make changes on papers in case it is necessary. We must separate predatory publishers with OA publishers.
Fiona McQuarrie says:
July 19, 2016 at 3:44 PM
Excellent article – thanks for sharing it.
Marco van den Berg says:
July 19, 2016 at 9:35 PM
Thanks for sharing the article – Very interesting. What I note from the article and from some of the quoted sources of possible quality control is the absence of a geographical bias. I've noticed an increasing bias in some articles here against publishing channels based in developing countries which I find to be dangerous and often discriminatory. There are perfectly good journals in Hyderabad, there are bad ones as well. The same can be said for Amsterdam or New York City. Full disclosure – I am based in the Philippines.
Sam says:
July 26, 2016 at 9:57 PM
Perfectly good journals from Hyderabad? I cannot think of any 'good' journals from Hyderabad based publishers. Outsourced publishing work may be done cheaply in Hyderabad and other places in India due to cheap labor for sure.
liorsham says:
July 19, 2016 at 11:17 PM
That's scary. Only one paper was rejected (for being too short). And these essays don't even look like scientific papers.
Muca says:
July 20, 2016 at 1:56 AM
The journal where it is published writes:
"Gold Open Access
At publication, the final version of record will become freely available on our primary platform, utpjournals.press. The Author Publication Charge is $3,000. "
Thats outrageous.
liorsham says:
July 20, 2016 at 10:28 AM
Muca, it is indeed expensive, but open access is optional in that journal. If you don't want (or are not required by your funder), you don't need to pay anything.
Weekend reads: Lying academics; journals to blame for bad behavior; why bad science is funded – Retraction Watch at Retraction Watch says:
July 23, 2016 at 7:57 AM
[…] happened when Margaret Ray submitted high school students' essays to some likely predatory journals? (Jeffrey Beall, Scholarly Open […]