Two unrelated publishers with the word "Nova" in their name have been bothering researchers with spam emails recently. One is an open-access publisher based in a dwelling in Ontario called Nova Explore Publications. The other one is an old book publisher called Nova Science Publishers, based in New York State. Researchers should avoid them both.
First, Nova Explore Publications.
This operation is a typical, small, one-man predatory publisher operation. It offers five broad journals, one of which, the Nova Journal of Sufism and Spirituality, covers a topic not normally treated by open-access publishers, so perhaps it's a reflection of the owner's background.
A spam email signed by "Dr. Rose Hill" (likely a fake name) lists the "advantages" for authors publishing with Nova Explore Publications:
Benefits to publish with NOVA:
1. Easy submission and fast evaluation process
2. Expert review who strive to give authors fair decisions and advice
3. The highest standards followed to improve accepted manuscripts
In other words, they will accept and publish just about anything, as long as the publishing fee is paid, which Nova Explore says is $75.
It lists its address as 67 Abitibi Avenue in Toronto. Here's a picture of their headquarters, courtesy of Google Maps, and it's really in North York: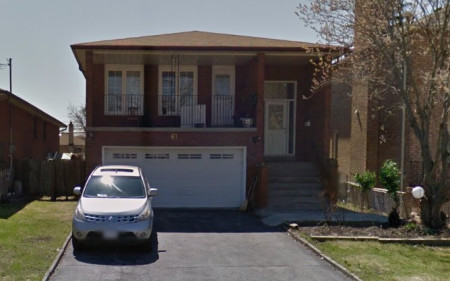 Second: Nova Science Publishers.
If you haven't already, you may receive a spam email from the company's president, Nadya Gotsiridze-Columbus.
Their spam will invite you to edit a book with chapters contributed by your friends and colleagues, or it will invite you to contribute a chapter to such a volume.
Nova Science Publishers is not a predatory publisher, but it is a bottom-tier one, in my opinion. The Wikipedia article about the publisher gives additional information about it, but the article has been somewhat sanitized by the publisher's supporters.
If you're an assistant professor, I strongly recommend you resist the temptation to write for this publisher; it could be damaging to your career.
In conclusion, both of these Nova publishers are "no-goes."
Appendix: List of Nova Explore Publications journals as of 2015-04-18:
Nova Journal of Medical and Biological Sciences (NJMBS)
Nova Journal of Humanities and Social Sciences (NJHS)
Nova Journal of Engineering and Applied Sciences (NJEAS)
Nova Journal of Arabic Studies (NJAS)
Nova Journal of Sufism and Spirituality (NJSS)
*Visitor submitted article. The views, opinions, and/or reviews expressed are not necessarily the views of the Emerald City Journal. The Emerald City Journal is an non-commercial opinion based newspaper (that may include criticism) located in Seattle, Washington. This newspaper is for the People and by the People.