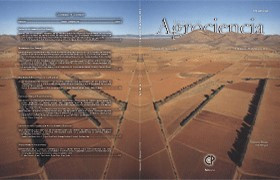 The journal Agrociencia, published by the Colegio de Postgraduados in Mexico, demands that submitting authors subscribe to the journal before their submissions will be considered for peer-review. A subscription costs $160, and there are additional fees once the paper is accepted.
These hidden fees, resembling a type of mordida, are not mentioned in the author guidelines. The text below is copied from an email sent by Agrociencia in response to a prospective author's inquiry:
"Time for publication: 8-10 months, depending upon writing in fluent English and scientific value of the manuscript.
Articles are published only in English and Spanish.
After an official reception letter is issued and in order to start the peer-review process, the corresponding author must pay a one-time annual subscription to Agrociencia (US$ 160.00); this payment does not imply that the manuscript will be published.
If the manuscript is approved for publication, the corresponding author must pay the translation (US$ 200-300) from English into Spanish, directly to a translator assigned by Agrociencia."
The journal's website states that subscriptions cost $150, not $160. Also, the journal is open-access, so subscriptions are not needed to access the published content.

As indicated, the journal also requires submitting authors to fund a translation of the article, an additional $200-$300 cost.
The journal is also called Revista Agrociencia. The mandatory subscription and translation charges are non-standard in scholarly publishing and perhaps unethical. The journal needs to be more transparent about the fees it imposes on its authors.
Researchers in the agricultural sciences submitting papers to this journal will be taking a risk; there may be additional charges beyond those mentioned here. For authors considering submitting here, I recommend finding a better journal.
The journal has an impact factor of 0.049 according to Thomson Reuters' Journal Citation Reports.
Hat tip: Dr. Jaime Teixeira da Silva
By: Jeffrey Beall
Follow on Twitter
Source: Scholarly Open Access
Comments:
Keith Fraser says:
April 21, 2015 at 9:13 AM
Publication time 8-10 months? That seems terribly long to me, on top of all the fee unpleasantness.
Neuroskeptic (@Neuro_Skeptic) says:
April 21, 2015 at 9:40 AM
"The journal has an impact factor of 0.049 according to Thomson Reuters' Journal Citation Reports."
Statistically significant!
shirley ainsworth says:
April 21, 2015 at 10:55 AM
Although seen from another angle an APC of $150 plus a complimentary print subscription is hardly outrageous, and also the equivalent of 'society members' (academics and students from the Colegio de Posgraduados) do receive a discount on this price.
I understand this policy has been in force for Agrociencia since 1997, and it is unusual for a Latin American journal to charge for publishing there. They are usually free to publish in and free to access.
The conditions should be mentioned clearly in the author instructions, I quite agree.
Rodrigo Paredes says:
April 21, 2015 at 12:51 PM
This is not an article processing charge. In my experience, APCs are only charged after acceptance. Here "this payment does not imply that the manuscript will be published." I do not know of any other Journal that charges the complete fee regardless of acceptance (maybe they're a few, but it is very uncommon and does seem risky for authors.)
Mike Fainzilber says:
April 22, 2015 at 12:49 PM
Jeff – I have no idea about this specific journal, but fees for submission of a manuscript are charged by other reputable journals published by large scholarly societies. For example the Journal of Neuroscience charges $ 130 for submission, regardless of the eventual fate of the manuscript, and this is separate from publication fees charged if the manuscript is accepted for publication- see http://www.jneurosci.org/site/misc/ifa_fee.xhtml
Jeffrey Beall says:
April 22, 2015 at 8:18 PM
Agreed, but the point I was trying to make is that the fees are not mentioned on the website. Authors find out about them the hard way, after they've submitted a paper.
Reinaldo Pire says:
May 1, 2015 at 10:33 AM
Dear Prof. Beall, it is clear that your comment was dealing with fees that were not mentioned on the website of the journal. However, you used the term "mordida", a word that may be considered offensive for Spanish speaking people.
I believe that this unusual word in scientific communication triggered several opinions from readers who added more attacks to the journal.
Moreover, I visited the journal website and observed that the charges are mentioned on its main page.
Knowing that you are a fair scientific critic, I think a clarification would be needed
Jeffrey Beall says:
May 1, 2015 at 11:33 AM
You are late to the party. The charges were not stated previously. My use of the term was appropriate and reflected only the offensiveness of the hidden and exploitative charges.
Sergio González says:
May 7, 2015 at 1:18 PM
On April 21, Mr. A. Teixeira da Silva uploaded on the Scholarly Open Access site, a libel pointing out that Revista Agrociencia charges "MORDIDAS" (sic) for publishing articles. Although we knew about the apparent anger of Mr. Teixeira da Silva, we did not answer because his statements are worthless and uncalled for and, most probably, no reply is needed. However, some outstanding members of the national and international scientific community have let us know their disagreement and anger about the libelous statement published by Mr. Teixeira da Silva. Therefore, we feel an answer is called for.
First, we will show some relevant information about Agrociencia. In 2016, the journal will reach 50 years of publishing, and it is successfully consolidated with about 400 reviewers from 12 Ibero-American countries. Two reviewers and one editor evaluate each manuscript, and they will approve or reject it. Every year, about 100 articles are published according to the Guidelines, which are in effect since 2004; thus, about 1000 have already been published and none of the authors have complained about subscription fees or payment to translators.
Mr. Teixeira da Silva pointed out just one true statement: Agrociencia is an open journal, its access is free in the Internet, and no subscription is required in order to read, copy or print any article. Thus, the only purpose of requiring a subscription is to help paying some of the publication costs of the journal. If an author declares that he cannot pay the subscription, due to lack of funds or not being able to obtain support from his country, this requirement is forfeited. Please, take into account that the one time annual subscription requirement is included in the Authors Guide and in a letter sent to the Corresponding Author. Hence, Mr. Teixeira lies again.
But we do declare ourselves guilty of not being able to find excellent translators who do not demand payment for his work. Since translators are not employees of the Colegio de Postgraduados, neither of the Editorial or Agrociencia, every payment for translating a manuscript is a direct agreement between the Corresponding Author and the translator.
Finally, we strongly point out that no further words or efforts will be wasted about this trivial incident, which stem from faulty judgment or wicked intentions from Mr. Teixera da Silva. A final comment: as is often the case, Mr. Teixeira writing in English is very poor. That is why professional translators are required. The rest is silence.
El Editor General del Colegio de Postgraduados
Said Infante Gil
El Director de Agrociencia
Sergio S. González Muñoz