What an odd name for a scholarly publisher: iProbe. It sounds like the name of an Apple app for endoscopic surgeons. Here is my probe of iProbe.
The name is not the only strange thing about this new publisher. Most of its website appears to have been translated into English using Google Translate. Much of it makes no sense and is extremely smarmy. Take this text from one of its calls for papers, for example:
Please respond to this mail as soon as possible if you are paying attention. We would look forward for your valuable reply. It is always a great pleasure & treasure to hear back from you doctor! For promoting the scientific community, it's really very interesting to work with you I must say. If you contributed for this journal would be treasured.
With warm regards,
Editorial Office
Open Access Journals
iProbe Group
The publisher has 48 brand-new journals in its portfolio. Most are medical science journals, but there is also a math journal, an engineering journal, and one zoology journal. None has any content yet, and the editorial boards are currently being formed and the journals are all open for submission. The article processing charge for a research article is $799.
The site lists this address:
14175 Sullyfield Circle
Suite # 402, Chantilly
VA 20151, USA
A Google search of that address brings up a company called USM Business Systems, which has a branch office in Hyderabad, India. Is this publisher really an Indian operation?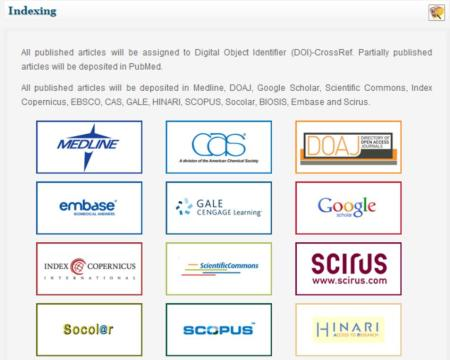 Each individual journal links to the page above. The page makes no sense to me. It says, "Partially published articles will be deposited in PubMed" Huh? Why not publish the entire article?
It also says all articles will be deposited in — among other services — Google Scholar. How do you deposit an article in Google Scholar?
I think the publisher's use of the logos here is unwarranted and an attempt to make itself look legitimate. I am increasingly seeing new fleet startups like this one. Does the world really need these 48 new open-access journals?
Hat tip: Dr. Thomas Long
Appendix: List of iProbe journals as of June 10, 2013:
o Addiction Therapy & Clinical Research
o AIDS & Clinical Research Journal
o Clinical & Experimental Ophthalmology Journal
o Ecology & Ecotoxicology
o Emergency Medicine & Health Education
o Engineering Journal: Aeronautical & Aerospace
o Inorganic Chemistry Journal
o International Journal of Biomedical Engineering
o International Journal of Clinical Anesthesia
o iProbe: Clinical Case Reports
o iProbe: Journal of Biotechnology
o iProbe: Journal of Civil & Environmental Engineering
o iProbe: Journal of Computer Science & Engineering
o iProbe: Journal of Computing Programs & Systems
o iProbe: Journal of Mathematical Analysis & Applications
o iProbe: Journal of Medicinal Chemistry
o iProbe: Journal of Natural Sciences & Mathematics
o iProbe: Physical Chemistry Journal
o Journal of Biological Informatics & Biodiversity
o Journal of Biological Research & Development
o Journal of Cancer Therapy & Research
o Journal of Cardiology Research & Therapy
o Journal of Clinical Microbiology & Biochemical Technology
o Journal of Clinical Pharmacology & Clinical Pharmacokinetics
o Journal of Clinical Pharmacy
o Journal of Computer Software & Hardware
o Journal of Dental Research & Therapeutic Science
o Journal of Dermatological Science & Therapy
o Journal of Environmental Sciences & Research
o Journal of Forensic Science & Technology
o Journal of Gynecological Research & Therapy
o Journal of Health Community
o Journal of Life & Agriculture Sciences
o Journal of Mechanical & Biomechanical Engineering
o Journal of Nanotechnology & Nanomedicine
o Journal of Neurology & Neurological Sciences
o Journal of Nutritional Science & Therapy
o Journal of Palynology & Phycology
o Journal of Pharmaceutical Science & Development
o Journal of Primary Care & Family Medicine
o Journal of Surgical Research & Technology
o Journal of Traditional Medicine
o Journal of Vaccination & Vaccines
o Journal of Zoological Research & Development
o Macromolecular Science: Research Reports
o Natural & Synthetical Products in Organic Chemistry
o Otolaryngology Clinical Research
o Social Sciences: Current Research
By: Jeffrey Beall
Follow on Twitter
Source: Scholarly Open Access
Comments:
Genaro japos says:
June 13, 2013 at 12:28 PM
Is there a way interpol can apprehend predatory publishers? How can such acts constitute international crimes against science and humanity? Can we make a position paper to unesco and compel members of united nations to be signatories?
Jeffrey Beall says:
June 13, 2013 at 5:06 PM
Most of them are not doing anything illegal. They all enjoy freedom of the press. I don't consider them illegal, just unethical.
adakole abu says:
June 13, 2013 at 4:24 PM
Please I would be pleased to have your comments on journals such as: Journal of Animal and Veterinary Advances, African Journal of Biotechnology, Journal of Medicinal Plants Research, Asian Pacific Journal of Reproduction, Livestock Research for Rural Development, International Journal of Poultry Science, Macedonia Journal of Medical Sciences, Iranian Journal of Reproductive Medicine. Kind regards,
Adakole Abu