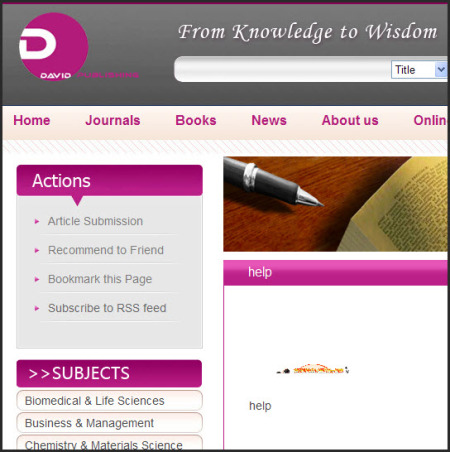 This publisher is an enigma to me.
David Publishing made my 2012 list of predatory open-access publishers. I wrote:
"Although this publisher purports to be headquartered in Libertyville, Illinois, United States, it actually appears to operate out of China. The home page shows a view of the Libertyville Industrial Park, the supposed home of the operation, as if to prove it operates in the U.S."
Now, the picture of the Libertyville Industrial Park is still there, but it rotates with a stock photo of three diverse, scholarly-looking people. This operation seems to have abandoned Libertyville, as the contact us information now lists an El Monte, California address¹. Also, the site was completely down for a couple months between December 2011 and February 2012.
More importantly, the publisher's model seems to have changed from open access to toll access. All the content (except for the article abstracts) are behind a pay wall. And strangely, it may be continuing to charge author fees, for I found this (unidiomatic) statement on a submission form: "8. Please confirm to pay for the publication fee for the delivering article." If this is all true, then it would be the first toll access publisher I've heard of that also charges author fees.
It's also possible that this site is a total fraud. It's a Chinese operation and every page on the site is slow to load. It could be set up mainly as a place for Chinese authors to get credit for foreign publications. The Chinese government does have incentive programs with monetary rewards for Chinese scholars who publish abroad.
I regularly get emails about this publisher. It is a big spammer that harvests emails from other publishers and from scholarly websites. It panders to graduate students who lack publications, offering to publish their work but failing to inform them about the author fee (that information comes later).
The list below contains David Publishing's current journal portfolio. I recommend that scholars do not conduct any business with this publisher including submitting articles, submitting on editorial boards or advertising. I would also be very skeptical of any article bearing the David Publishing imprint.
o China-USA Business Review
o Chinese Business Review
o Computer Technology and Application
o History Research
o Journal of Agricultural Science and Technology
o Journal of Chemistry and Chemical Engineering
o Journal of Civil Engineering and Architecture
o Journal of Communication and Computer
o Journal of Earth Science and Engineering
o Journal of Energy and Power Engineering
o Journal of Environmental Science and Engineering (A & B)
o Journal of Food Science and Engineering
o Journal of Life Sciences
o Journal of Literature and Art Studies
o Journal of Materials Science and Engineering (A & B)
o Journal of Mathematics and System Science
o Journal of Mechanics Engineering and Automation
o Journal of Modern Accounting and Auditing
o Journal of Physical Science and Application
o Journal of Shipping and Ocean Engineering
o Journal of US-China Medical Science
o Journal of US-China Public Administration
o Journalism and Mass Communication
o Philosophy study
o Psychology Research
o Psychology Research
o Sino-US English Teaching
o Sociology Study
o US-China Education Review A & B
o US-China Foreign Language
[¹]. David Publishing Company, 9460 Telstar Ave Suite 5, EL Monte, CA91731, USA Tel: 323-984-7526; Fax: 323-984-7374
By: Jeffrey Beall
Follow on Twitter
Source: Scholarly Open Access