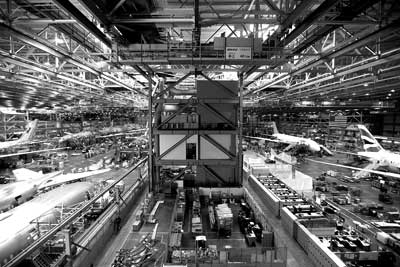 Washingtonians know that Boeing has a strong presence in the state. Whether you work there, went on a school tour, or hear about them in the news, the company has a large impact on the Puget Sound. The Boeing Company is an established entity in Seattle and has roots that go back over 100 years. In March 1910, William E. Boeing bought Heath's shipyard in Seattle on the Duwamish River, which later became his first airplane factory. Boeing was incorporated in Seattle by William Boeing, on July 15, 1916, as "Pacific Aero Products Co." Today, Boeing is the largest private employer in Washington. Currently, nearly half of Boeing's global workforce is located here in the state. In this are the company is committed to building the single-aisle 737 MAX, with orders for more than 4,000 airplanes.
The Company in interwoven in the Puget Sound community in so many different ways. The Boeing Company made its first charitable contribution in 1917 when a gift from William E. Boeing helped the University of Washington build the state's first wind tunnel. Since July 1st 2017, the current CEO is Dennis Muilenburg. More than a century later Boeing employees and retirees contribute more than $50 million annually to approximately 200 Washington organizations dedicated to improving the lives of people in this state. In 2016 Boeing, employees and retirees contributed more than $50 million to community organizations and donated more than 250,000 volunteer hours. Additionally, more than 100 Boeing executives serve on non-profit boards throughout the Puget Sound region. Boeing also offers a Washington New Letter so you can keep up with news and events. Boeing is well invested in Washington state and serves the people who live here to enrich and progress communities.
Boeing is committed to Washington state and has invested billions of dollars in their future here. That commitment extends from helping educate the next generation of aerospace workers to implement changes in The Boeing Renton factory to facilitate future production of the 737 MAX. It also includes expansion of delivery centers in Everett and Seattle and construction of massive new buildings to house, cutting-edge technologies being developed for the 777X. Boeing has a clear strategy and commitment to protecting the environment. As a technology and innovation leader, they continually improve the environmental performance of their products and services to further reduce fuel use, carbon, and the industry's ecological footprint.
If you are a plane lover or want to learn more about the company history, located approximately 25 miles north of Seattle, The Future of Flight Aviation Center & Boeing Tour is the only public tour of a commercial jet assembly plant in North America. Explore the interactive exhibits and displays in our 28,000-square-foot Aviation Center Gallery; then take a 90-minute tour of the Boeing plant where you can watch 747s, 777s, or 787 Dreamliners being assembled right before your eyes. People come from out of town for this tour, and if you're a local and have never been, it's a great way to learn more about a company that drives a lot of the local economy and is invested in the success of local communities. There is a minimum height requirement of 4 feet for children participating in the Boeing Tour. To avoid disappointment, please make sure to check the height before purchasing tickets. This restriction is strictly enforced. ADA accessible tours are offered twice daily. Call in advance to ensure proper accommodations. 1-800-464-1476 or ask any questions.
The Boeing Company is an American multinational corporation that designs, manufactures, and sells airplanes, rotorcraft, rockets, and satellites worldwide. The company also provides leasing and product support services. Boeing is among the most significant global aircraft manufacturers, and it is the second-largest defense contractor in the world based on 2015 revenue.
Notes about The Boeing Company:
Founded: William Boeing
CEO: Dennis Muilenburg (www.DennisMuilenburg.com)
Stock Symbol: BA (NYSE)
Revenue: 93.39 Billion (2017)
Headquarters: Chicago, IL
Seattle Mailing Address: P.O. Box 3707. Seattle, Washington 98124