If you haven't already, you may soon receive a spam email from the predatory Journal of Nature and Science (JNSCI) — I just got one myself. The spam email will praise one of your recent articles and ask you to re-work it into a short, new article for the journal. It will be signed by "Dr. Frank, Ph.D., Editor/Reviewer," a contrived name.
"Dr. Frank" is really Aiguo Wu, a former postdoc and later staff researcher at UCLA. He lives in Monterey Park, California and operates the journal out of his apartment.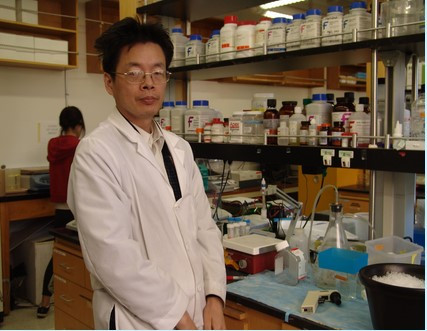 Wu's image and profile appear on the lab website of UCLA's Dr. Fernando Gómez-Pinilla, at his "NeuroLife Laboratory." However, Wu's LinkedIn profile (now taken down) indicates he left the lab (and UCLA) in 2013 to dedicate himself to the journal, spamming and cashing in on the easy article acceptance the journal offers.
Manage Your Own Peer Review
Indeed, the Journal of Nature and Science stands out for allowing scholarly authors the option of arranging their own pre-submission peer review and then sending the review reports along with the manuscript to the journal, where it is then rapidly published for a fee.

The journal's "Peer Review Process" page spells it out:
Before Submission: Your manuscript has been reviewed by two or more reviewers and improved based on their comments when you submit it to JNSCI. That means the peer review process is completed by yourself before you submit it to JNSCI.
JNSCI is more than happy to publish your pre-pub peer reviewed article.
Naturally, such a system is subject to abuse, with authors writing peer reviews of their own papers and submitting them as if they were from peers.
JNSCI's Marketing Strategy
The journal's niche is that it offers researchers the ability to publish short articles quickly and cheaply — and with the self-done peer review.
Wu charges 99 dollars to publish a research article and 80 dollars to publish a review article. If you got one of the spam emails, you are an "invited author" and have the opportunity to ask for a 50% discount on the fees.
He also offers a free option, but the published papers are not published open-access, and authors must transfer copyright. The papers are then available through a pay-per-view option. He profits from either option.
Analysis
Wu's shabby journal is an affront to both nature and science. His spam emails are annoying many busy researchers, and they should cease immediately. The journal exists only to enable Wu to make an easy profit from researchers' need to publish. I wonder if he is reporting all his income to state and federal tax authorities.
Hat tip: Dr. Kathryn H. Jacobsen
Appendix: The spam email I received:
From: Dr.Frank | Editor [mailto:publish@jnsci.org]
Sent: Saturday, September 24, 2016 7:52 AM
To: Beall, Jeffrey
Subject: Dangerous Predatory Publishers Threaten Medical Research.-
Hello, your paper is so interesting to me. May I ask you:
Could you contribute short review based on your published papers OR report your new research findings in JNSCI?
JNSCI (2377-2700) has published more than 100 interesting articles from Editor-invited and/or NIH-funded authors.
You can submit online: www.jnsci.org OR by email: admin@jnsci.org
Your paper may be published rapidly within just one week. Hope you have interest at this time OR in the future.
Thanks for help.
Best wishes,
Dr. Frank, Ph.D., Editor/Reviewer
Journal of Nature and Science (JNSCI)
ISSN 2377-2700 | www.jnsci.org | Los Angeles, CA
—————-
Note. I do not have mailing list, but send you this personally (not automatically) after I saw your interesting paper. Please forgive me if you received similar email.
By: Jeffrey Beall
Follow on Twitter
Source: Scholarly Open Access