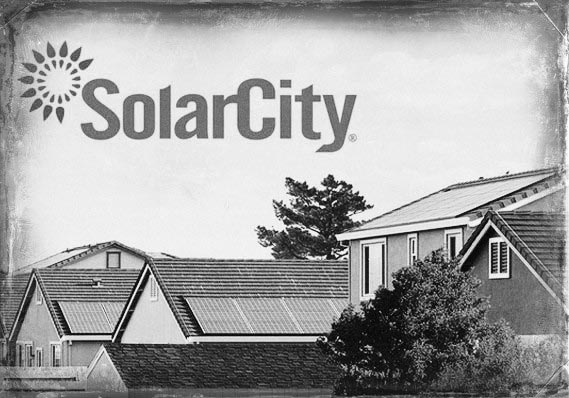 Elon Musk is no stranger to taking entrepreneurial risks. Most businessmen or companies will focus on products or services that will make them the most money, but Musk focuses on products and services that are environmentally friendly and will reduce waste and dependence on fossil fuels. He is an incredible inventor owning several companies. First it was Tesla, the electric car company and now Musk has been focused on expanding SolarCity and their clean energy solutions. Musk's goal with Tesla was to reduce mankind's dependence on fossil fuels and his goal with SolarCity is similar but this time the focus is on solar energy for both residential and commercial use. Musk is dedicated to a post-carbon, solar-powered future where we are dependent on a clean, environmentally friendly source of energy for our homes, businesses and cars.
SolarCity was founded in 2006 by two brothers Peter and Lyndon Rive in San Mateo, California and was based on some guidance from Musk himself. The brothers are Musk's cousins and they share the same passion as Musk has for creating clean energy solutions. SolarCity is currently the largest solar energy services provider in the United States. Since 2009 they have grown from 440 megawatts (MW) of solar panels installed in 2009 to 6,200 MW installed in 2014, which was the largest growth for any solar company in the United States. The company has about 15,000 employees currently working at the company and installs more solar energy systems than any other company in the United States with just under 110,000 new installations in 2015.
After witnessing the success of the company, Musk decided to become more involved in SolarCity. In June of 2016, Tesla submitted an offer to acquire SolarCity for about $2.5 to $3 billion. In November of 2016, it was confirmed that Tesla acquired SolarCity for exactly $2.6 billion. When Musk announced the potential acquisition in August of 2016, he gave the reason that he wanted to create the ultimate sustainable energy company. Tesla and SolarCity customers have the same needs and desires so it made sense to Musk to merge them into one company. Merging the two companies would allow cross-creative collaboration to create environmentally friendly solutions for both the car, home and businesses. Musk believed that combining the two companies would allow for greater expansion of offerings for both companies. Musk has an ultimate plan that will include integrated energy generation and storage, vehicle sharing, and expanding into the electric truck and bus markets. Musk wants to open a large battery factory, launch a new car, and expand into the self-driving car market.
SolarCity currently offers many innovative solutions and products for both residential and commercial use. Their most popular program is the Commercial Solar Financing program for cities, businesses and schools. This program allows cities, schools and businesses to go solar without having to pay high upfront costs to install the necessary equipment to harness solar energy. In May 2008, SolarCity kicked off their commercial solar program by installing the largest solar installation on the North Campus of Ebay. At the time this was the largest installation of its kind until July 2008 when SolarCity installed an even larger solar installation for British Motor Car Distributors. This installation consisted of 1,606 solar photovoltaic panels. In 2009, SolarCity then introduced their financing options to make clean energy affordable for a wide variety of businesses. Their Power Purchase Agreement, otherwise known as the PPA, gives businesses the opportunity to invest in solar energy and the necessary equipment without having to pay a lot of money upfront.
SolarCity also has many affordable options for the home as well. In the past, solar energy for the home was unaffordable and frankly quite ugly. Solar panels in the past were clunky and when attached to the home would stick out like a sore thumb. When it came to solar energy for the home, Musk was a firm believer in creating solar panels that would be streamline and would compliment the lines of a home rather than disrupt the overall aesthetic appeal of a home. SolarCity's solar panel systems are sleek and very low profile and appear to lay almost flush to the actual roof. It was the first time that a company had offered affordable yet sophisticated solar panels for the home.
The Powerwall by Tesla is the latest SolarCity product that was unveiled in April of 2015 and toted as a more reliable alternative to other backup power supply solutions. The Powerwall is simple and yet complex at the same time. The design is sleek and compact and can be discreetly installed in the home. The Powerwall is a rechargeable litium-ion battery stationary energy storage solution that stores energy channeled from the SolarCity solar panels. It offers backup power and can be used off the grid. During the day, the home is powered by the energy that is collected and harnessed by the SolarCity Solar Panels. Any excess energy that is gathered by the panels during the day is stored in the Powerwall. In the event of an outage, the Powerwall kicks in and powers the homes through the outage. You can also use the excess energy to power your home and to save some money by removing your home from the electrical grid. Tesla and Panasonic will be opening up the Gigafactory in Nevada in 2017 in order to produce the Powerwall in bulk. The website Understanding Solar provides a very deep review of the Powerwall 2 by Tesla.
SolarCity is also actively working with the Office of Energy Efficiency and Renewable Energy on the Sunshot Initiative. This government-funded initiative is a program that supports a national effort to create affordable solar energy solutions for the average American. It is a collaboration of private companies, universities, state and local government, non-profits, as well as national laboratories to help create new approaches to solar energy and to support the adoption of this form of clean energy in homes and businesses in America. SolarCity was instrumental in the program in conjunction with the Energy Department's National Renewable Energy Laboratory and the Hawaiian Electric Company to help 2,500 residents in Hawaii to connect to solar power systems.
Eon Musk is the entrepreneur that the world so desperately needs right now. His critics say that his focus on renewable, clean energy and the environment aren't a good business investment. The deal between Tesla and SolarCity was highly criticized based on the fact that industry pundits claimed that the money needed to run both would make it difficult for either company to see significant profit. Musk was unconcerned by the chatter. His main focus has always been to create environmentally friendly solutions to energy consumption. SolarCity is posed to be the leading provider of solar energy in the United States and has over 80 locations in the United States and is still growing and expanding to accommodate the demand for solar energy solutions.