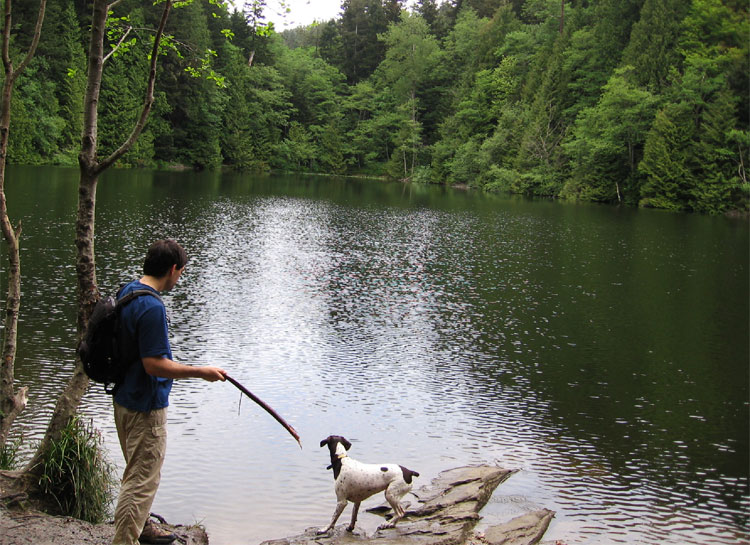 My cousin Damon is the go-to guy when it comes to finding good trails. Most of the time we plan two to three-day backpacking trips, but when doesn't allow I can always call on him for a day hike that is worth my while. Fragrance Lake is no exception. Located in Larrabee State Park near Bellingham, Washington, this 5.5 mile loop provides excellent views of Samish Bay in a fresh, woodsy setting.
If you are not familiar with the Bellingham area the best way to find the trail is by going straight to the main entrance of Larabee park. The trailhead is directly across the street on Chuckanut Drive. A Discover Pass is required to park at any of the spaces in the park, so plan accordingly.
We began our journey around noon. Knowing this was not going to take all day, we figured there was no reason to hurry out. That's the great thing about day hikes, you may not be able to truly escape civilization as you would on a backpacking trip, but at least you don't have to do as much planning.
The trail to Fragrance Lake has an elevation gain of 950 feet, so be prepared for a bit of a climb. The good news is the climb is somewhat gradual, so you'll be winded, but experienced hikers won't find it terribly grueling.
It didn't take long to discover that this trail was dog friendly. This is not uncommon in Bellingham as the city pays particular attention to its parks. From bike trails to campsites, Bellingham is full of options.
When we reached the main viewpoint, we were pleasantly surprised to see the San Juan Islands. Depending on one's preferences this may in fact be the highlight of the hike. The viewpoint has enough space that hikers often pack a lunch just to eat and enjoy the view.
For those who seek solitude, the lake itself isn't too far from the viewpoint. When you arrive you will note the lake is very quiet considering its relative distance from the city. In fact, one would never even guess that a city is nearby. The water is very calm, with plenty of space to explore around it. We saw several people throwing sticks in the lake for their dogs to retrieve them. If you want to get away from other hikers, the lake is large enough that there is bound to be a private spot somewhere along the shoreline.
Much to our surprise, it just happened that the one day we chose to hike up to Fragrance Lake was the exact day of Bellingham's Ski to Sea Race. This relay race requires teams of skiers, mountain bikers, runners, and kayakers to race from Mt. Baker all the way into the Bay. From our vantage point we could actually see some of the Kayakers rowing into the finish line. It was quite a day!
Author: Nic Poe