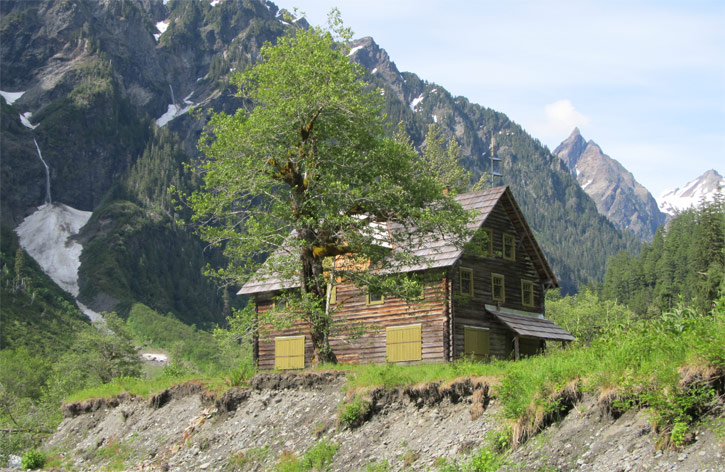 "Are there bears?" I asked my cousin Damon.
"I've been there two times and I've never seen a bear." he replied, laughing. I had been on several hikes with Damon before, but never overnight. This would be my first overnight backpacking trip and we were heading on a three-day excursion into Enchanted Valley, an unbelievably picturesque destination in the Olympic National Park.
Enchanted Valley is home to the Enchanted Valley Chalet, a magnificent log cabin built in 1930 that rests along the edge of the Quinault River. The trail to Enchanted Valley is 26 miles with an elevation gain of 1700 feet, so it's not impossible to complete in a shorter trip, but we really wanted to take our time and enjoy ourselves, so we made a weekend out of it.
The drive along Highway 101 is beautiful. From the town of Hoquiam, Washington, it's takes about an hour and a half to get to the trailhead. You'll want to turn east onto South Shore Road and go about 13.5 miles, then go right at the junction at Quinault River Bridge. After the junction, you will continue down a lonely stretch of road for about six miles until you reach the trailhead. This last portion of the trip may seem like the wrong way, just because there really aren't any signs or mileposts, but as long as you go right at the junction you will know you are heading on the right path. If you hike pretty often you probably already know this, but remember your cellphone will likely not work at this point, or at any point within the National Park.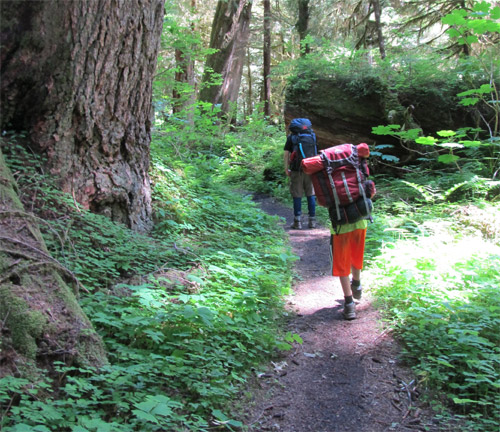 Being that it was my first overnight backpacking experience, I was a little nervous as to whether or not I had packed enough food. Luckily Damon was a pretty experienced hiker, so he provided me with a list of what I should bring. All together, I packed about six Mountain House meals for both breakfast and dinner, along with several granola and energy bars for snacks along the way. Peanut Butter tubes are great for a cheap on-the-go alternative as well. Of course, the most important thing to pack on a long hike is water, and in our case that meant packing our Camelbaks and water filtration systems. For this trip, we brought along our Platypus water filter system. This trail runs along the river, so filtering water is not too much of a hassle.
One of the first things I noticed as we made our way from the trailhead was the incredible height and width of the old growth trees. Perhaps even more incredible than the trees was the behavior of the animals. Mice, chipmunks, and even deer weren't even the least bit afraid of people. On the first night of our hike a deer came within about seven feet from me and didn't even jump when I got up. I was able to snap a close photo of it. It's amazing to consider how much human behavior dictates the behavior of animals.
By day two I was already starting to get used to being in the forest. In fact, I was really enjoying it. We rarely came across other people, and when we did, they were usually extremely friendly. The calm of the forest was such a welcome change from the constant buzz of traffic and activity in the city. On the trail, the only sound I could hear was the sound of the Quinault River. I was getting used to seeing deer and other small animals along the trail, but as we neared the seventh mile of our thirteen mile pathway we came upon a small herd of elk. As if the herd of elk wasn't enough, rounding a corner I encountered a sight that is as fresh in my mind as if it had happened yesterday. There, in the trail, a mere twenty yards ahead of me, a large black bear glanced my way as it meandered down toward the river, stopping me in my tracks.
"Bear." I whispered to my hiking mates. Just as soon as it glanced our way it simply continued on its path. The bear undoubtedly knew we were there, but it had no interest in us whatsoever. This feeling was not mutual. Damon had seen bears before, so the first thought he had was to break out the camera and snap a picture. On the other hand, my heart was racing, and I simply wanted to get as far away from it as possible. Fortunately Damon was able to snap this one photo, but we never saw it again. That night I barely slept. Although I knew there was absolutely no rational reason to fear the bear, my fight or flight instincts had kicked in and my adrenaline was still pumping well into the night. I couldn't believe the awesome size and strength of this creature. As black bears go, it was probably only average size, roughly 300-400 pounds, but even an average bear makes for a large animal. I'd seen one from my car before, but seeing one up close when there is no barrier between yourself and the bear can be quite an experience.
We planned our trip so that the first day we only had to travel about 6.5 miles, then days two would take us an additional 6.5, so that the final day we would travel back the entire 13 miles. It's not that it's impossible to travel the 13 miles in one day, in fact one of the young park rangers did so regularly. We just wanted to take our time and enjoy the experience and we certainly did. By the end of day two we had reached Enchanted Valley, and I must say the Enchanted Valley Chalet was quite a sight. As you will see in the photo, it's hard to imagine a better place to have a cabin. It's used by the Park Rangers, so you aren't really able to go inside, but if a Ranger is nearby I am sure they would let you have a look. We spent the majority of our time in the Valley just enjoying the view of the mountains and the river. Our 13 mile trek home the next day wasn't too bad, considering we were on our way back we just took less stops and everything went fine. If someone were to ask me what the best hike in the Pacific Northwest is I would definitely say this is the one. It's not the most challenging, but it's certainly the most rewarding.
Author: Nic Poe
Nic Poe lives in Longview, Washington where he teaches English. He holds a Bachelor of Arts in English Literature and Writing from Marylhurst University. His short story The Batros, appeared in the November 2011 issue of Beyond Centauri.
Connect: https://www.teacherspayteachers.com/Store/Nicholas-Poe.