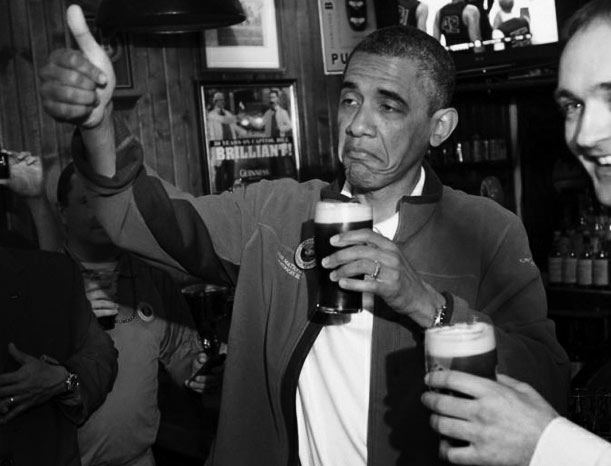 It's that time of year to be Irish. If you're not Irish just fake it like everyone else! It's a day to have fun and meet new people. St Paddy's Day is one of my favorite holidays. I actually rank it number 3 on my list of favorites because everyone is just so friendly. Certain days just make people come out of their shells and be more social and it's one of those days. The most friendliest day in my opinion is actually New Years but Paddy's Day is up there for sure. Downtown Seattle is busy this morning. The local bars are open early and people are dressed up in there green. If you listen closely, you can hear their fake accents as they choke down a early morning Guinness beer. I'm sure for lunch time the cabbage will be a popular item.
It is true though how people change for the holidays. You can feel it in the air and even in the way people talk to you on the street. It's hard to explain but people's moods really do change. I would consider myself social all year, however, if you're single or shy then this is a great night to go out and meet a new friend. People are open and approachable. There are only a few days a year where everyone's guards are down and this is one of them. Individuals are in a giving mood as well. They are kind and ready to solute and tap beers with you. I believe meeting new friendly people, generosity, and kindness are one of the best qualities in people. The truth is kindness is one of those things that can heal the soul. It can lift your spirit even if it's only for one day.
It's saddens me to only see this spirit only a few times a year. Our society mostly turns away from meeting new people. When was the last time you talked to someone in line or they tried to talk to you? Probably not recently. When was the last time you met someone new who was just an honest friend. We tend to grow up with our closest friends and when they are gone – that's it. I'm unsure why are culture has moved in this direction. Perhaps what we've seen on TV or the whole don't talk to strangers growing up talk. I've talked to many expats and frequent travels who passionately agree. Other countries simply are more friendly. Dr. Robi Ludwig said it best in her Huffington Post article about Acts of Kindness. I'm a big fan of her work. Dr. Robi's views about Psychology and human nature is right on. With that being said, all these barriers and judgment that others may have are gone on St Paddy's Day and that's why I love it. It's even lower on New Years Eve.
History of St. Paddy's Day:
Also known as Saint Patrick's Day – it started in the 17 century as a Christian feast day. Named after Saint Patrick who was a patron saint of Ireland. Is a day to have fun and celebrate the arrival of Christianity in Ireland as well as the Irish in general. It has been an official holiday in Ireland since 1903. Since the 1960's the color green has been connected to Ireland. In American, it's not an official holiday as you know but widely celebrated. The official St Patrick's Festival runs 5 days in Ireland. Previously, it was 3 days but later modified to include another day of fun. Then again in 2009, it was moved up to 5 days and had close to 1 million visitors for event. The first Festival was in 1996 (March 17th of course).
Fun Photos: