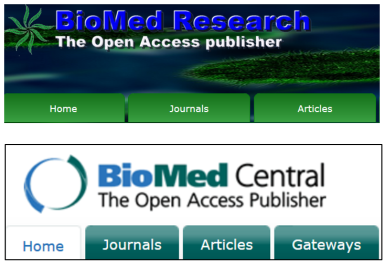 BioMed Research is a brand-new open-access publisher based in India that recently launched with 21 open-access journals. The publisher copies the look, feel — and even the tagline — of the established OA publisher BioMed Central.
This new publisher has a single, six-member editorial board for all 21 of its low-quality journals, and it promises a fast peer review process:
We Review the Manuscript under Fast Track System and time taken from submission to online publication is Less Than 10 Days!
Most of the new publisher's journals have article content, but it is lifted from other publishers. For example, the article "Bioactive Potential of Seagrass Extracts against Dengue Fever Mosquito" appears in BioMed Research's journal called BMR Parasitology, but most of the content appears to be lifted from the article "Bioactivity of seagrass against the dengue fever mosquito Aedes aegypti larvae" that originally appeared in the Asian Pacific Journal of Tropical Biomedicine, a journal published by Elsevier.

The publisher claims to be based in Kanpur Nagar, Uttar Pradesh, India. The table below, copied from the website, shows the article processing charges for Indians and for "foreigner authors."

This is clearly a junk publisher, and I am sure that the vast majority of researchers will have the scholarly publishing literacy skills necessary to be able to recognize and avoid this as a predatory publisher. Let's hope it quickly withers and dies.
Appendix: List of BioMed Research Journals as of 2014-09-01:
1.BMR Antioxidants & Redox Biology
2.BMR Biochemistry
3.BMR Bioinformatics & Cheminformatics
4.BMR Biology
5.BMR Biotechnology
6.BMR Cancer Research
7.BMR Cellular and Molecular Biology
8.BMR Complementary and Alternative Medicine
9.BMR Food & Nutrition Research
10.BMR Gene and Genome Biology
11.BMR Medicinal Chemistry Research
12.BMR Medicine
13.BMR Microbiology
14.BMR Parasitology
15.BMR Phytomedicine
16.BMR Toxicology
17.International Journal of Engineering & Scientific Research
18.International Journal of Ethnobiology & Ethnomedicine
19.International Journal of Pharmacy & Bio-Sciences
20.Journal of Plant & Agriculture Research
21.Pharmacology & Toxicology Research
By: Jeffrey Beall
Follow on Twitter
Source: Scholarly Open Access
Comments:
J.J. says:
September 15, 2014 at 9:05 AM
The geographical difference in APC make the scheme obvious. This 'company' (most likely a sole individual) is selling a fake international recognition to Indian scholars.
The APC is ridiculous for international authors, there is no way 50$/article is going to cover the costs of a legitimate OA publishing operation. This is just to attract papers from people outside India to mimic legitimate journals.
It is then hoped by the creator of this operation that unscrupulous Indian scholars will buy themselves publications in such fake journals hoping it will help them to get a cosy government position.
The Indian government/political system is not mine to judge, but the issue here is that readers might be tricked into thinking the content is actual science.
We, as scientists, should be very careful: fake science is hurting the reputation of legitimate scientists.