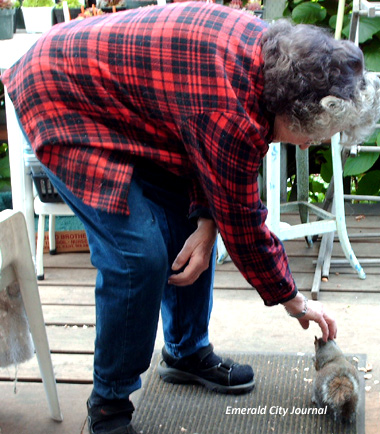 Hello, my name is Polly.  No I am not an alcoholic. I am addicted to people. I had been stealing sunflower seeds from a bird feeder in the front yard of a big white house in Georgetown. I had to walk along a cyclone fence rail, jump in a tree, then jump to the feeder. I had hurt my foot and was having trouble with all of that so I decided to go to the back door and see if perhaps she kept her seed where I could steal a few easier, without all the jumping and climbing. Well wouldn't you just know my luck, there sitting on the back steps was this old lady. I had not planned on that and I was halfway up the steps. She just sat there looking at me. I thought at least she would scream and get up and go in her house but she didn't seem afraid of me at all. Most people think of squirrels as ugly rats with bushy tails. I was pretty sure I could out run her if I had to so I just kept going up the back steps slowly waiting for her to go in her house, but she just sat there and said, "well along comes Polly". She put her hand out palm up and kept talking to me. She told me what a nice squirrel I was and how pretty I was. I was in total shock. Nothing like that had ever happened to me. I got closer and closer and smelled her hand. She did not try to swat me or grab me. She got up slowly and kept looking back so I followed along. I was in a sort of trance. She went in her back door and came out with a handful of peanuts. She sat down again and kept talking and coaxing to walk up her stretched out leg and get a nut. I was so hungry and I just sat there and ate. She finally made me climb into her lap to get a nut. I got full and slowly went home.
The next day I still thought it had to have been a dream but decided to try it again. I went to her back door and when she saw me out she came with a dish of sunflower seeds and peanuts. This time she put her hand on my back. I was ready to protect myself but when she scratched between my shoulders it felt soooooooo good. Well after a week or so of this she got down on her hands and knees one day to get eye level with me and explained that if I was going to be a roommate I had to start to work for my food.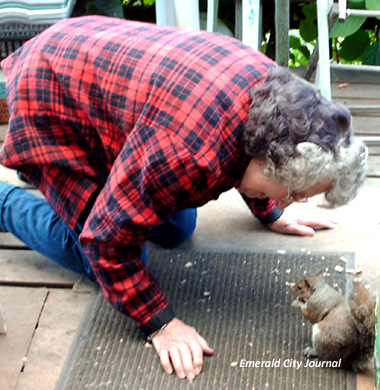 She had a dishpan of dirt and was potting little plants. I kept getting in the pan to try to help but she gave me a pan of dirt of my own and I began to raise my own sunflowers. I would eat some seed, and plant some seed.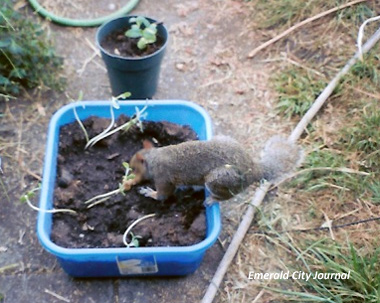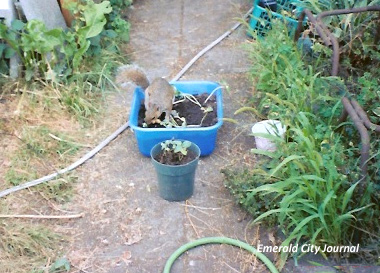 Time went on and I was really happy. It was getting close to Christmas and I had worked so hard I thought I deserved a" Squirrels night out". That's the night I met Big Red. I told him where I got my food and took him home with me for the night and to the old lady's house for breakfast. She gladly fed us both, but Big Red was not going for any petting and for sure not any work. I had to drive a sleigh in a Christmas scene but Big Red would not do it. He didn't do things fun with me anymore but showed up for breakfast. He was just a gigolo. He even had the nerve to bring along a few friends but all got fed.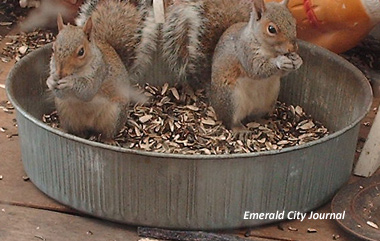 I was not feeling so chipper anymore but kept up with my job. I knew I was pregnant so I began to build a nest up above the old lady's back porch. She had good stuff to make a nest with, like pretty plastic tale cloths with soft backing. I ripped those things to shreds.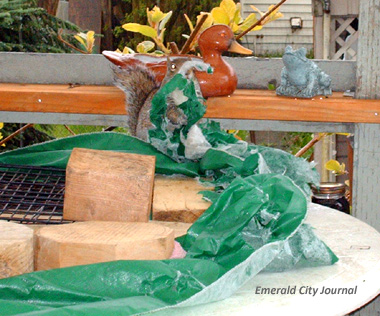 I had twins and kept it a secret but when they started to leave their nest I knew she would soon find out, so I waited til one day she was sitting on her stairs again and I told the twins it's time to see the nice lady who feeds us. I had to help them up the stairs and she sat still and I picked them up and put them in her lap. Love at first sight for everyone. She talked to the babies just like she did me so my worries were over. I had taught my babies how to get their own food. I didn't have to teach them to climb a tree or anything. But I did have to stand guard and teach the cat that we were the boss. I sat on the railing watching and would tell the babies what to do. I use the cats scratching post for my high rise and look out.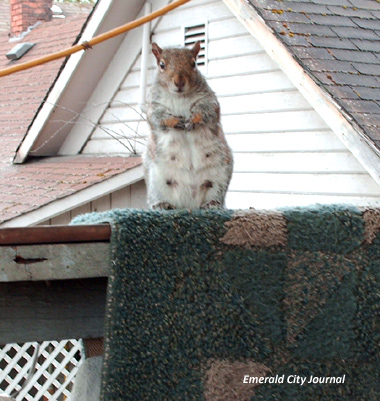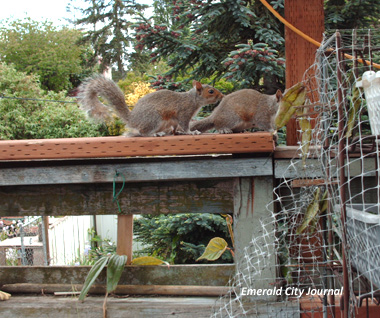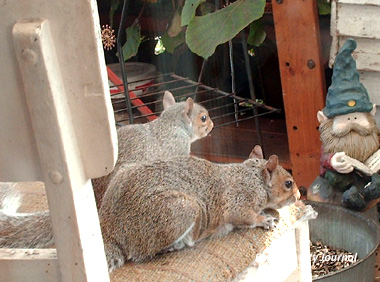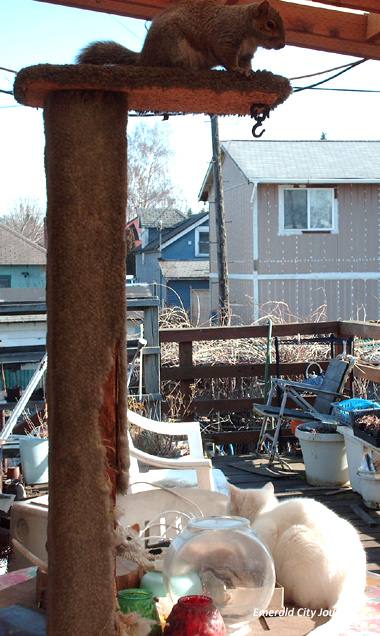 Six years have gone by and I have twins a couple times a year. I am the only one that has a full time job but the whole gang of us are waiting every morning for our big pan of goodies. the other squirrels climb her leg and help themselves to nuts and let her pet them, but I am her favorite. Life is good for this Georgetown Squirrel. She brushes me with the cats brush. She makes sure I get to observe every holiday and pose with the decorations. I am a really lucky squirrel but she is a mighty lucky lady to have such a nice pet. This is a win win deal. It shows that people, squirrels, and cats can live in harmony if they try.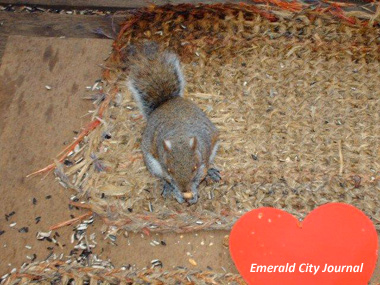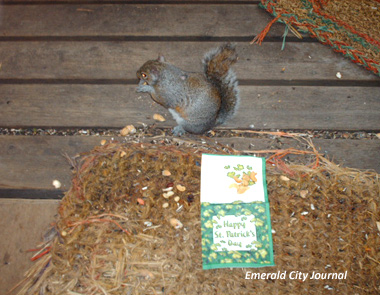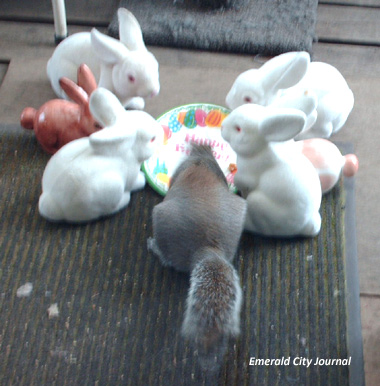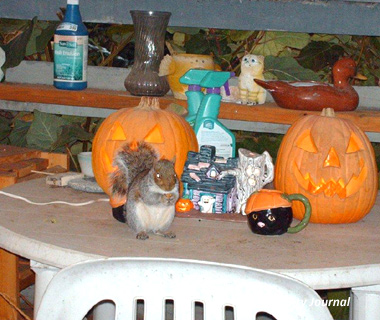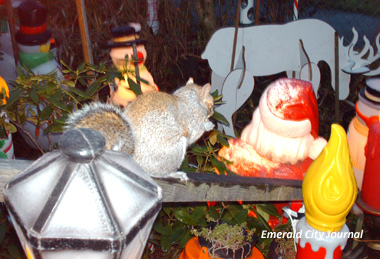 Read more about the adventures of Polly and his friends here 12/16/11 (Friday).