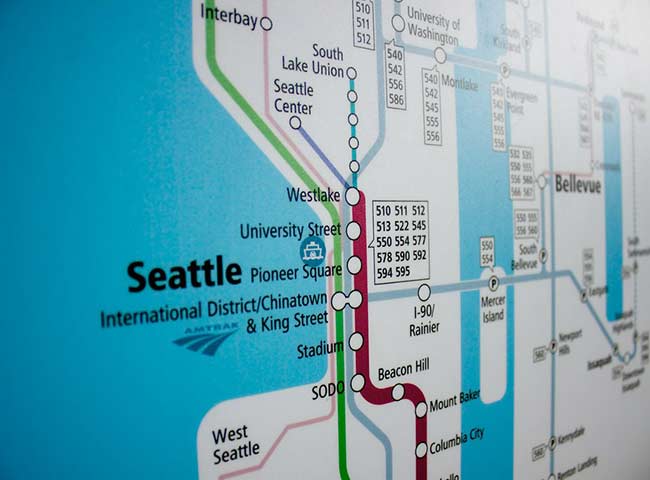 Passengers who refuse to pay for the city's transit system are causing problems. A recent study showed that almost two-thirds of all passengers in Seattle are free riders.
Most stations lack turnstiles. This being the case, passengers have to either buy tickets or use pre-paid cards as they enter the station. As a result of the low number of users who are willing to pay, only 5% of the system's operating costs are covered by fares, a far cry from the required 40% by Sound Transit.
The departing CEO of Sound Transit, Peter Rogoff gave a succinct summary of the issue at a recent Board meeting. "Our fee collecting system depends largely on an honor system," he stated. "And our extremely severe issue is that our passengers aren't following the system."
Estimates show that close to 70% of passengers in the city ride free. This is just an estimate because fare enforcement measures have not yet been implemented. In the wake of a study revealing a disparity in the amount of money fined to passengers of color, Sound Transit eliminated its fare enforcement officers.
There's however a new "fare ambassadors" system currently in place. If you're on the light rail system, you'll only see a few of these vehicles. The fare ambassadors' approach only works on 2 percent of all the transit system users. They currently only work with 2% of all riders.
When fare ambassadors board a train, they inquire as to whether or not passengers have paid their fare. Usually, not everyone has. Rather than removing ticket evaders off the train, fare ambassadors begin the conversation by requesting proof of identity. It is hard to issue a warning since 76 percent of the free-riders fail to present a valid ID.
Prior to issuing the first fine, Sound Transit provides two warnings to the offender. However, penalties are seldom issued and even less commonly paid due to a lack of identity. Fare ambassadors may not be able to persuade many free riders to pay their fare, but they do gather useful information about them. Non-payers are compelled to provide personal information such as their home address, race, and gender.
Councilmember Reagan Dunn views the lack of enforcement as only a piece of the greater issue in the transportation system in King County. "We are currently experiencing a form of decriminalization of many things, including farebox recovery and even failure to register known sex offenders under the pretext of equity and social justice," said Dunn. "And the result is an increase in crime".
Several additional light rail systems, like those in Portland, Denver, and Dallas, depend on the honor system. The first time a fare evader is found, they are all going to impose substantial penalties.
A majority of the Sound Transit Board do not show a lot of concern for the decreased fare collection problem. Claudia Balducci is one of the few who applaud the nonchalant approach of the ticket ambassador. "It's less scary for people to utilize our system because of the lack of fare enforcement," said Balducci.
The Sound Transit Board's only Republican, Bruce Dammeier, says taxpayers who paid more than $168 billion for the system are being scammed. "This is the largest waste of money we've ever seen," said Bruce Dammeier.
Photo: "Sound Transit System Map" by Oran Viriyincy is marked with CC BY-SA 2.0