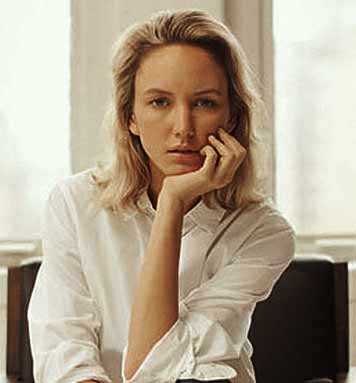 Rachel Chandler is a fashion photographer, model, and American DJ. Her work history is as eclectic as her personal style and the way she spins tunes: when you spend time with Chandler, you never know exactly what you are going to get.  She is currently a partner in Midland Management and Casting, having founded the agency in 2016 with Walter Pearce.
Career At Midland Casting
Based in New York, Midland Agency is renown as one of the freshest and most revolutionary voices in the modern fashion industry. Chandler and her business partner, Pearce, work to burst through the traditional industry standards of beauty by engaging with diverse clientele and breaking down the walls of common fashion mores. This unique approach allows Midland's clientele to move organically beyond the confines of traditional fashion modeling and into unique fashion concepts and casting opportunities. The prime goal of Midland Management is to give people a new way of looking at fashion, and critics agree that Chandler and Pearce have been successful.
Launch in 2016
In a piece by W magazine in 2016, Pearce and Chandler earned their reputation as an unlikely pair who would bring the practice known as street casting into the national spotlight. On paper, the two seemed like an unlikely pair; Chandler at the time was 29 and earning a living as a photographer; Pearce was 21 and a street-cast model best known for his work in Hood By Air. In the interview, Chandler noted that their agency's goal was to thrust street-casting – and the cast of real-life characters that go with it – into the national spotlight. At the brand's launch, the pair represented 16 clients that represented a wide variety of nontraditional fashion interests – there were local artists and musicians, and even a lawyer by training.
In an interview, Chandler noted that there is a trend in the industry toward less conventional modeling. It meshes well with her photography career – over the course of it, she has been naturally drawn to the icons living out their lives in the streets of New York. Her keen eye for seeking out beauty outside of the traditional standards speaks to a paradigm shift in the industry itself. Chandler and Pearce seized on the opportunity to celebrate the unexpected icons living among us. Indeed, brands like Calvin Klein and J.Crew have been turning to street-cast modeling, and Midland Management provides the opportunity for clients to have day jobs or other obligations, unlike other casting firms. [See Rachel Chandler on Models.com]
Chandler recalled a time when she was eating lunch with a friend and saw a person walk by outside. Abandoning her meal and her company, she ran after the man and convinced him to sign with Midland Management. Shortly thereafter, he was cast in a Helmut Lang Show.
Midland is also unique in that it is a hybrid organization that both manages and casts models. Though this dynamic is more popular in Europe, it is less so in the United States, and Midland is working to successfully fulfill a niche for those who may not fulfill traditional archetypes.
Photography Career
Chandler's career in fashion photography matches her philosophy behind model representation and casting. Prior to creating Midland Management, Chandler worked with Eckhaus Latta year round. Eckhaus Latta, a fashion brand founded by Mike Eckhaus and Zoe Latta, is renown in fashion circles for using unexpected materials and exploring texture in their design. They are also known for their use of unconventional models, having worked with non-model models like chefs, artists, skateboarders, and writers. Eckhaus Latta's photography, video, and fashion work has been displayed at the Whitney Museum, the Hammer Museum, and the MoMA.
Working with Eckhaus Latta turned out to be a career boon for Chandler, who ultimately signed two of her own models for Midland who she met through Eckhaus Latta's casting calls. Chandler is widely regarded as having a sought-after eye for capturing beauty and discovering talent in unlikely places. Her unconventional methods have always been coveted in fashion circles; in 2012, Vogue covered a New York store opening that she photographed using only Polaroids.
Personal Life
Rachel Chandler was born and raised in Los Angeles. In her teens, she moved to New York to study the History of Art at the Gallatin School. While studying there, she also participated in a number of internships and art organizations and photographers, including the renowned Patrick Demarchelier. She would soon be known for her uncanny ability to capture the vibrant scene in which she works, which would translate into finding fashion talent in the most unlikely of places.
Chandler has been a regular photographer and contributor for Purple Diary, Vogue, and Industrie Online in addition to her work at Eckhaus Latta.
To earn extra money, Chandler also DJed at the Standard Hotel, Avenue, and Beatrice Inn. But don't think of her as another "slash." In a 2011 interview with Paper, she noted that there are a lot of model-slash-actresses-slash-DJs. She didn't want any part of that. She never wanted to DJ, but she did always want to be a photographer. DJing was a means to an end – it allowed her to buy equipment, cultivate her talents, and ultimately shaped the successful photographer and entrepreneur she is today.
Future For Midland Management and Casting
Today, Midland Management and Casting continues to break through barriers and reform what it means to be an icon in the fashion industry. Their unique vision is resonating with some of fashion's most popular labels: to date, Midland has worked with Gucci, Miu Miu, Zara, Marni, Mulger, Jason Wu, and Rag and Bone. When asked how they choose the talent they work with, Chandler's answer is simple. In an interview with Vogue, she noted that instead of finding a person who looks like a girl, Chandler will find you an "Actual" girl who is less gendered, less traditional, less overtly pretty, but more real.

This is the kind of future you can expect from Midland Management and Casting – less adherence to the traditional archetypes of fashion and more representation through a diverse cast of individuals who make up their own unique form of beauty. In Chandler's view, Midland Management represents a cultural shift in what it means to be beautiful.