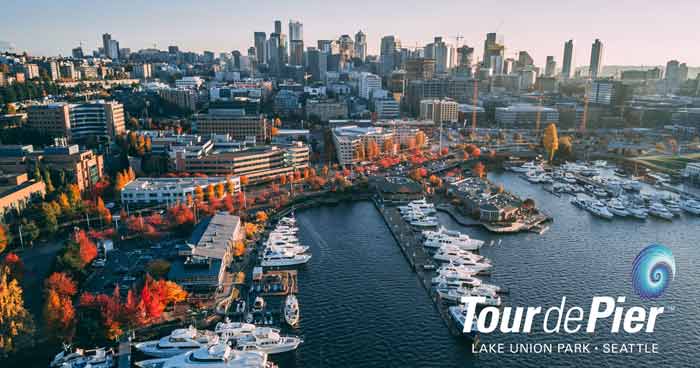 Funds raised during the stationary cycling charity event benefit nonprofit organizations Virginia Mason Cancer Institute, the Hirshberg Foundation for Pancreatic Cancer Research and the Uncle Kory Foundation
SEATTLE – Sept. 17, 2019 – On Sept. 14, 2019, Tour de Pier, the unique stationary cycling fundraising event completed its first-ever Tour de Pier Seattle at Lake Union Park raising nearly $150,000 to support cancer research at Virginia Mason Cancer Institute, the Hirshberg Foundation for Pancreatic Cancer Research and the Uncle Kory Foundation.
More than 500 cyclists rode in the Tour de Pier to raise money for research, remember loved ones lost and support those who have been affected by cancer. Some of the West Coast's best indoor cycling instructors, including Darsenio Hunter, Lindsey Ungar, Drew Shelton-Stewart, Alex Sweeney and PK Kessel, spun riders through a five-hour session with energizing music and entertainment.
"We were thrilled to see such a wonderful turnout for the inaugural Tour de Pier Seattle," said Lisa Manheim, co-founder of Tour de Pier. "Our long-term goal is to expand this event across the country, and we're proud that our first event held outside of Manhattan Beach had such a positive response."
Seattle Seahawks sportscaster Jackie Montgomery emceed the event and country music recording artist Jessica Lynne sang the national anthem. Chaplain Tiji Murphy of Virginia Mason's Bailey-Boushay House helped to guide a moment of silence and prayer at the start of the event. Ken Workman, a Duwamish Tribal Council member and direct descendant of Chief Seattle, gave an acknowledgement of the tribal land on which the event took place. Live entertainment during the Tour de Pier included a performance by the Seattle Seahawks Dancers, helicopter flyovers, a performance by the Seahawks' Blue Thunder Drumline and a water show from the Seattle Police Harbor Patrol Unit. A free health and fitness expo during Tour de Pier included Vertra, Evergreens, Just Food for Dogs and Compfit Studios. Celebrity support from Miss Rainier Raechel Warren; Seattle Seawolves Mat Turner, Brad Tucker and Dion Crowder; and former NHL player Jamie Huscroft contributed to the fundraising success. Seahawks mascot Blitz and Seawolves mascot Rucky attended in support of the cause.
"It was truly awe-inspiring to see the number of people who came out to the event to support Virginia Mason Cancer Institute and others," said Jeanne Jachim, president, Virginia Mason Foundation. "The funds raised through Tour de Pier will support vital efforts in our ongoing fight against cancer."
Money raised from the Tour de Pier will be instrumental in facilitating research, in addition to developing better treatments and early detection methods and providing the latest resources for patients and families.
Since the first Tour de Pier was held in May 2013 in Manhattan Beach, California, the fitness fundraiser has raised more than $6.75 million for nonprofit cancer organizations and has grown to be one of the most popular outdoor charity events in Southern California.
About Tour de Pier
Jon Hirshberg, who started the first L.A. Cancer Challenge after the loss of his father Ron in 1997, came across the idea of doing a spin bike fundraiser after learning about an event that raised more than $3 million in one day at cycling studios across the country. He approached his friend and long-time cycling enthusiast, Heath Gregory, about the idea of putting on a one-day event in their hometown of Manhattan Beach, CA. Coincidentally, Gregory had participated in a similar event produced by Livestrong in Barcelona during the 2009 Tour de France and vividly remembered hundreds of riders moving in unison all for a common cause. With the Hirshberg Foundation on board to produce the event and a team of board members eager to participate, planning for the Tour de Pier began.
In March 2014, the City of Manhattan Beach Parks & Recreation Department won a prestigious award for Outstanding Special Event for the Tour De Pier, presented by the State of California Association of Parks and Recreation Commissioners. Competing against other cities throughout California, Tour de Pier was recognized as an event that significantly contributes to the overall betterment of the community. For more information, please visit www.seattletourdepier.com.
About Virginia Mason Health System 
Virginia Mason, founded in 1920, is a nonprofit regional health care system based in Seattle that serves the Pacific Northwest. In the Puget Sound region, the system includes 336-bed Virginia Mason Hospital; a primary and specialty care group practice of more than 500 physicians; outpatient medical facilities and services in Seattle, Bainbridge Island, Bellevue, Edmonds, Federal Way, Kirkland, Issaquah and Lynnwood; Bailey-Boushay House, the first skilled-nursing and outpatient chronic care management program in the United States designed specifically to meet the needs of people with HIV/AIDS; Benaroya Research Institute, which is internationally recognized for autoimmune disease research; Virginia Mason Foundation; and Virginia Mason Institute, which trains health care professionals and others around the world in the Virginia Mason Production System, an innovative management method for improving quality and safety.
Virginia Mason Health System also includes Virginia Mason Memorial, a 226-bed hospital serving Yakima Valley in central Washington since 1950. Virginia Mason Memorial includes primary care practices and specialty care services, including high-quality cardiac care; cancer care through North Star Lodge; breast health at `Ohana Mammography Center; acute hospice and respite care at Cottage in the Meadow; pain management at Water's Edge; an advanced NICU unit that offers specialty care for at-risk infants; advanced services for children with special health care needs at Children's Village; and The Memorial Foundation.