The Seattle Housing Authority's Rainier Vista community has been hosting dual-language Tea & Technology Talks since April of 2018 to seek resident input on a new computer skills program coming this summer. Building Our Bridge – Seattle Housing Authority Residents Crossing the Digital Divide is an SHA resident-led, City-funded initiative to bring digital literacy skills to the Oromo, Vietnamese and English-speaking tenants of this low-income family community in Seattle's Rainier Valley.
Septuagenarian Edward Frasier III attended the 4th Tea & Technology Talk on Friday, February 15th, 2019 to discuss the project over cookies and beverages. Surveys of proposed class topics and volunteer pledge sheets were distributed, and Frasier remarked, "You know, when you get old, you forget things. It's not that I don't know; I just need a refresher."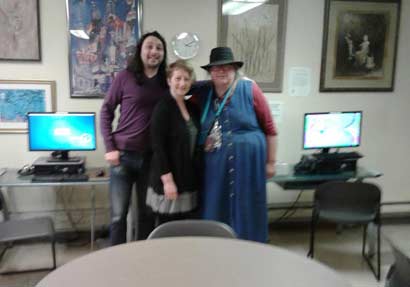 The beautifully developed curriculum for the program has been generously donated by the Seattle Public Library. Topics over the next two years will be selected from Email, Mouse & Window, Keyboarding, Internet, MS Word and Resume-Writing, Social Media, The Source and Parent Engagement. The Seattle Public Library brought a Vietnamese Basic Computer Series to Rainier Vista in 2016, and a Somali series in 2018.
There has been a buzz in the Rainier Vista Oromo community about parent engagement and use of the Seattle Public School system's The Source. The Source opens on-line access to parents and guardians to their children's attendance, assessment scores and secondary student assignment grades. By allowing parents to track their children's progress, The Source helps students move more quickly into advanced learning options and get on the college track. In so doing, The Source addresses academic barriers faced by Children of Color in communities experiencing economic hardship.
Computer skills classes at Rainier Vista in will be conducted in Oromo, Vietnamese and English cohorts, and the project hopes to open the program to Somali instruction in 2020. Representatives from each language community will have the important opportunity to shape the program by meeting to review resumes and conduct interviews for (6) bilingual computer instructors and computer instructor assistants. More than 45 applications have been received so far.
The Building Our Bridge project was created by three Seattle Housing Authority residents (Elizabeth Kennedy, Ben Wong and Dorene Cornwell) who wanted to expand the Full Life Care-Seattle Housing Authority Mobile Lab Project. For two years, the Mobile Lab Project brought a mobile computer lab with devices and instructors to residents of (9) Seattle Housing Authority Low Income Public High-rise and Senior buildings in North Seattle.
Kennedy and Wong were instructors on the project, and they teamed up with Cornwell to bring the mobile lab to the Seattle Housing Authority's immigrant and refugee communities in South Seattle. With the loan of (4) Windows laptops, (3) Chromebooks, a mobile hot spot, and (3) plastic tubs on wheels from community partner Full Life Care, it is poised to do just that.
The Seattle Housing Authority has supported the project with use of space for classes, and staff time from Rainier Vista Community Builder, Jen Calleja. One challenge the project is still trying to address is how to meet families' needs for child care so parents can take classes.
Like the Mobile Lab Project before it, Building Our Bridge is financed through the City of Seattle Technology Matching Fund grant. The Technology Matching Fund has seeded technology programs in the City for more than 20 years.
Seattle Neighborhood Group has partnered with the project to act as fiscal agent. Located in Seattle's Central District, Seattle Neighborhood Group has been building relationships and working to engage people to create safe neighborhoods for 25 years. "Building Our Bridge makes a vital difference in the lives of SHA residents by providing them with opportunities to develop job readiness and technical skills, and build the confidence needed to make a positive difference in their respective lives and communities. Seattle Neighborhood Group is proud to be a collaborative member in this important project," Linda Spain, Executive Director, Seattle Neighborhood Group.
This article was submitted by Elizabeth Kennedy, Project Manager for the Building Our Bridge Project.